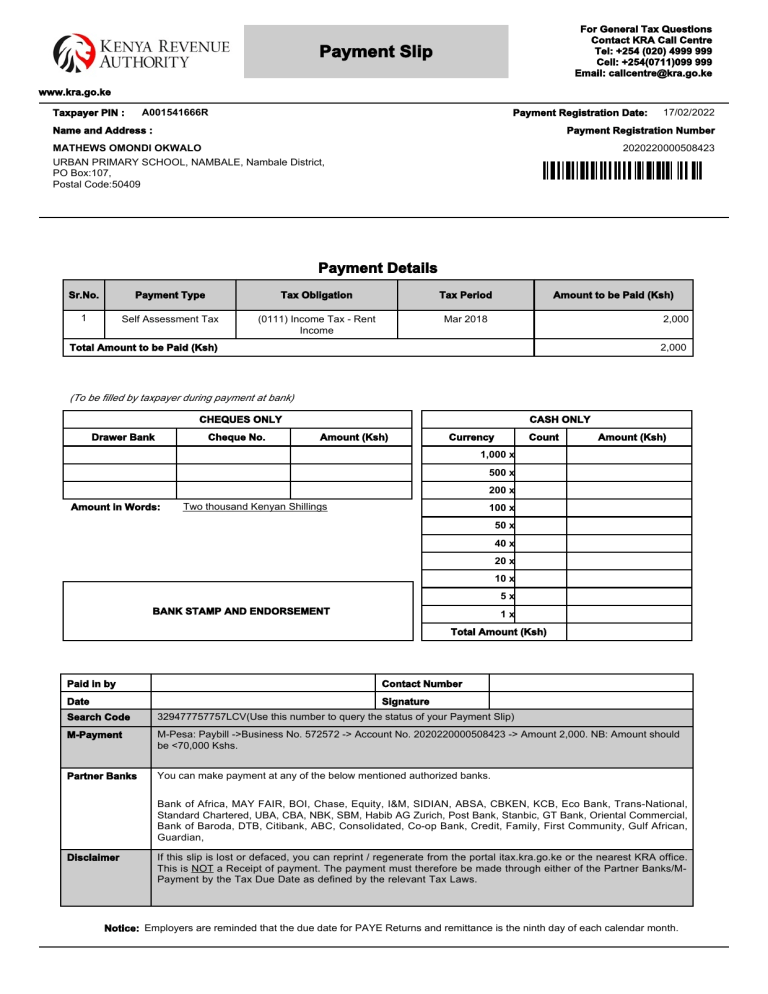 For General Tax Questions
Contact KRA Call Centre
Tel: +254 (020) 4999 999
Cell: +254(0711)099 999
Email: callcentre@kra.go.ke
Payment Slip
www.kra.go.ke
Taxpayer PIN :
A001541666R
Payment Registration Date:
Name and Address :
17/02/2022
Payment Registration Number
MATHEWS OMONDI OKWALO
2020220000508423
URBAN PRIMARY SCHOOL, NAMBALE, Nambale District,
PO Box:107,
Postal Code:50409
Payment Details
Sr.No.
Payment Type
Tax Obligation
Tax Period
1
Self Assessment Tax
(0111) Income Tax - Rent
Income
Mar 2018
Amount to be Paid (Ksh)
2,000
Total Amount to be Paid (Ksh)
2,000
(To be filled by taxpayer during payment at bank)
CHEQUES ONLY
Drawer Bank
Cheque No.
CASH ONLY
Amount (Ksh)
Currency
Count
Amount (Ksh)
1,000 x
500 x
200 x
Amount in Words:
Two thousand Kenyan Shillings
100 x
50 x
40 x
20 x
10 x
5x
BANK STAMP AND ENDORSEMENT
1x
Total Amount (Ksh)
Paid in by
Date
Contact Number
Signature
Search Code
329477757757LCV(Use this number to query the status of your Payment Slip)
M-Payment
M-Pesa: Paybill ->Business No. 572572 -> Account No. 2020220000508423 -> Amount 2,000. NB: Amount should
be <70,000 Kshs.
Partner Banks
You can make payment at any of the below mentioned authorized banks.
Bank of Africa, MAY FAIR, BOI, Chase, Equity, I&M, SIDIAN, ABSA, CBKEN, KCB, Eco Bank, Trans-National,
Standard Chartered, UBA, CBA, NBK, SBM, Habib AG Zurich, Post Bank, Stanbic, GT Bank, Oriental Commercial,
Bank of Baroda, DTB, Citibank, ABC, Consolidated, Co-op Bank, Credit, Family, First Community, Gulf African,
Guardian,
Disclaimer
If this slip is lost or defaced, you can reprint / regenerate from the portal itax.kra.go.ke or the nearest KRA office.
This is NOT a Receipt of payment. The payment must therefore be made through either of the Partner Banks/MPayment by the Tax Due Date as defined by the relevant Tax Laws.
Notice: Employers are reminded that the due date for PAYE Returns and remittance is the ninth day of each calendar month.