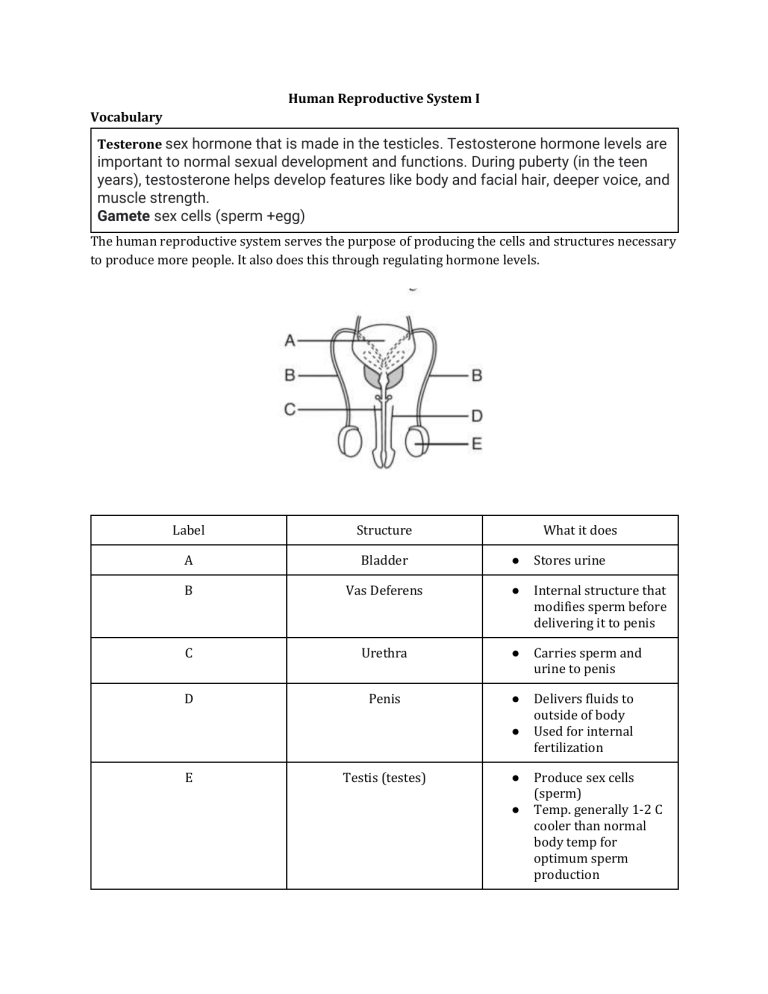 Human Reproductive System I
Vocabulary
Testerone sex hormone that is made in the testicles. Testosterone hormone levels are
important to normal sexual development and functions. During puberty (in the teen
years), testosterone helps develop features like body and facial hair, deeper voice, and
muscle strength.
Gamete sex cells (sperm +egg)
The human reproductive system serves the purpose of producing the cells and structures necessary
to produce more people. It also does this through regulating hormone levels.
Label
Structure
What it does
A
Bladder
●
Stores urine
B
Vas Deferens
●
Internal structure that
modifies sperm before
delivering it to penis
C
Urethra
●
Carries sperm and
urine to penis
D
Penis
●
Delivers fluids to
outside of body
Used for internal
fertilization
●
E
Testis (testes)
●
●
Produce sex cells
(sperm)
Temp. generally 1-2 C
cooler than normal
body temp for
optimum sperm
production
●
●
1.
2.
Question
1
2
Answer
Store sex cells
Produces testerone
3. Explain how a malfunction in the structure labeled B would influence sex cell production. Explain
how it would influence fertilization.