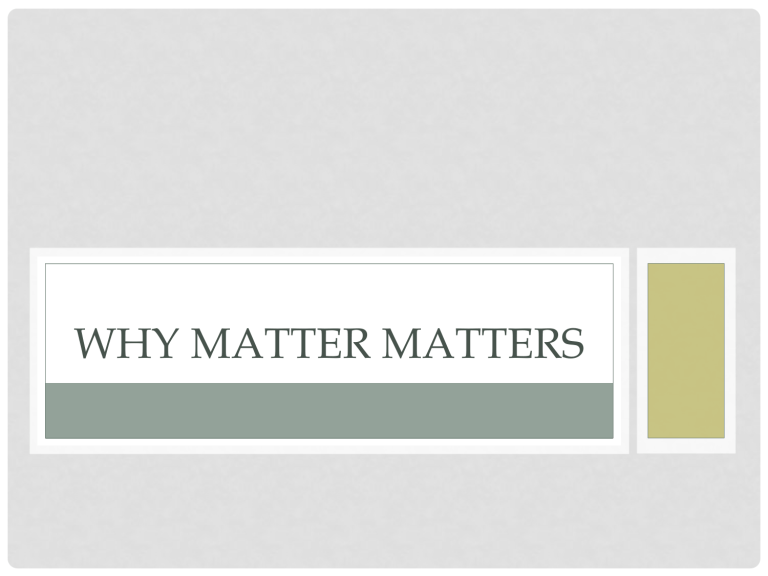 WHY MATTER MATTERS
WHAT'S THE MATTER?
• Anything that takes up space and has mass
• Mass – amount of matter in an object
• Matter vs. Weight
• Volume – Amount of space an object takes up
•  Extensive Properties
• Depends on the amount of matter
•  Intensive Properties
• Depends on type of matter
THE SIMPLEST FORM OF MATTER:
• Element
• Unique set of properties
• Ex. Oxygen, Hydrogen, Carbon
• 2+ element = Compound
• Chemically combined
• Ex. Sugar, salt, water
• Substance
• Matter that has a uniform and definite composition
• Physical Property – quality of substance that can be
observed/measured without changing substances
composition
• Used to identify substances
• Color
• Melting/boiling point
• State at room temp
• Lets look at air
STATES OF MATTER
• Solid
• Liquid
• Gas
Physical Change: alters properties of
material without changing composition
Chemical Change: Produces matter with
a different composition
• Versus Vapor
Solid
Fixed Shape?
Fixed Volume?
Space between
particles:
Particle movement
Compressible?
Expands when
heated?
Liquid
Gas
MIXTURES
• A blend of two or more components
Homogeneous mixture
-Solution
Distillation
Heterogeneous mixture
Filtration
EXAMPLES
• Table Salt:
• Compound!
• Hydrogen Peroxide:
• Compound
• Mercury
• Element
• Sweetened Ice tea
• Mixture
• Chicken noodle soup
• Mixture
GROUP
THE PERIODIC TABLE
PERIOD 
CHEMICAL REACTIONS
• One or more substances change into a new
substance
• Reactant  Product
• Every chemical reaction involves ENERGY
LAW OF CONSERVATION OF MASS
• Mass is neither created nor destroyed
• …What about burning wood?