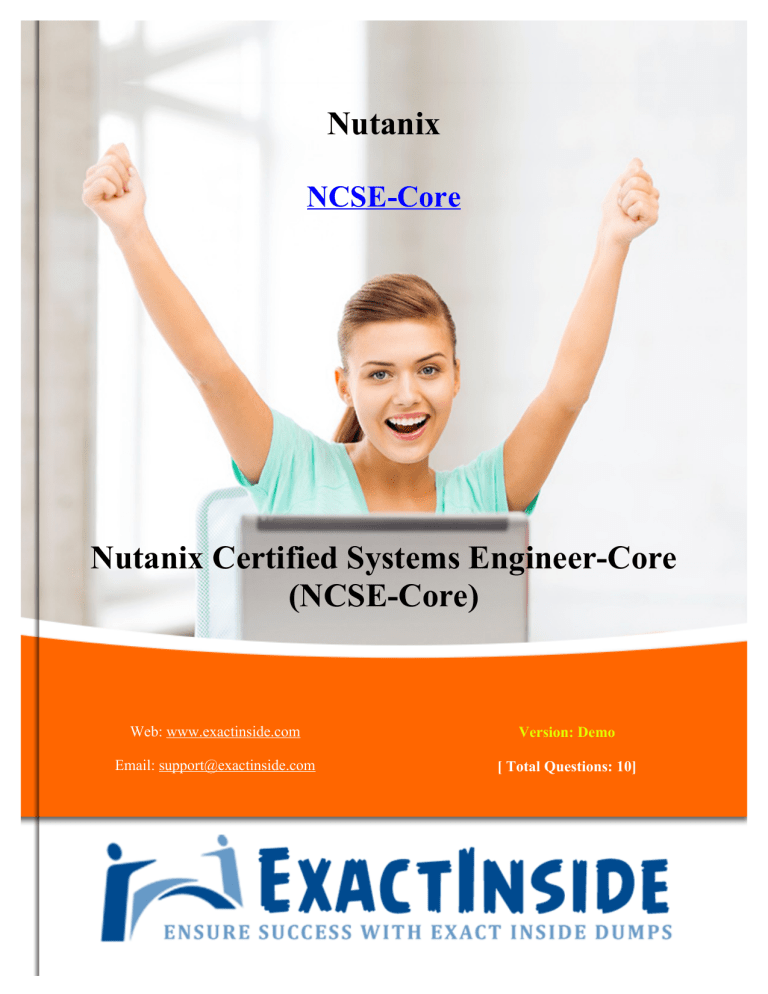 Nutanix
NCSE-Core
Nutanix Certified Systems Engineer-Core
(NCSE-Core)
Web: www.exactinside.com
Version: Demo
Email: support@exactinside.com
[ Total Questions: 10]
IMPORTANT NOTICE
Feedback
We have developed quality product and state-of-art service to ensure our customers interest. If you have any
suggestions, please feel free to contact us at feedback@exactinside.com
Support
If you have any questions about our product, please provide the following items:
exam code
screenshot of the question
login id/email
please contact us at support@exactinside.com and our technical experts will provide support within 24 hours.
Copyright
The product of each order has its own encryption code, so you should use it independently. Any unauthorized
changes will inflict legal punishment. We reserve the right of final explanation for this statement.
Exact Questions
Nutanix - NCSE-Core
Question #:1
Refer to Exhibit:
An administrator logs in to Prism and sees the status shown in the exhibit within the
Hardware Diagram section.
What should the administrator do?
A. Reseat all disk immediately. If this does not help, reseat the nodes.
B. Check status of applications running on the cluster and call support.
C. Resolve all alerts and re-import the disks to make sure there is no service disruption.
D. Restart all CVMs for the cluster to check, confirm health and repartition and add the disks.
Answer: C
Question #:2
CPU utilization climbs above 90% on several VMs. This causes performance degradation for a
business-critical application.
How can alerts be configured to notify the administrator before VM CPU utilization hits 90%?
A. On a CVM, use ncli to set the VM CPU Check threshold for the critical VMs to a value below 90%.
B. On the Health dashboard, locate the VM CPU Check and lower the alert threshold below 90%.
C. On a CVM, configure a cron job to run the VM CPU Check more frequently and email the result.
D. On the Alerts dashboard, ensure that the VM CPU usage alert is not set to auto-resolve.
Find Everything , Exactly in your Exam
1 of 5
Exact Questions
Nutanix - NCSE-Core
Answer: B
Question #:3
Which three configuration scenarios are valid for the deployment of Prism Central? (Choose three.)
A. Environments use Network Address Translation.
B. Prism Elements and Prism Central art in different subnets.
C. Environments do not have Internet access.
D. Prism Elements and Prism Central have proxy configured.
E. Environments use the 192.168.5.0/24 CVM management network.
Answer: A C E
Question #:4
A customer is provisioning 1,000 linked clone desktops with View Composer for their call center. During a
short period between shift changes,desktops must be rebooted.
Which Nutanix feature will help to mitigate the desktop boot times?
A. Shadow Clones
B. Performance Tier De-duplication
C. Content Based Read Cache
D. View Acceleration Array Intergration''
Answer: A
Question #:5
An SE is performing workload discovery with an SMB prospect running SQL Server. The databases is less
than 1 TB, but its performance and uptime are critical to the prospect's business operations. Sizer sugests using
1065S nodes.
Which aspects of the NX-1065S-G5 would cause an SE to filter out that nodel from Sizer's Automatic
configuration? (choose
two.)
A. Single Power Supply
B. Limited to 4 nodes
Find Everything , Exactly in your Exam
2 of 5
Exact Questions
Nutanix - NCSE-Core
C. 1Gb Networking
D. Single HDD
E. Single Socket Processor
Answer: C E
Question #:6
A prospective customer wants to build a private cloud in addition to provisioning workloads across multiple
public cloud providers.
Presently, the staff lacks the time and skillset for on-premises infrastructure management.
Which two features should qualify this project as a Nutanix opportunity?
(choose two)
A. Flow
B. Calms
C. Cloud Connect
D. All falsh nodes
E. Prism 1-Click operations
Answer: B E
Question #:7
Oracle HCL for certified Joint Support with Nutanix has Oracle Linux and Oracle VM via iSCSI listed.
What Nutanix feature is used by this certified Configuration.
A. OSS
B. AFS
C. ACS
D. ABS
Answer: D
Find Everything , Exactly in your Exam
3 of 5
Exact Questions
Nutanix - NCSE-Core
Question #:8
A prospect's business is growing 100% year over year. The prospect is interested in Nutanix for their main
datacenter due to the alility to scale quickly and easily. They have three remote sites that will be refreshed
within the next year. Each site needs to replicate to their many datacenter. The SE proposes the Nutanix NX
line, and the prospect asks to utilize the Xpress line.
For which reason is the Xpress line the wrong choice? (Choose two)
A. SX is limited to two 4-node clusters.
B. SX has a lower services cost for installation.
C. SX is limited to one 4-node cluster.
D. SX licensing does not support cluster-to-cluster replication
E. SX licensing will not support many-to-many- cluster replication
Answer: A E
Question #:9
Which three settings are required for network switch discovery in Prism? (Choose Three)
A. Switch Management IP Address
B. AHV Host IP address
C. Cluster CVM IP address
D. SMTP Server IP address
E. SNMP Community Name
Answer: A B E
Question #:10
An SE is working to size a prospects environment that includes production Oracle databases.
Which Oracle output should the SE request from the prospect to collect accurate sizing information?
A. STATSPACK
B. Active Session History Report
C. Oracle Export Schema
D. Automatic Workload Repository Report
Find Everything , Exactly in your Exam
4 of 5
Exact Questions
Nutanix - NCSE-Core
Answer: D
Find Everything , Exactly in your Exam
5 of 5
About exactinside.com
exactinside.com was founded in 2007. We provide latest & high quality IT / Business Certification Training Exam
Questions, Study Guides, Practice Tests.
We help you pass any IT / Business Certification Exams with 100% Pass Guaranteed or Full Refund. Especially
Cisco, CompTIA, Citrix, EMC, HP, Oracle, VMware, Juniper, Check Point, LPI, Nortel, EXIN and so on.
View list of all certification exams: All vendors
We prepare state-of-the art practice tests for certification exams. You can reach us at any of the email addresses listed
below.
Sales: sales@exactinside.com
Feedback: feedback@exactinside.com
Support: support@exactinside.com
Any problems about IT certification or our products, You can write us back and we will get back to you within 24
hours.