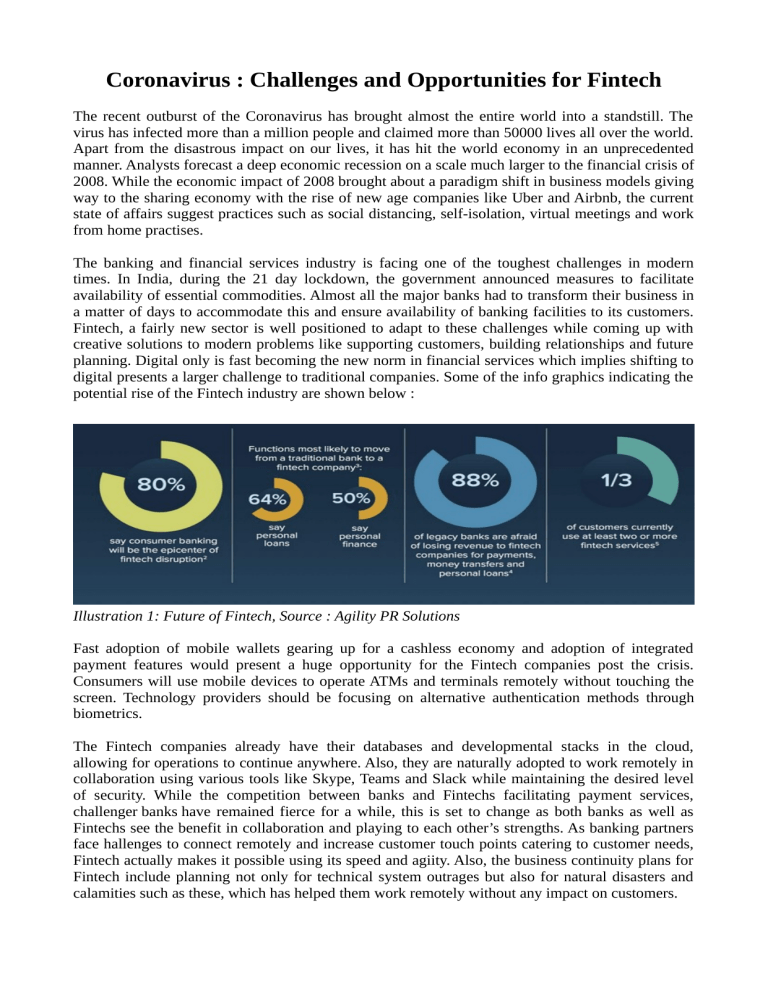 Coronavirus : Challenges and Opportunities for Fintech
The recent outburst of the Coronavirus has brought almost the entire world into a standstill. The
virus has infected more than a million people and claimed more than 50000 lives all over the world.
Apart from the disastrous impact on our lives, it has hit the world economy in an unprecedented
manner. Analysts forecast a deep economic recession on a scale much larger to the financial crisis of
2008. While the economic impact of 2008 brought about a paradigm shift in business models giving
way to the sharing economy with the rise of new age companies like Uber and Airbnb, the current
state of affairs suggest practices such as social distancing, self-isolation, virtual meetings and work
from home practises.
The banking and financial services industry is facing one of the toughest challenges in modern
times. In India, during the 21 day lockdown, the government announced measures to facilitate
availability of essential commodities. Almost all the major banks had to transform their business in
a matter of days to accommodate this and ensure availability of banking facilities to its customers.
Fintech, a fairly new sector is well positioned to adapt to these challenges while coming up with
creative solutions to modern problems like supporting customers, building relationships and future
planning. Digital only is fast becoming the new norm in financial services which implies shifting to
digital presents a larger challenge to traditional companies. Some of the info graphics indicating the
potential rise of the Fintech industry are shown below :
Illustration 1: Future of Fintech, Source : Agility PR Solutions
Fast adoption of mobile wallets gearing up for a cashless economy and adoption of integrated
payment features would present a huge opportunity for the Fintech companies post the crisis.
Consumers will use mobile devices to operate ATMs and terminals remotely without touching the
screen. Technology providers should be focusing on alternative authentication methods through
biometrics.
The Fintech companies already have their databases and developmental stacks in the cloud,
allowing for operations to continue anywhere. Also, they are naturally adopted to work remotely in
collaboration using various tools like Skype, Teams and Slack while maintaining the desired level
of security. While the competition between banks and Fintechs facilitating payment services,
challenger banks have remained fierce for a while, this is set to change as both banks as well as
Fintechs see the benefit in collaboration and playing to each other's strengths. As banking partners
face hallenges to connect remotely and increase customer touch points catering to customer needs,
Fintech actually makes it possible using its speed and agiity. Also, the business continuity plans for
Fintech include planning not only for technical system outrages but also for natural disasters and
calamities such as these, which has helped them work remotely without any impact on customers.
Consumer and SME lending platforms are best suited to adopt to the new practices and deliver
capital to key economic segments. Life insurance companies are fast shifting digital to minimise
operational costs by removing intermediaries. Fintech enables like AI, Chatbors, loan automation
softwares, automatic KYC tools are in much demand at the moment.
Illustration 2: Impact on Banking and Payments, Source : Finch Capital
Challenger banks with high valuations are under pressure as they would expect lower economic
activity post the crisis. Payments and forex companies would also be hit hard due to lower customer
spending and lower volume of transactions.
Illustration 3: Impact on Fintech Enablers, Source : Finch Capital
Moreover, Fintech companies are uniquely positioned to assist small businesses. Restaurants and
hospitality industry are also trying to enter into digital space, which indicates that Paytech is at the
centre stage now. Many Fintech companies like Numerated, Agora Services have waived off setup
fees and deferred billing for three months to help small businesses. Coronavirus has acted as a
catalyst for leveraging mobile-first banking. Not only the retail customers, but companies
transacting mainly online are contributing to the surge in online practices. There exists potential to
thrive for online services, VR technologies, remote working platforms, sustainability-related
businesses and also fintech companies which help customers embrace new, future-proofed ways of
money-saving and management. The Fintech industries have grown multi fold during this crisis and
the below picture shows an indication of the likely growth in China. A similar kind of growth
potential exists in other economies too.
Illustration 4: Fintech Industry Growth in China, Source : Equalocean
Also, with the current outbreak of Coronavirus and its deep economic impact, it might be a boon for
Crypto markets. In fact, March has been a record month for new users of Crypto platforms
worldwide, and their spend on the platform. While the fundamentals remain strong, there is a huge
price potential after the Covid – 19 levels out. The current traditional banking infrastructure is not
suitable for this adoption and required newer business models.
The practices of open banking will see a larger number of customers on board, as we would see a
willingness to embrace and accelerate usage of technology. Also, the huge expenditures in IT and
infrastructure have always been a pain point for the banks and financial services. The current
outbreak has forced incumbents to move data from heavily localised IT systems to the cloud which
clearly indicates the limitations of traditional IT infrastructure. These factors also provide space for
Fintech firms to concentrate on cloud services. The figure below shows the kind of growth we can
expect in financial services cloud in the coming years in China.
Illustration 5: Growth in Financial Cloud Services, China. Source :
Equalocean
Coronavirus has presented a unique opportunity for all businesses. While these are challenging
times for most, only the ones who lead the change and adapt their business models accordingly will
survive. The Fintech is one of those industries which promises a huge growth potential in the future
and the success lies in collaboration.