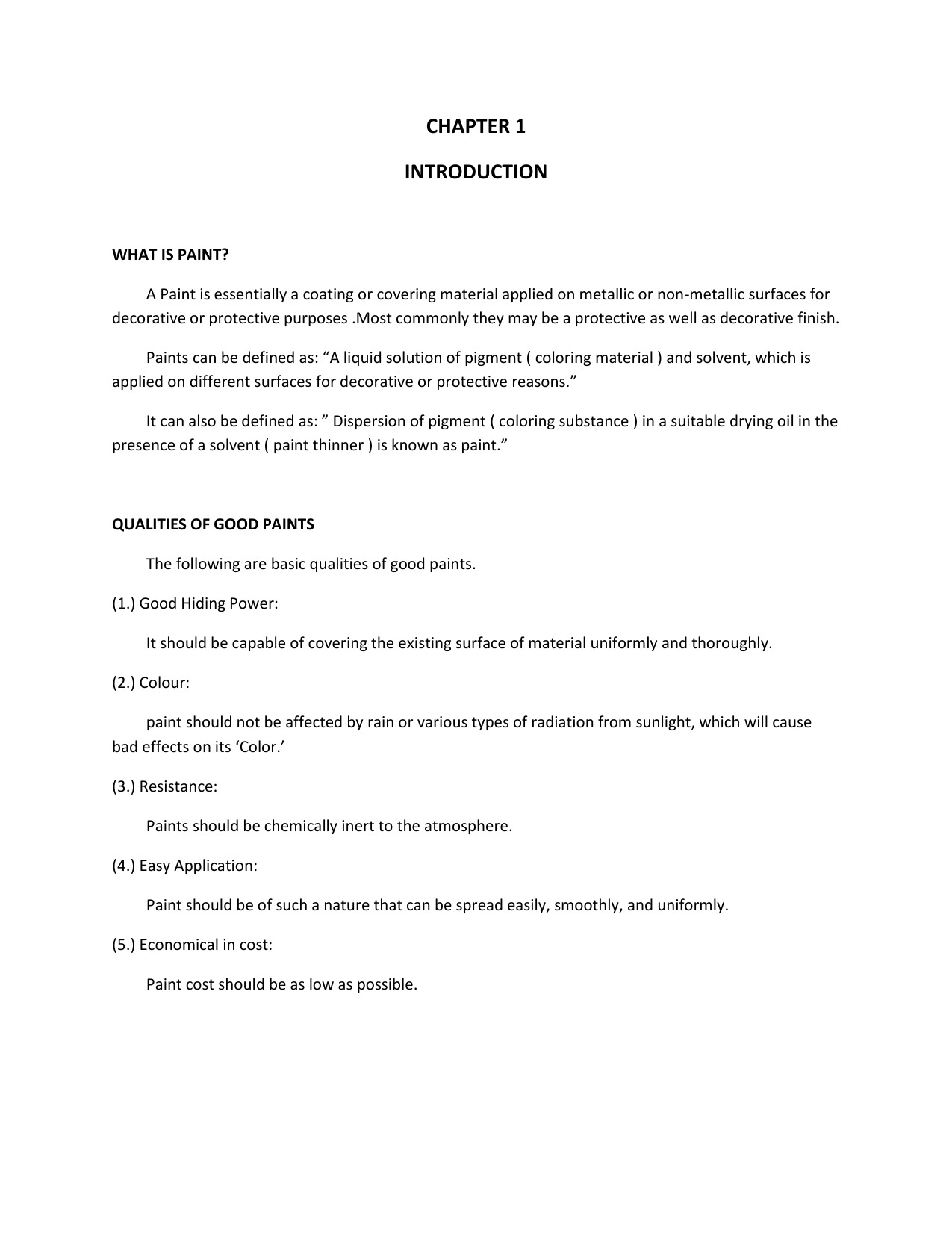 CHAPTER 1
INTRODUCTION
WHAT IS PAINT?
A Paint is essentially a coating or covering material applied on metallic or non-metallic surfaces for
decorative or protective purposes .Most commonly they may be a protective as well as decorative finish.
Paints can be defined as: "A liquid solution of pigment ( coloring material ) and solvent, which is
applied on different surfaces for decorative or protective reasons."
It can also be defined as: " Dispersion of pigment ( coloring substance ) in a suitable drying oil in the
presence of a solvent ( paint thinner ) is known as paint."
QUALITIES OF GOOD PAINTS
The following are basic qualities of good paints.
(1.) Good Hiding Power:
It should be capable of covering the existing surface of material uniformly and thoroughly.
(2.) Colour:
paint should not be affected by rain or various types of radiation from sunlight, which will cause
bad effects on its 'Color.'
(3.) Resistance:
Paints should be chemically inert to the atmosphere.
(4.) Easy Application:
Paint should be of such a nature that can be spread easily, smoothly, and uniformly.
(5.) Economical in cost:
Paint cost should be as low as possible.
COMPONENTS OF PAINT
Paints are prepared by intimately mixing various components in proper proportions. Following are
essential components of paint.
(1.) The Vehicle:
It is actually an oil which is dried on exposure to air. Hence it is also called a drying oil.
The most commonly used vehicle or drying oils are: Linseed oil, dehydrated castor oil, bleached oil, and
fish oil .
Driers are those substances which are added to drying oils to accelerate the rate of drying. They act as
catalysts in the oxidation process of the drying oils.
The linoleats, resinates, and naphthalenes of metals like lead, magnesium, and vanadium are commonly
used drier.
(2.) Base:
A base is a solid substance that forms the body of the paint.
It consists of a very fine powder of a suitable material such as white lead, red lead, iron oxide, and
titanium oxide, etc.
(3.) The Pigments:
It is a coloring material added to the above components in order to impart a desired shade and
color.
Pigment is added in a finely powdered state.
In White color paints: White Lead, Titanium White, Lithophone are used as a pigment.
In Red Color : Red Lead, Venetian Red, Chrome Red, Natural Red Oxides of Iron are used as a pigment.
In Yellow Color: Chrome Yellow, Zinc Chromate, Yellow Ochres are used as a pigment.
In Brown Color : Oxides of Iron is used as a pigment.
In Blue Color : Pursian Blue, Paris Blue, Ultramarine, Cobalt Blue are used as a pigment.
(4.) Solvents (Paint Thinner):
They are also called Paint thinner, which reduces the viscosity of the paints to a great extent.
Solvents (paint thinner) or added to paints in order to make its application easy, smooth, and uniform.
Petroleum, spirits, turpentine and coal tar hydrocarbons are some of the commonly used solvents or
paint thinner.
(5.) Extenders:
They are also called fillers. A Filler is a substance which can be added to paints to increase its bulk
volume without effecting its useful properties.
These materials ( Fillers ) are necessarily inert towards other components of paint.
Commonly used extenders are: Chalk, gypsum, barite, silica and magnesium silicate.
APPLICATION METHODS
Numerous methods are used in the application of paint, including:
brush, roller, dipping, flowcoating, spraying, hot spraying, electrostatic spraying, airless spraying,
electrodeposition, powder coating, vacuum impregnation and immersion.
PRODUCT OBTAINED FROM INDUSTRY
A wide collection of product varieties have been obtained from paint industry such as; Spray cans,
markers, inks etc.
The products of the paint industry can be classified into two major segments decorative
(architectural) paints and industrial paints.
DECORATIVE PAINTS:
Products under decorative paints include;
limestone coatings, primers, distempers, cement paints, matt/lustre finishes, enamels, emulsions (first
quality), and premium emulsions.
INDUSTRIAL PAINTS:
Industrial paints include; automotive paints, high performance coatings, coil coatings, powder
coatings, marine paints and general industrial coatings.
CHAPTER 3
ENVIRONMENTAL EFFECTS OF PAINT
Each year we buy three hundred litres ofpaint, without the knowledge of the harm it could do.
The World Health Organisation (WHO) has reported a 20%-40% increased risk of certain types of cancer
(in particular lung cancer) for those who come into regular contact with, or work with paint while Danish
researchers point to the added possibility of neurological damage.
Below are a few of the dangers of paint listed and explained:
(1.) HEALT CHALLENGES AS A RESULT OF OFF GASSING:
There is growing concern amongst environmentalists about 'off gassing', the process by which
chemicals continue to release volatile toxins into the atmosphere long after their application is complete.
Prolonged or high exposure to paint and paint fumes can cause headaches, trigger allergies and
asthmatic reactions, irritate skin, eyes and airways, and put increased stress on vital organs such as the
heart.
(2.) HARZARDOUS EFFECTS ON THE ENVIRONMENT:
Volatile organic compounds are gases emitted by various solids or liquids, many of which have
short- and long-term adverse effects.
When Volatile Organic Compounds(VOC's) react with oxygen, they can form 'bad' ozone in the
presence of sunlight. This is a contributory factor to the greenhouse effect and a cause of global
warming.
(4.) THREAT TO THE AQUATIC ECOLOGY:
Paint used to deter limpets, mussels, and other sea organisms from sticking to the bottom of boats
has been labelled as the most toxic substance ever to be unleashed on the marine environment.These
paints have contained organotin compounds such as tributyltin, which are considered to be toxic
chemicals with negative effects to the environment.
The structure of tributyltin
oxide:
the most common TBT compound used in marine paint
Tributyltin compounds are moderately to highly persistent organic pollutants that bioconcentrate
up the marine predators' food chain, causing irreversible damage to the aquatic life.Tributyltin is
harmful to some marine organisms, including the dog whelk , it causes dog whelks to suffer from
imposex ; females develop male sexual characteristics such as a penisThis causes them to become
infertile or even die. In severe cases, males can develop egg sacs.
(5.) METAL POISONING:
Heavy metals are used in paints, for example Lead is added to paint to speed drying, increase
durability, retain a fresh appearance, and resist moisture that causes corrosion.
Leaded paint is sometimes used to paint roadways and parking lot lines. Lead, a poisonous metal,
can damage nerve connections (especially in young children) and cause blood and brain disorders.