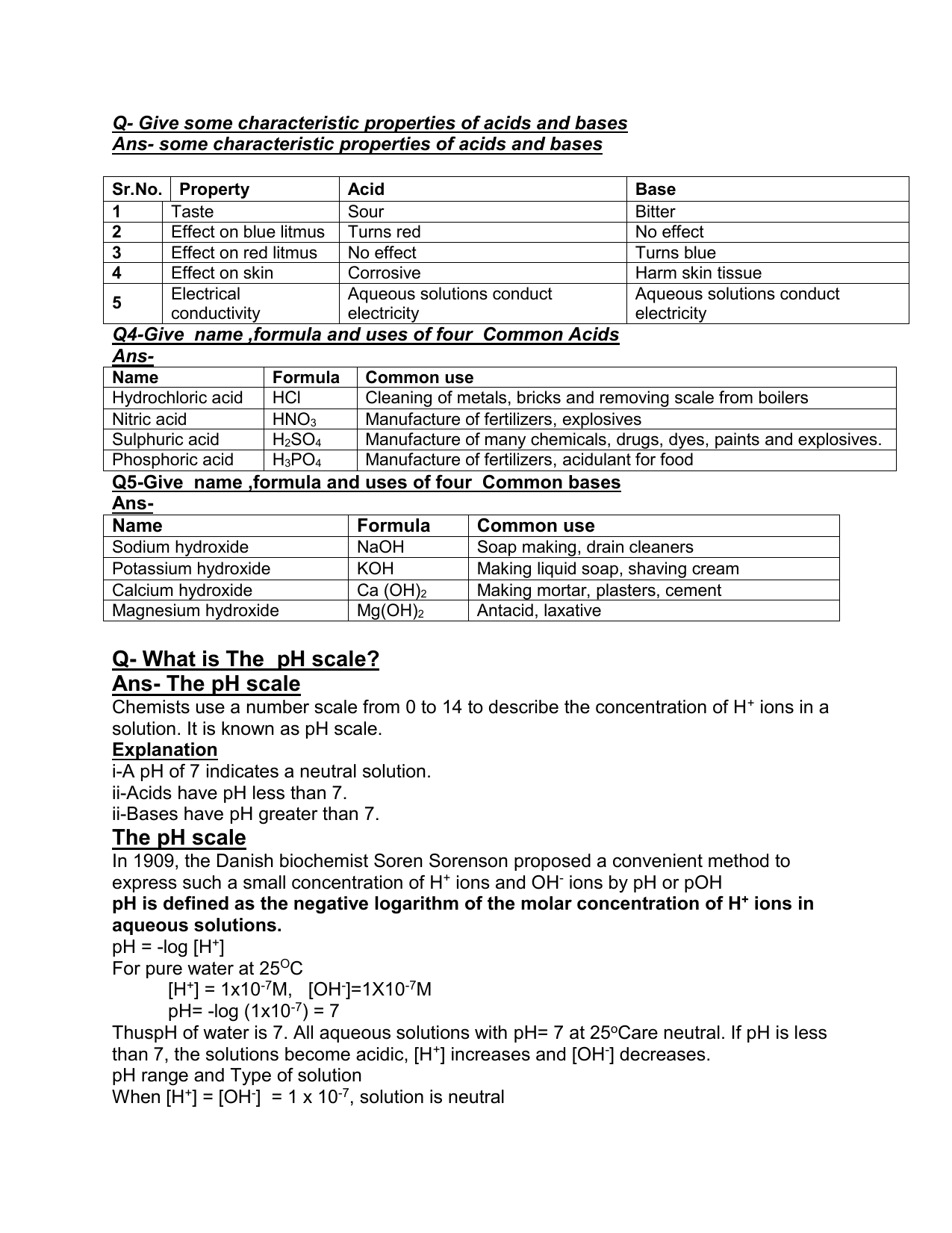 Q- Give some characteristic properties of acids and bases
Ans- some characteristic properties of acids and bases
Sr.No.
1
2
3
4
5
Property
Taste
Effect on blue litmus
Effect on red litmus
Effect on skin
Electrical
conductivity
Acid
Sour
Turns red
No effect
Corrosive
Aqueous solutions conduct
electricity
Base
Bitter
No effect
Turns blue
Harm skin tissue
Aqueous solutions conduct
electricity
Q4-Give name ,formula and uses of four Common Acids
AnsName
Hydrochloric acid
Nitric acid
Sulphuric acid
Phosphoric acid
Formula
HCl
HNO3
H2SO4
H3PO4
Common use
Cleaning of metals, bricks and removing scale from boilers
Manufacture of fertilizers, explosives
Manufacture of many chemicals, drugs, dyes, paints and explosives.
Manufacture of fertilizers, acidulant for food
Q5-Give name ,formula and uses of four Common bases
AnsName
Formula
Common use
Sodium hydroxide
Potassium hydroxide
Calcium hydroxide
Magnesium hydroxide
NaOH
KOH
Ca (OH)2
Mg(OH)2
Soap making, drain cleaners
Making liquid soap, shaving cream
Making mortar, plasters, cement
Antacid, laxative
Q- What is The pH scale?
Ans- The pH scale
Chemists use a number scale from 0 to 14 to describe the concentration of H + ions in a
solution. It is known as pH scale.
Explanation
i-A pH of 7 indicates a neutral solution.
ii-Acids have pH less than 7.
ii-Bases have pH greater than 7.
The pH scale
In 1909, the Danish biochemist Soren Sorenson proposed a convenient method to
express such a small concentration of H+ ions and OH- ions by pH or pOH
pH is defined as the negative logarithm of the molar concentration of H+ ions in
aqueous solutions.
pH = -log [H+]
For pure water at 25OC
[H+] = 1x10-7M, [OH-]=1X10-7M
pH= -log (1x10-7) = 7
ThuspH of water is 7. All aqueous solutions with pH= 7 at 25oCare neutral. If pH is less
than 7, the solutions become acidic, [H+] increases and [OH-] decreases.
pH range and Type of solution
When [H+] = [OH-] = 1 x 10-7, solution is neutral
When
When
[H+] >1 x 10-7, solution is acidic
[H+] < 1 x 10-7, solution is basic
Methods of measurement of pH
Scientist use different methods to measure pH of a solution. pH paper or universal
indicator paper is used to measure pH of a solution.
Methods
1-pH paper
pH paper is dipped in the solution. The colourthat develops on the pH paper is
compared to the colour corresponding to a known pH on the chart. Each colour is linked
to a specific pH value.
Colours of pH paper or universal indicator
2-pH Meters:
There are machines called pH meters to measure pH .This instrument is dipped into
solution of unknown pH.It shows pH of the solution on digital screen.If pH is lower than
7 it is an acid and if it is more than 7 it is a base.
Q- Give some applications of pHSirShahid.M 92733715
Ans-- Analytical chemist measures pH of solutions pH measurement has valuable
applications. For instance it helps analytical chemist to
(i)
to create soil conditions ideal for plant growth
(ii)
medical diagnose
(iii) maintaining the correct acid base balance in swimming pools
(iv)
(iv) electroplating
(v)
(v)manufacture of medicine etc. tap water and waste water.