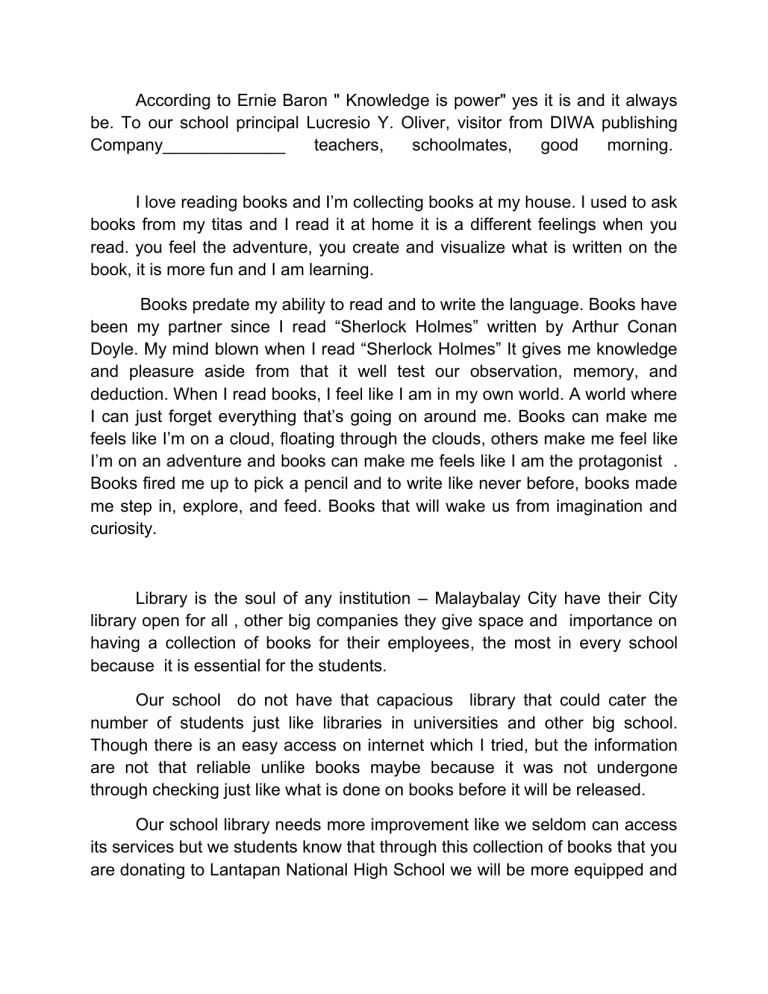 According to Ernie Baron " Knowledge is power" yes it is and it always
be. To our school principal Lucresio Y. Oliver, visitor from DIWA publishing
Company_____________
teachers,
schoolmates,
good
morning.
I love reading books and I'm collecting books at my house. I used to ask
books from my titas and I read it at home it is a different feelings when you
read. you feel the adventure, you create and visualize what is written on the
book, it is more fun and I am learning.
Books predate my ability to read and to write the language. Books have
been my partner since I read "Sherlock Holmes" written by Arthur Conan
Doyle. My mind blown when I read "Sherlock Holmes" It gives me knowledge
and pleasure aside from that it well test our observation, memory, and
deduction. When I read books, I feel like I am in my own world. A world where
I can just forget everything that's going on around me. Books can make me
feels like I'm on a cloud, floating through the clouds, others make me feel like
I'm on an adventure and books can make me feels like I am the protagonist .
Books fired me up to pick a pencil and to write like never before, books made
me step in, explore, and feed. Books that will wake us from imagination and
curiosity.
Library is the soul of any institution – Malaybalay City have their City
library open for all , other big companies they give space and importance on
having a collection of books for their employees, the most in every school
because it is essential for the students.
Our school do not have that capacious library that could cater the
number of students just like libraries in universities and other big school.
Though there is an easy access on internet which I tried, but the information
are not that reliable unlike books maybe because it was not undergone
through checking just like what is done on books before it will be released.
Our school library needs more improvement like we seldom can access
its services but we students know that through this collection of books that you
are donating to Lantapan National High School we will be more equipped and
it is a great advantage to us especially in our studies. It is of great help
especially in the K-12 curriculum we are in now.
We truly appreciate your support to us and the focus on improving our
academic performance. Learning to love and appreciate reading is a center
here in Lantapan National High School and having numerous books to lay into
the hands of ours is a strategic way in developing our reading comprehension.
Your willingness to help, you and other people have brought us closer to our
goals and dreams. We believe that through reading books we acquire
knowledge which is very important tool for our success. Once again, thank
you Sir and good morning!!!
.