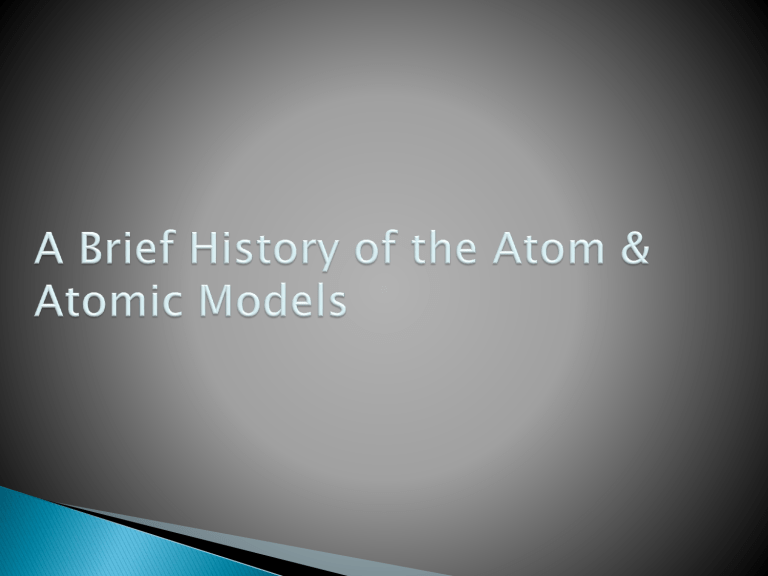 Proved atoms existed
 Elements made of tiny
particles -atoms.
 Atoms cannot be
created or divided
into smaller particles.
 Atoms of a an
element are different
from those of any
other element.

Had evidence to
support his idea.
 Viewed the atom as a
hard, solid spheres could not be broken
down.
 This theory was
disproven by the
discovery of electrons

 Discovered
electron by using the
cathode ray tube.
 Cathode rays were stream of (-)
charged particles.
 Model
had (+) and
(-) charges
scattered
throughout the
atom.
 Known as chocolate
chip cookie model.
 This model was
disproven by
discovery of the
nucleus.
Plum Pudding model
 Discovered
nucleus
 The Gold Foil Experiment allowed
him to make this discovery
 Model
defines
location and
charge of
nucleus –
doesn't clearly
define location
of the electrons.
 This model is
IMPROVED by
the Bohr model.
Model depicts
atom as small, (+)
charged nucleus
surrounded by
electrons in
orbit.
 Similar to the
solar system, but
with forces
providing
attraction, rather
than gravity.


He discovered electrons in
regions called electron
clouds; electron clouds are
places where the electrons
are likely to be found


The current model is difficult to draw
because electrons move freely around the
nucleus in 3 dimensions
Similar to people moving around the planet
Earth.