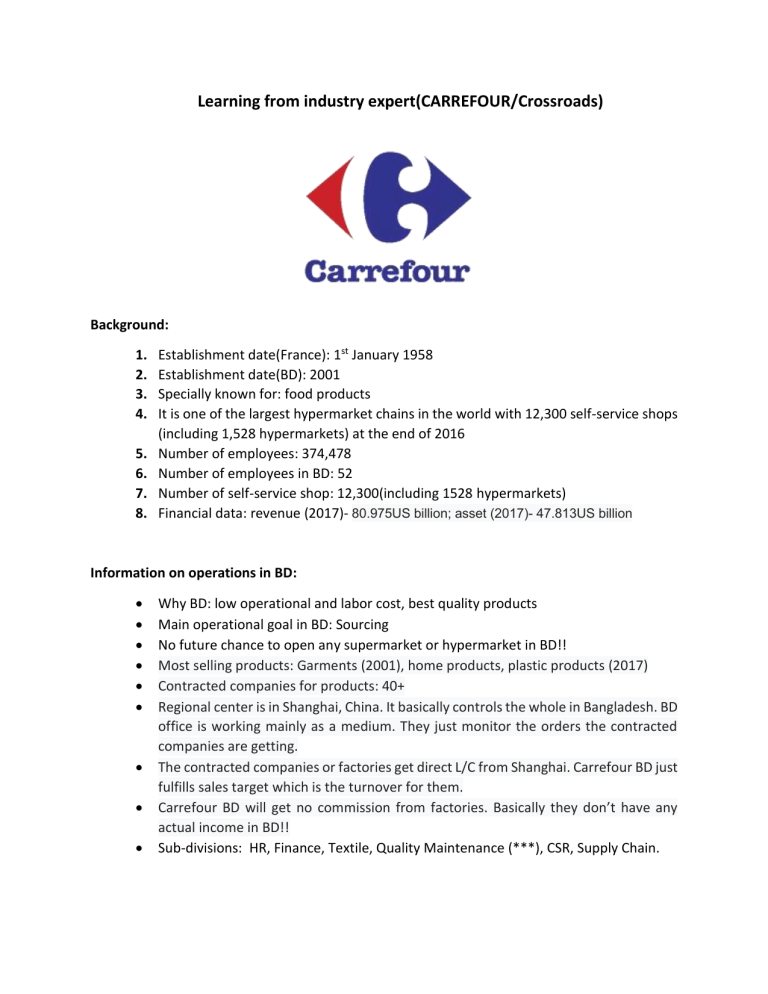 Learning from industry expert(CARREFOUR/Crossroads)
Background:
1.
2.
3.
4.
5.
6.
7.
8.
Establishment date(France): 1st January 1958
Establishment date(BD): 2001
Specially known for: food products
It is one of the largest hypermarket chains in the world with 12,300 self-service shops
(including 1,528 hypermarkets) at the end of 2016
Number of employees: 374,478
Number of employees in BD: 52
Number of self-service shop: 12,300(including 1528 hypermarkets)
Financial data: revenue (2017)- 80.975US billion; asset (2017)- 47.813US billion
Information on operations in BD:









Why BD: low operational and labor cost, best quality products
Main operational goal in BD: Sourcing
No future chance to open any supermarket or hypermarket in BD!!
Most selling products: Garments (2001), home products, plastic products (2017)
Contracted companies for products: 40+
Regional center is in Shanghai, China. It basically controls the whole in Bangladesh. BD
office is working mainly as a medium. They just monitor the orders the contracted
companies are getting.
The contracted companies or factories get direct L/C from Shanghai. Carrefour BD just
fulfills sales target which is the turnover for them.
Carrefour BD will get no commission from factories. Basically they don't have any
actual income in BD!!
Sub-divisions: HR, Finance, Textile, Quality Maintenance (***), CSR, Supply Chain.
Planning:







Mr. Ponkoj Roy likes to plan in today for tomorrow using sticky notes and reminder.
They always have redundant factories (standby) in case one cannot fulfill the
shipment in time (contingency plan)
The Category Sourcing (Shirt, pant etc.) manager from Hong Kong makes continuous
visits in BD to ensure the quality and other things.
If other factors are OK but still there is a possibility to fail the shipment, then
responsibility will be on Carrefour BD and to mitigate that prior to happening, they
ensure close supervision and communication in the entire process. (Risk)
If any factory misses the shipment time, the final method will be air mail and the
factory will bear all the additional expenses (per contract rules) (critical factor/
challenge in planning).
Carrefour BD ensures that the subordinates realize the G&Os. In order to do that they
discuss about their G&Os in board meetings and casual conversations before and after
setting the G&Os
Short term goal: fulfilling the orders(targets) while maintaining quality. E platform, E
training manager, soft skill online training.
Long term goal: Increasing shipment volume/ order for future.
'Mission 2022': Cost reduction of overall process (for the whole Carrefour).
Decision Making:





He has to be discreet in terms of making individual decisions (HR, Finance) as he has
the ultimate power regarding these divisions. Finance- monthly budget making for
salary and other issues and sending it to shanghai. As they don't have any concrete
financial operations in BD, so less task is required regarding this division. HR- Man
management, recruitment (not final decision maker), performance monitoring. He
doesn't believe in vigorous hiring and firing as the company believe in finding out and
sorting the weaknesses/ faults of an employee
They practice continuous assessment inside the division/ organization to find out fault
or need and take decision based on the result.
They ensure and encourage participation in decision making from all divisions which
may cause conflict of interest but at the very same time helps to make a better and
fruitful decision.
As a head of Finance and HR, he always ensures equal participation of his workers
while making decisions. Everyone has a scope of expressing ideas and thoughts and
no one is adamant to any decisions or beliefs s/he holds. So there is a little or zero
chance to arise any conflict of interests.
They on a regular basis hold meetings of divisional heads (6 people) along with country
manager in decision making process.
Leading:



He tries to motivate employees by considering them a part of the organization; not a
material. Everyone has a proper chance to express her/his opinions while working an
ongoing event. He also ensures an informal relationship (not too casual) within the
organization so that everyone has a better understanding about each other resulting
a healthy working environment. Carrefour BD has a yearly rewarding system based on
performance which ascertains a healthy competition among employees.
According to Mr. Ponkoj Roy, a future leader should possess two major skillsCommunication and Computer (technical). Communication- to be a leader anyone
must know proper man management and in order to achieve that communication is
a must. Technical- The world is evolving around technology. In order to be a successful
leader I have to be updated about soft and technical skills. This will ensure better
commanding output from me as a leader.
In order to ensure the development of his team members, Mr. Ponkoj Roy arranges
several workshops and training programs (one of them conducted by SNK!!) to assess
his employees. Also they have KPI (Key Performance Indicator) based rewarding
system which helps to find out the best of an employee while working.
Controlling:


Throughout an ongoing task, Mr. Ponkoj Roy ensures feedback for every employee.
Often he holds small group meeting where everyone can realize his or her
performance graph. Sometimes he gives feedback to an employee in a one-one
conversation. He performs this task putting the shoes of a counselor and a boss. This
process continues even after the task. Contract with a local CA audit firm helps
Carrefour BD to assess their financial situation monthly and yearly. A team from
Shanghai also performs auditing yearly.
He gives negative feedback to an employee in an informal conversation (not in public
or group discussion) if necessary. This ensures privacy as well as mitigates the harmful
effects such as bullying, backbiting and etc.
Future Challenges:

Per Mr. Ponkoj Roy's saying, the upcoming challenges for any managers are having
both the communication skills as well as technical skills. A good manager must
communicate with and manage the subordinates by technical manner. A good
manager can't stop learning because if s/he do so, s/he will fall behind.