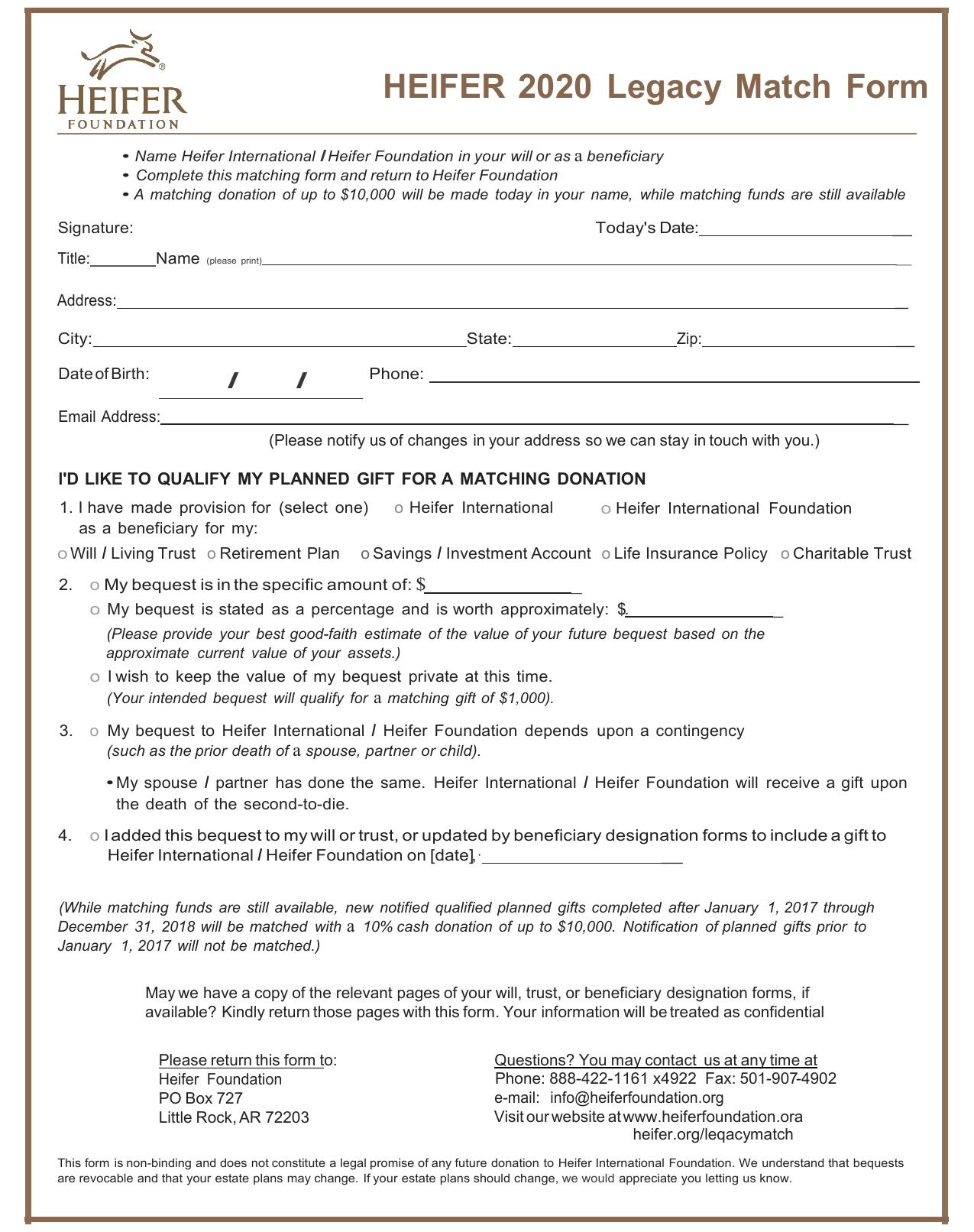 HEIFER 2020 Legacy Match Form
• Name Heifer International I Heifer Foundation in your will or as a beneficiary
• Complete this matching form and return to Heifer Foundation
• A matching donation of up to $10,000 will be made today in your name, while matching funds are still available
Signature:
Today's Date:
Title:
Name
_
(please print)
_
Address:
_
City:
State:
Date of Birth:
I
Zip:
_
Phone:
I
Email Address:
_
(Please notify us of changes in your address so we can stay in touch with you.)
l'D LIKE TO QUALIFY MY PLANNED GIFT FOR A MATCHING DONATION
1. I have made provision for (select one)
as a beneficiary for my:
o Will I Living Trust o Retirement Plan
2.
o Heifer International
o Heifer International Foundation
o Savings I Investment Account o Life Insurance Policy o Charitable Trust
o My bequest is in the specific amount of: $
_
o My bequest is stated as a percentage and is worth approximately: $.
_
(Please provide your best good-faith estimate of the value of your future bequest based on the
approximate current value of your assets.)
o I wish to keep the value of my bequest private at this time.
(Your intended bequest will qualify for a matching gift of $1,000).
3.
o My bequest to Heifer International I Heifer Foundation depends upon a contingency
(such as the prior death of a spouse, partner or child).
• My spouse I partner has done the same. Heifer International I Heifer Foundation will receive a gift upon
the death of the second-to-die.
4.
o I added this bequest to my will or trust, or updated by beneficiary designation forms to include a gift to
Heifer International I Heifer Foundation on [date], ·
_
(While matching funds are still available, new notified qualified planned gifts completed after January 1, 2017 through
December 31, 2018 will be matched with a 10% cash donation of up to $10,000. Notification of planned gifts prior to
January 1, 2017 will not be matched.)
May we have a copy of the relevant pages of your will, trust, or beneficiary designation forms, if
available? Kindly return those pages with this form. Your information will be treated as confidential
Please return this form to:
Heifer Foundation
PO Box 727
Little Rock, AR 72203
Questions? You may contact us at any time at
Phone: 888-422-1161 x4922 Fax: 501-907-4902
e-mail: [email protected]
Visit our website at www.heiferfoundation.ora
heifer.org/leqacymatch
This form is non-binding and does not constitute a legal promise of any future donation to Heifer International Foundation. We understand that bequests
are revocable and that your estate plans may change. If your estate plans should change, we would appreciate you letting us know.