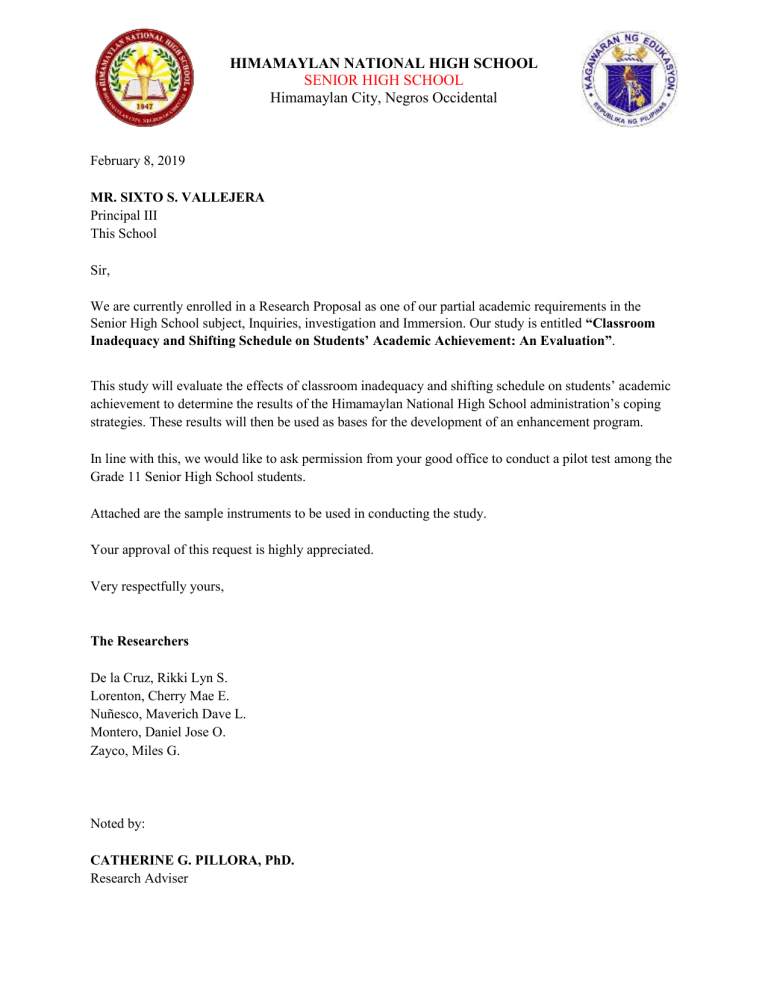 HIMAMAYLAN NATIONAL HIGH SCHOOL
SENIOR HIGH SCHOOL
Himamaylan City, Negros Occidental
February 8, 2019
MR. SIXTO S. VALLEJERA
Principal III
This School
Sir,
We are currently enrolled in a Research Proposal as one of our partial academic requirements in the
Senior High School subject, Inquiries, investigation and Immersion. Our study is entitled "Classroom
Inadequacy and Shifting Schedule on Students' Academic Achievement: An Evaluation" .
This study will evaluate the effects of classroom inadequacy and shifting schedule on students' academic achievement to determine the results of the Himamaylan National High School administration's coping strategies. These results will then be used as bases for the development of an enhancement program.
In line with this, we would like to ask permission from your good office to conduct a pilot test among the
Grade 11 Senior High School students.
Attached are the sample instruments to be used in conducting the study.
Your approval of this request is highly appreciated.
Very respectfully yours,
The Researchers
De la Cruz, Rikki Lyn S.
Lorenton, Cherry Mae E.
Nuñesco, Maverich Dave L.
Montero, Daniel Jose O.
Zayco, Miles G.
Noted by:
CATHERINE G. PILLORA, PhD.
Research Adviser