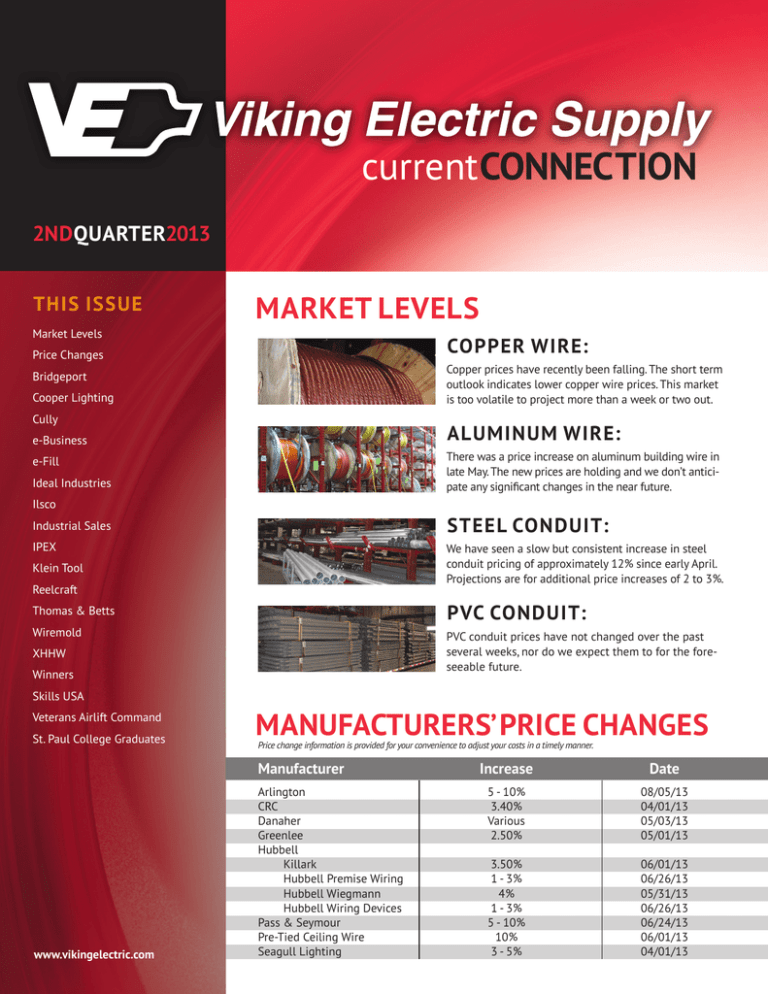 currentconnection
2ndquarter2013
this issue
Market Levels
market levels
Copper wire:
Price Changes
Copper prices have recently been falling. The short term
outlook indicates lower copper wire prices. This market
is too volatile to project more than a week or two out.
Bridgeport
Cooper Lighting
Cully
Aluminum Wire:
e-Business
There was a price increase on aluminum building wire in
late May. The new prices are holding and we don't anticipate any significant changes in the near future.
e-Fill
Ideal Industries
Ilsco
Industrial Sales
Steel Conduit:
IPEX
We have seen a slow but consistent increase in steel
conduit pricing of approximately 12% since early April.
Projections are for additional price increases of 2 to 3%.
Klein Tool
Reelcraft
PVC Conduit:
Thomas & Betts
Wiremold
PVC conduit prices have not changed over the past
several weeks, nor do we expect them to for the foreseeable future.
XHHW
Winners
Skills USA
Veterans Airlift Command
St. Paul College Graduates
manufacturers' price changes
Price change information is provided for your convenience to adjust your costs in a timely manner.
ManufacturerIncreaseDate
www.vikingelectric.com
Arlington
CRC
Danaher
Greenlee
Hubbell
Killark
Hubbell Premise Wiring
Hubbell Wiegmann
Hubbell Wiring Devices
Pass & Seymour
Pre-Tied Ceiling Wire
Seagull Lighting
5 - 10%
08/05/13
3.40%04/01/13
Various05/03/13
2.50%05/01/13
3.50%
1 - 3%
4%
1 - 3%
5 - 10%
10%
3 - 5%
06/01/13
06/26/13
05/31/13
06/26/13
06/24/13
06/01/13
04/01/13
currentconnection
2NDquarter2013
product information
Rolling Tool Bag
If you liked the Klein tool backpack
(KLE 55421BP), you're going to love
the new Tradesman Pro™ Rolling
Tool Bag. It doesn't get much easier
than this! The rugged 6" monster
wheels can handle nearly
any type of terrain. The
bag is strong enough
to carry up to 200 lbs.
of gear (100 lbs. inside,
100 lbs. stacked on
top), and a molded
kickplate protects
the bag from
the elements.
Save your back
– order yours
today!
KLE 55452RTB
V500 & V700 Grab
& Go kits
Each kit includes an assortment of
the standard raceway fittings, fasteners and accessories needed to complete a typical raceway installation.
Avoid the hassles of missing parts!
Fittings come in a convenient recloseable container that easily fits
in your service trucks. The individual
compartments are separated by part
number for easy res-stocking.
WIM V500GGKIT – V500 series kit
WIM V700GGKIT – V700 series kit
Quadcast Parking Garage
and Canopy Luminaire
Cooper Lighting's Quadcast fixture is now in stock at Viking.
This is an LED top-mounted fixture that is ideal for garages and
canopies and IP66 Rated for damp locations. Fully adjustable, locking
and rotatable optical panels allow for precise illumination control.
Optical panels adjust in 15 degree increments. 4365 lumens, 4000K CRI. This fixture may
also be factory ordered with a photo control.
CPL QDCAST1A
Lumark Crosstour Maxx Wall Mount
Cooper's Crosstour Maxx replaces 250W and 400W traditional ID wall
mounts. Both refractive and full-cutoff lenses are in stock. These
units are competitively priced. Contact your Viking representative to
place your order.
CPL XTOR5A - 50 Watt full cutoff
CPL XTOR5ARL - 50 Watt refractive lens
CPL XTOR5APC1 - 50 Watt refractive lens w/photo control
CPL XTOR9A - 85 Watt full cutoff
CPL XTOR9ARL - 85 Watt refractive lens
CPL XTOR9APC1 - 85 Watt refractive lens w/photo control
Sure-Lites PathLinx
LED Emergency Light
This thin profile emergency light unit blends into the environment with
expanded egress light spacing between units, providing a cost effective
and unobtrusive emergency egress system. The external battery disconnect and easy connection features make the PathLinx LED emergency
light uncomplicated and efficient throughout installation.
• (2) 1.4 watt LED optics
• 83 Lumens per LED
• 6-1/2"W x 6-1/4"H x 2"D
• Spacing up to 40 ft
• 5 year warranty
CPL LEM
ALL- PRO™ LED Dusk-to - Dawn
For a quality solution to LED dusk-to-dawn applications look to
the Cooper ALL-PRO™ AL2050LPC series.
• Over 10 years of maintenance-free operation with LED life span of
35,000 hours
• Exceptional large area light coverage that is equivalent to 200W incandescent or 100W
mercury vapor or 65W CFL
• NEMA replaceable photo control provides nighttime ON / daytime OFF
• Perfect for lighting dark, secluded areas
CPL AL2050LPCGY - Fixture head, gray with photo control
CPL EA24 - 24inch arm
www.vikingelectric.com | 2
product information
Safety • Performance • Ease - of - Use
SureTrace™ Circuit Tracer Kit
CertainCircuit™ for Safety
After you identify and trip the correct breaker, the transmitter senses the loss of power and
sends a different signal back to the receiver to give you confidence at the panel that the
right circuit was de-energized.
Performance
Four defined ranges of the new Circuit Tracer let you quickly select the proper sensitivity
for your specific job. Numeric value and audible signal
provide quick and easy-to-understand tracing feedback.
Use on circuits from 0-600V AC/DC
Ease-of-Use
SureTrace™ features the only rotating display in
the industry. Regardless of the receiver position, the
display will orient itself so that the reading stays
upright.
The IDE 61-957 comes in a rugged hard carrying
case:
Transmitter TR-955
Receiver RC-959
Tracer Test Lead Set TL-956
STAINLESS STEEL
FASTENER
We have expanded our STAINLESS STEEL FASTENER offering to include:
• Flat Cut Washers
• Fender Washers
• Hex Head Cap Screws
• Hex Nuts
• Lock Washers
• Round Head Machine Screws
Is the size or style you require not in stock? Let your Viking
sales representative know and we will be happy to add it to
our inventory.
3 | www.vikingelectric.com
Industrial Sales
Viking Electric –
Your Solutions
Provider
A large-volume panel shop recently
asked for Viking's help in updating
their labeling and identification capabilities. This shop has grown over
400% in the past five years and was
in the process of rethinking every
portion of their business from the
way they handle material to actually
building the panels. Ease-of-use and
simplicity were paramount while
maintaining the highest level of
quality.
We presented solutions based on
the Brady line of industrial labeling products. The customer selected
Brady BMP71s for wire marking,
identifying terminal blocks and to
use in the field. They also purchased
IP300s for larger panel identification
labels and danger/warning labels.
The printers and Brady's LabelMark software were placed on the
customer's network. The software
allowed easy modification of labels,
significant reduction in label waste
and, most importantly, allowed the
operator to group various sizes and
types of labels together; combining
all the labels needed for a single job.
Labels can now be printed from any
computer within the facility, greatly
increasing efficiency.
This is just one example of how
Viking Electric can help an organization become more efficient. As
you analyze your organization, be
sure to include Viking Electric sales
professionals in the conversation. Let
Viking Electric be your total solutions
provider!
currentconnection
2NDquarter2013
product information
Sta-Kon kit
While supplies last!
Get your 2013 Thomas & Betts StaKon kit while they last. The sturdy,
convenient carrying case contains
over $500.00 of splices, terminals and
disconnects – all for only $185.00.
This is a limited time opportunity. Ask
your Viking Electric representative
for a copy of the T&B
Sta-Kon
flyer which
lists all the
materials
contained
in the kit.
T-B STAKIT
PVC Conduit Repair Kits
These clever and innovative conduit repair kits from IPEX are the first total repair system
for broken and damaged PVC conduit and duct – and they are in stock at Viking!
They offer fast and easy repairs for damaged conduit caused by earth excavation, horizontal and core drilling.
With their unique interlocking joints, EPR Kits two half shell bell-by-bell pieces simply
close around the installed wire and cable. Using standard PVC solvent cement, EPR Kits
are quickly and easily assembled and connected, restoring the conduit to its original form.
EPR Kits are available in 1-1/4" to 6" sizes. They are made of high-impact, non-conductive
PVC for a life-long quality repair.
Viking is stocking the following sizes:
IPX EPR25 - 1-1/4 inch
IPX EPR30 - 1-1/2 inch
IPX EPR35 - 2 inch
IPX EPR40 - 2-1/2 inch
IPX EPR45 - 3 inch
IPX EPR55 - 4 inch
heavy- duty spring retractable reel
For the finest in light cord, power,
cable and hose reels you can count
on Reelcraft! Ask your Viking Electric
sales representative for a catalog of
Reelcraft products.
Viking has recently added Reelcraft's
new heavy-duty spring-retractable
reel to stock. This power cord reel
carries 45 ft of 12/3 SJEOOW 125V
15 amp cord, has a molded triple-tap
cord end and is GFCI protected.
WINNERS!
You could be one of the next big winners at Viking! During July, purchases of Pass &
Seymour or Wiremold products qualify for automatic entry into the drawing for
Weber gas grills and deck heaters. A gas grill and a deck heater will be
given away at every Viking location – 44 winners in all!
Pictured are a few of the 22 Sony Blu-ray™ player winners from February's Let
us Entertain You promotion.
WIN THESE
GREAT PRICES!
RLC L4545-123-9G
#
ÿ
#
ÿ'
˜ÿÿ" ÿ'ÿ
˜ÿÿ& ÿ#
˜ÿÿ' ÿ#
˜ÿÿ
www.vikingelectric.com | 4
product information
®
ILSCO® ADDS NIMBUS
4FLEX SHAPES
XHHN Aluminum Wire with Super Slick
Elite Jacket in COLORS In - Stock at Viking Minneapolis!
Only Encore offers XHHW aluminum with a fully-colored no-lube jacket! Pick up a copy
of our Encore XHHW Aluminum In-Stock Guide at any Viking location or, download a copy
from our online literature library at www.vikingelectric.com Have your wire cut, paralleled
and delivered within one to two days!
®
SuperSlick EliteAluminum
XHHW
In stock at our Minneapolis Distribution Center
Prefix= WIR
WIRE
SIZE
BROWN
ORANGE
YELLOW
GREY
BLUE
RED
WHITE
6
-
-
-
-
-
-
-
-
6XHHWALBLACK
4
-
-
-
-
-
-
-
4XHHWALGREEN
4XHHWALBLACK
2
-
-
-
-
-
-
-
1
-
-
-
-
-
-
-
1XHHWALGREEN
1XHHWALBLACK
1/0
-
-
-
-
-
-
-
1/0XHHWALGREEN
1/0XHHWALBLACK
2/0
-
-
-
-
-
-
-
2/0XHHWALGREEN
2/0XHHWALBLACK
3/0
-
-
-
-
-
-
GREEN
2XHHWALGREEN
Exclusive and Unique Configurations
Ideal for Work in Tight Spaces – in
stock at Viking
The Nimbus 4Flex series is the only
dual rated, insulated connector that
accepts both fine stranded and building code conductor. The patented
set-screw is a unique feature in that
it compresses the strands of the conductor without damage. Applications
include motor leads, control panels,
wire troughs, industrial/commercial
construction.
BLACK
2XHHWALBLACK
-
3/0XHHWALGREEN
4/0
4/0XHHWALBROWN
4/0XHHWALORANGE
4/0XHHWALYELLOW
4/0XHHWALGREY
4/0XHHWALBLUE
4/0XHHWALRED
4/0XHHWALWHITE
4/0XHHWALGREEN
4/0XHHWALBLACK
250
250XHHWALBROWN
250XHHWALORANGE
250XHHWALYELLOW
250XHHWALGREY
250XHHWALBLUE
250XHHWALRED
250XHHWALWHITE
-
250XHHWALBLACK
3/0XHHWALBLACK
300
300XHHWALBROWN
300XHHWALORANGE
300XHHWALYELLOW
300XHHWALGREY
300XHHWALBLUE
300XHHWALRED
300XHHWALWHITE
-
300XHHWALBLACK
350
350XHHWALBROWN
350XHHWALORANGE
350XHHWALYELLOW
350XHHWALGREY
350XHHWALBLUE
350XHHWALRED
350XHHWALWHITE
-
350XHHWALBLACK
400
400XHHWALBROWN
400XHHWALORANGE
400XHHWALYELLOW
400XHHWALGREY
400XHHWALBLUE
400XHHWALRED
400XHHWALWHITE
-
400XHHWALBLACK
500
500XHHWALBROWN
500XHHWALORANGE
500XHHWALYELLOW
500XHHWALGREY
500XHHWALBLUE
500XHHWALRED
500XHHWALWHITE
-
500XHHWALBLACK
600
600XHHWALBROWN
600XHHWALORANGE
600XHHWALYELLOW
600XHHWALGREY
600XHHWALBLUE
600XHHWALRED
600XHHWALWHITE
-
600XHHWALBLACK
750
750XHHWALBROWN
750XHHWALORANGE
750XHHWALYELLOW
750XHHWALGREY
750XHHWALBLUE
750XHHWALRED
750XHHWALWHITE
-
750XHHWALBLACK
Three configurations are available:
PBTT
PBTX
05/13
www.vikingelectric.com
Contact your Viking Electric sales representative for more information or to place your order.
the distributor you can depend on...
Encore SuperSlickElite XHHW ISG.indd 1
5/7/13 3:31 PM
Veterans Airlift Command
PBTL
Representatives from Viking Electric and the MRL Company recently had the pleasure of
presenting the Veteran's Airlift Command with a check for $10,000 on behalf of Legrand
(Pass & Seymour and Wiremold) and Viking Electric.
A few facts about the Veterans Airlift Command:
• They have flown 6,915 wounded warriors and family members over 4,054,000 miles
since their first mission in November 2006.
• Over 2,200 pilots and aircraft owners participate - ALL VOLUNTEERS!
• Over 1,700 passengers have been flown in the past 12 months alone.
• They operate with only a staff of three plus a combat-wounded intern.
• Based in Minnesota!
For more information about this great organization, go to www.veteransairlift.org.
Split-Grounding
Bushings SGB Series
•C
an be installed before wire pull
or after.
• Hinged design delivers installation
flexibility.
• Adjusts & aligns easier – even
in tight spots.
• Adjustable grounding lug (Alum)
accepts wire easier.
• Zinc die-cast alloy construction.
In stock in ¾" to 4" sizes.
5 | www.vikingelectric.com
currentconnection
2NDquarter2013
TOOL TIME
Bending Pipe? Let me count the ways!
There are several different types of
conduit and a number of ways to
bend each type.
PVC pipe gains popularity when
warmer weather arrives. Contractors use a variety of tools to bend
PVC to the angles that are needed.
For smaller sizes, there is a spring
Dan Lukitsch,
system that is placed inside the
Corporate Tools Specialist
pipe and the PVC is bent by hand.
p: 612-627-1202
e: dan.lukitsch@vikingelectric.com
Another method is to use a torch to
heat up the pipe until it becomes
flexible enough to bend. This can be dangerous because of the
open flame. A third method of bending PVC pipe uses a heat blanket. The blanket is plugged in and wrapped around the pipe until
the PVC is warm enough to bend. A hot box is the best and most
expensive way to bend PVC pipe. It rolls the pipe around heat coils
which produces an evenly heated pipe and makes bending much
easier. Hot boxes are particularly helpful when dealing with larger
sizes of pipe.
EMT, IMC and Rigid conduit have a variety of bending options as
well. The first is the hand bender that goes up to 1-1/4" EMT or
1"Rigid. Hickey benders bend rigid pipe from ½" to 1". The Little
Kicker will bend offsets in ½" & ¾" EMT. Mechanical benders are
for ½" to 2" pipe. EMT, IMC, Aluminum and Rigid can be bent in
these types of benders. The next style of bender is the electric
conduit bender. These are powered benders that work with 1/2" to
2" conduit. The Greenlee 555, commonly called the triple-nickel, is
an example of a popular powered bender. For 2" to 4" pipe, a table
bender is the preferred tool. Ask us about the new bending cart –
keep all the pieces in one place! Hydraulic benders and one-shots
are additional options for bending conduit.
Contact your Viking sales professional or your local Tool Champion
if you would like to discuss what bending equipment to have on
hand that will make your jobs faster, easier and more profitable.
Tool champions by location:
Blaine
Kevin Donovan
763-572-0250kevin.donovan@vikingelectric.com
Baxter
Dave Riegert
218-828-0151dave.riegert@vikingelectric.com
Burnsville
Fred Hansen
952-890-8420
Duluth
Tim Glackin
218-336-1333tim.glackin@vikingelectric.com
Eau Claire
Randy Smith
715-834-7786randy.smith@vikingelectric.com
Grand Rapids
Al Jylha
218-326-5802al.jylha@vikingelectric.com
Green Bay
Tom Graf
920-494-5777
Kenosha
Dan Sittig
262-237-2680dan.sittig@vikingelectric.com
La Crosse
Matt Trautsch
608-796-1761
Madison
Tony Ciebell
608-216-3030tony.ciebell@vikingelectric.com
Mankato
Todd Hansen
507-345-1210todd.hansen@vikingelectric.com
Milwaukee
Dave Kraus
414-773-4473dave.kraus@vikingelectric.com
Minneapolis (DC)
Dan Lukitsch
612-627-1202dan.lukitsch@vikingelectric.com
Bruce Quinn
612-627-1233bruce.quinn@vikingelectric.com
Oshkosh
Brian Heidl
920-236-6040
brian.heidl@vikingelectric.com
Plymouth
Rodney Leininger
763-383-2929
rodney.leininger@vikingelectric.com
Rice Lake
Steve Hansen
715-234-3003steve.hansen@vikingelectric.com
Rochester
Matt Newell
507-280-9900
St. Croix Falls
Mark Mckenzie
715-483-3203mark.mackenzie@vikingelectric.com
St. Paul
Kevin Mishler
651-298-0666
kevin.mishler@vikingelectric.com
Sheboygan
Mark Sprangers
920-917-6325
mark.sprangers@vikingelectric.com
Sturgeon Bay
Mike Starr
920-743-5505
mike.starr@vikingelectric.com
Wausau
Joe Matter
715-261-4960
joe.matter@vikingelectric.com
fred.hansen@vikingelectric.com
tom.graf@vikingelectric.com
matt.trautsch@vikingelectric.com
matt.newell@vikingelectric.com
www.vikingelectric.com | 6
e-fill
Have you tried eFill yet? Customers who are using eFill say that it is saving them a ton of time, plus it ensures accuracy. One of the ways to make
the most of the eFill app is to have us create an order book for you. This is
particularly useful for job trailers, service vans, or applications where you
are ordering a specific list of items.
The book has index tabs (i.e. EMT fittings, Conduit, Wire, etc) for easy navigation. Behind each tab are the appropriate labels for ordering your list
of materials. You can scan in orders from your smart phone. We can get
you started with one of our templates or create a fully customized order
book based on your specific requirements.
Talk to your Viking sales representative
today about setting up an appointment with
a Viking eBusiness specialist.
e-business
Introducing Kyle Hynes
Over the past few years Viking Electric has expanded the number and scope of electronic tools available to our customers. Our eSolutions suite of E-Business products are tailored to meet the varying needs of our customers by making it easier for them to transact
with us in a manner and time frame that fits their particular business model.
Many of you have worked with Brady Kerr, along with your Viking sales professional, to help your organization with training, support
and/or implementation of our various eSolutions offerings. With the size of our geographical territory and the number of people requiring assistance, it is no longer feasible for us to provide support with a single person. Therefore, Viking Electric Supply is pleased to introduce Kyle Hynes, our newest E-Business Specialist, with responsibility for Viking's Eastern Region. The
Eastern Region territory covers all of Viking's locations in the state of Wisconsin with the exception of
Eau Claire, La Crosse, Rice Lake, and St. Croix Falls which fall in our Western Region territory. Brady will
continue to support those locations as well as our customers located throughout Minnesota.
Kyle began his career with Viking Electric on June 24, 2010 following his graduation from the University of Wisconsin in Green Bay. He spent his first nine months on the job in the warehouse at our
Milwaukee, WI location learning the ins and outs of the logistical aspect of our industry. Following his
stint in the warehouse he was offered and accepted a position in our Madison, WI location as an Electrical Distribution Trainee and was quickly promoted to the position of Account Representative. In his
two plus years in the account representative role, he learned how customers interact with distributors,
the products and services supplied by Viking to its customer base and became familiar with Viking's
systems and capabilities.
In his new role Kyle will be based out of our Milwaukee location but will be available to help throughout the Eastern Region. Please feel free to work through your Viking sales professional or contact Kyle
directly for anything you need in regard to E-Business related support. His contact information is as
follows:
Direct Dial: 414-773-4421
Cell: 262-957-6177
Email: kyle.hynes@vikingelectric.com
If you would like to learn more about any of the electronic tools Viking has
available to assist in streamlining your business, please ask us for a copy of
our eSolutions brochure, contact your Viking sales person or contact your EBusiness Specialist.
7 | www.vikingelectric.com
Kyle Hynes,
E-Business Specialist
p: 414-773-4421
c: 262-957-6177
e: kyle.hynes@vikingelectric.com
BAXTER, MN 56425
7650 Goedderz Road
PH 218-828-0151
FX 218-828-0399
ROCHESTER, MN 55901
1440 Industrial Dr. NW
PH 507-281-2232
FX 507-280-7700
OSHKOSH, WI 54904
2755 Atlas Ave.
PH 920-236-6040
FX 920-236-6050
BLAINE, MN 55449
8844 West 35W Service Dr.
PH 763-572-0250
FX 763-572-0367
ST. PAUL, MN 55101
500 Broadway
PH 651-298-0666
FX 651-298-0665
RICE LAKE, WI 54868
600 West Ave.
PH 715-234-3003
FX 715-234-2662
BURNSVILLE, MN 55337
2601 West Hwy. 13
PH 952-890-8420
FX 952-882-0201
EAU CLAIRE, WI 54703
2215 Truax Blvd.
PH 715-834-7786
FX 715-834-0078
ST. CROIX FALLS, WI 54024
2090 US Hwy. 8
PH 715-483-3203
FX 715-483-1723
DULUTH, MN 55807
4531 West 2ND St.
PH 218-624-2200
FX 218-624-0209
GREEN BAY, WI 54311
1936 Donbea St.
PH 920-494-5777
FX 920-494-5575
Sheboygan, WI 53081
4228 High Tech Lane
PH 920-459-4500
FX 920-458-3255
GRAND RAPIDS, MN 55744
807 Lily Lane
PH 218-326-5802
FX 218-326-5875
Kenosha, WI 53144
9016 58th Place
PH 262-605-6915
FX 262-657-4854
STURGEON BAY, WI 54235
1416 South Neenah Ave.
PH 920-743-5505
FX 920-743-2285
MANKATO, MN 56001
320 Lundin Blvd.
PH 507-345-1210
FX 507-345-8877
LA CROSSE, WI 54603
646 Breezy Point Road
PH 608-796-1761
FX 608-796-0998
WAUSAU, WI 54403
100 East Bridge St.
PH 715-845-7312
FX 715-842-2189
MINNEAPOLIS, MN 55413
451 Industrial Blvd.
PH 612-627-1300
FX 612-627-1313
Madison, WI 53718
5265 Femrite Dr.
PH 608-216-3000
FX 608-216-3010
PLYMOUTH, MN 55441
13870 Industrial Park Blvd.
PH 763-383-2929
FX 763-383-2930
Milwaukee, WI 53222
2900 N. 112th St.
PH 414-475-6900
FX 414-475-6607
Viking Electric Supply is
an EEO/AA employer.
currentconnection
2NDquarter2013
Skills USA 2013
www.vikingelectric.com
Saint Paul College Graduation
On Saturday, April 6th Viking Electric was host to the Minnesota
state SkillsUSA championship. This is a competition in electrical
construction wiring and industrial motor controls. There were 27
contestants representing seven Vo-Tech colleges in the state of
Minnesota. The winner of each wiring contest advances to the
national contest in Kansas City, MO.
The contest is divided into three parts; a written exam, an interview, and a mock-up wiring contest. The contestants had a fourhour time limit and were judged by Minnesota electrical inspectors
and electrical contractors. A special thanks to Kathy Green, Viking
Product Manger and Dan Lukitsch, Viking Tool Specialist for their
help in working with our vendors to donate door prizes for the
participants and awards for the winners.
Gary Shantz of Ideal Industries (right in picture), awarded Ideal
tools in recognition of perfect attendance in the electrical program
to Jason Doll, John Peltier and Devin Lee (left to right). Jason was
also the top student in the class.
The mission of Saint Paul College is to provide: Education for Employment…Education for Life.