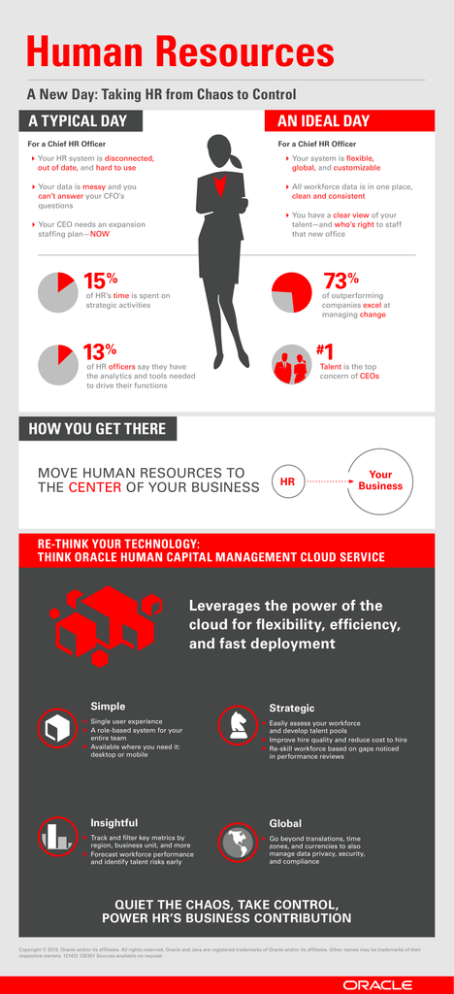 Human Resources
A new Day: Taking HR from Chaos to Control
A TYPICAL DAY
An IDEAL DAY
For a chief hr officer
For a chief hr officer
Your HR system is disconnected,
out of date, and hard to use
Your system is flexible,
global, and customizable
Your data is messy and you
can't answer your CFO's
questions
All workforce data is in one place,
clean and consistent
You have a clear view of your
talent—and who's right to staff
that new office
Your CEO needs an expansion
staffing plan—NOW
15%
73%
of HR's time is spent on
strategic activities
of outperforming
companies excel at
managing change
13%
1
#
of HR officers say they have
the analytics and tools needed
to drive their functions
Talent is the top
concern of CEOs
HOW YOU GET THERE
MOvE HuMAN RESOuRCES TO
THE CENTER OF YOuR buSiNESS
hr
Your
business
RE-THInk YOUR TECHnOLOGY:
THInk ORACLE HUmAn CAPITAL mAnAGEmEnT CLOUD sERvICE
leverages the power of the
cloud for flexibility, efficiency,
and fast deployment
simple
f Single user experience
f A role-based system for your
entire team
f Available where you need it:
desktop or mobile
insightful
f Track and filter key metrics by
region, business unit, and more
f Forecast workforce performance
and identify talent risks early
strategic
f Easily assess your workforce
and develop talent pools
f improve hire quality and reduce cost to hire
f Re-skill workforce based on gaps noticed
in performance reviews
Global
f Go beyond translations, time
zones, and currencies to also
manage data privacy, security,
and compliance
Quiet the chaos, take control,
power hr's business contribution
Copyright © 2013, Oracle and/or its affiliates. All rights reserved. Oracle and Java are registered trademarks of Oracle and/or its affiliates. Other names may be trademarks of their
respective owners. 121412 130301 Sources available on request.