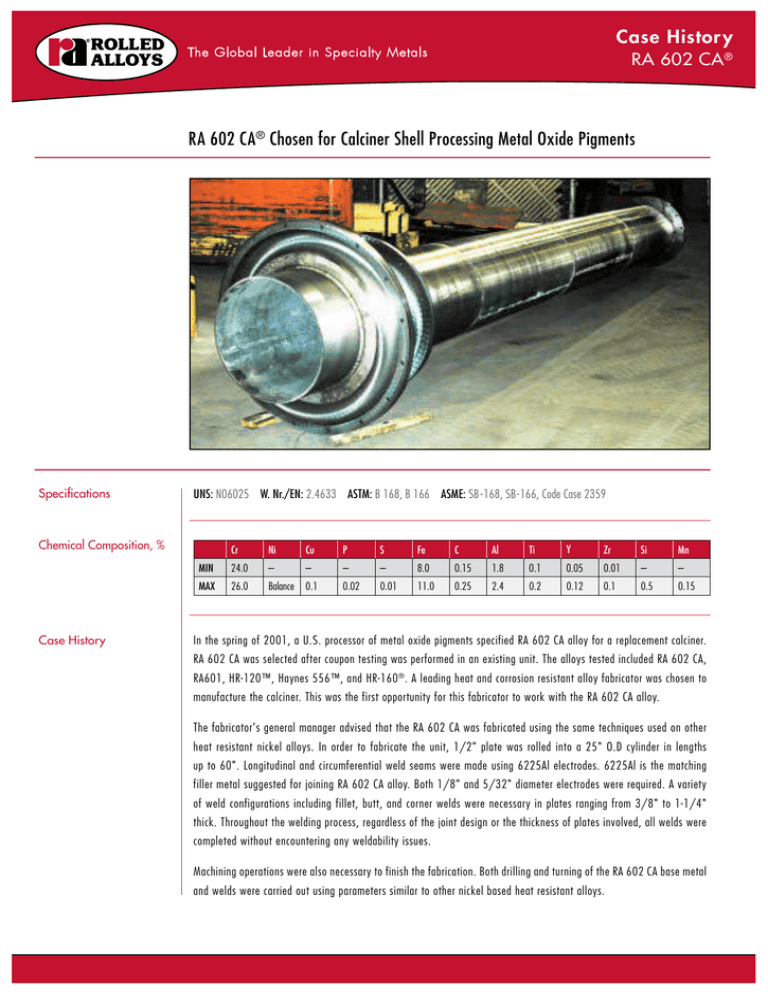 Case Histor y
The Global Leader in Specialty Metals
RA 602 CA®
RA 602 CA® Chosen for Calciner Shell Processing Metal Oxide Pigments
Specifications
UNS: N06025 W. Nr./EN: 2.4633 ASTM: B 168, B 166 ASME: SB -168, SB-166, Code Case 2359
Chemical Composition, %
Case History
Cr
Ni
Cu
P
S
Fe
C
Al
Ti
Y
Zr
Si
Mn
MIN
24.0
–
–
–
–
8.0
0.15
1.8
0.1
0.05
0.01
–
–
MAX
26.0
Balance 0.1
0.02
0.01
11.0
0.25
2.4
0.2
0.12
0.1
0.5
0.15
In the spring of 2001, a U.S. processor of metal oxide pigments specified RA 602 CA alloy for a replacement calciner.
RA 602 CA was selected after coupon testing was performed in an existing unit. The alloys tested included RA 602 CA,
RA601, HR-120™, Haynes 556™, and HR-160 ®. A leading heat and corrosion resistant alloy fabricator was chosen to
manufacture the calciner. This was the first opportunity for this fabricator to work with the RA 602 CA alloy.
The fabricator's general manager advised that the RA 602 CA was fabricated using the same techniques used on other
heat resistant nickel alloys. In order to fabricate the unit, 1/2" plate was rolled into a 25" O.D cylinder in lengths
up to 60". Longitudinal and circumferential weld seams were made using 6225Al electrodes. 6225Al is the matching
filler metal suggested for joining RA 602 CA alloy. Both 1/8" and 5/32" diameter electrodes were required. A variety
of weld configurations including fillet, butt, and corner welds were necessary in plates ranging from 3/8" to 1-1/4"
thick. Throughout the welding process, regardless of the joint design or the thickness of plates involved, all welds were
completed without encountering any weldability issues.
Machining operations were also necessary to finish the fabrication. Both drilling and turning of the RA 602 CA base metal
and welds were carried out using parameters similar to other nickel based heat resistant alloys.
Case History, Continued
RA 602 CA alloy is a nickel based heat resistant alloy with high chromium and aluminum contents. The alloy provides
arguably the best combination of high temperature properties of any heat resistant alloy available. Because of its high
chromium content plus aluminum and yttrium additions, RA 602 CA is highly oxidation resistant. A relatively high carbon
content combined with titanium and zirconium additions provide the alloy with excellent creep rupture properties and also
minimizes the susceptibility of RA 602 CA to grain growth during operation at temperatures above 1800°F.
Rolled Alloys provided the complete bill of materials in plate and weld consumables to fabricate the unit. Some of the
processing performed by Rolled Alloys included shearing of the 3/8" and 1/2" plate material to size and abrasive water
jet cutting of the 1-1/4" thick rings
RA 602 CA is available in plate, sheet and round bar from Rolled Alloys stock. Matching weld consumables are also available
from Rolled Alloys.
60 2 C A A l l o y
is a registered trad
e m a r k o f T h y s s e n K r u p p V D M , R A an d R A 3 3 0 a r e r eg is t er e d tr adem arks of Ro lled Alloys
The G l obal L e a d e r i n S p e c i a lt y Me t a ls
© 2011 Rolled Alloys
The data and information in this printed matter are believed to be reliable. However, this material is not intended as a substitute for competent professional engineering assistance which is a requisite to any specific application. Rolled Alloys makes no
Bulletin No. 2027USe 01/14 warranty and assumes no legal liability or responsibility for results to be obtained in any particular situation, and shall not be liable for any direct, indirect, special, or consequential damage therefrom. This material is subject to revision without prior notice.