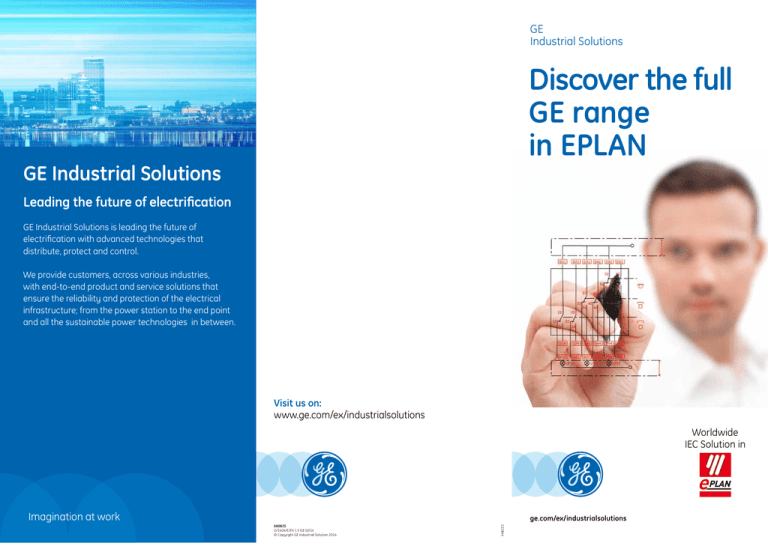 GE
Industrial Solutions
Discover the full
GE range
in EPLAN
GE Industrial Solutions
Leading the future of electrification
GE Industrial Solutions is leading the future of
electrification with advanced technologies that
distribute, protect and control.
We provide customers, across various industries,
with end-to-end product and service solutions that
ensure the reliability and protection of the electrical
infrastructure; from the power station to the end point
and all the sustainable power technologies in between.
Visit us on:
www.ge.com/ex/industrialsolutions
Worldwide
IEC Solution in
Imagination at work
ge.com/ex/industrialsolutions
113844
680825
G/1404/E/EX 1.5 Ed 10/14
© Copyright GE Industrial Solution 2014
The full range in
distribution, protection
and control products
available in EPLAN
More than 13.000
references
EntelliguardTM T
PremEonTM
New compact frame
further expanding the
EntelliGuard G family.
A new simplified and
modern electronic
trip unit.
UnibisTM RCBO
EfficorTM
Our lastest developments are now
available in EPLAN data portal.
GE Industrial Solutions is part of EPLAN data portal. GE has
integrated more than 13.000 references in the EPLAN
data portal in the field of high voltage switchgear, industrial
contactors, starters, low voltage protection devices and
enclosures.
Saving up to 50% space
New contactors &
in distribution boards.
starter combinations for
Residual current breaker
demanding applications.
with overcurrent protection.
Each product reference contains technical data, macro
schemes and high quality 2D & 3D images.
This upload allows to work in EPLAN Electric P8,
EPLAN Pro Panel or EPLAN Engineering Center
using the complete GE Industrial Solutions product
basket.
Aria
Universal polyester cabinets.
ge.com/ex/industrialsolutions
TeleREC
New GE self-reclosing solutions for earth leakage,
overcurrent & short circuit protection.