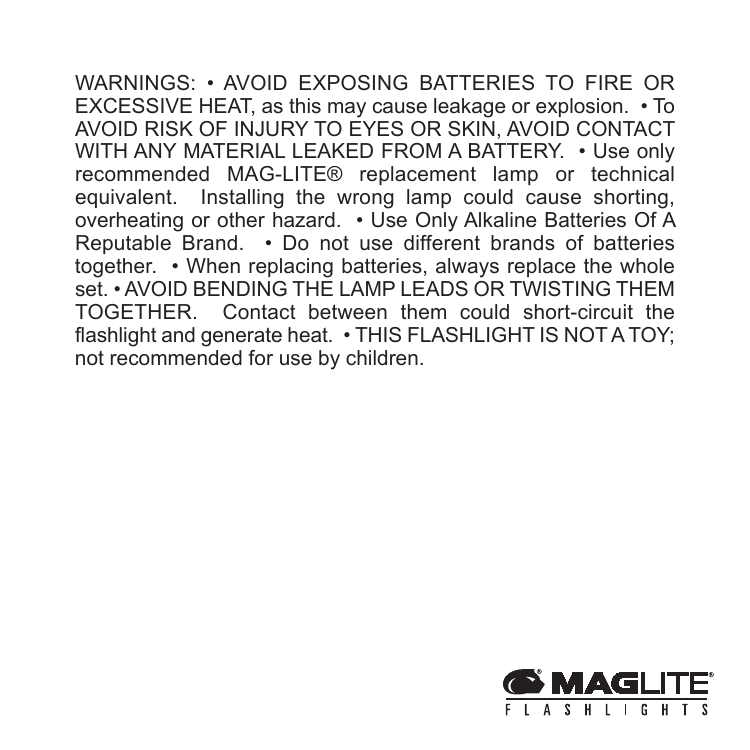 WARNINGS: • AVOID EXPOSING BATTERIES TO FIRE OR
EXCESSIVE HEAT, as this may cause leakage or explosion. • To
AVOID RISK OF INJURY TO EYES OR SKIN, AVOID CONTACT
WITH ANY MATERIAL LEAKED FROM A BATTERY. • Use only
recommended MAG-LITE® replacement lamp or technical
equivalent. Installing the wrong lamp could cause shorting,
overheating or other hazard. • Use Only Alkaline Batteries Of A
Reputable Brand. • Do not use different brands of batteries
together. • When replacing batteries, always replace the whole
set. • AVOID BENDING THE LAMP LEADS OR TWISTING THEM
TOGETHER. Contact between them could short-circuit the
flashlight and generate heat. • THIS FLASHLIGHT IS NOT A TOY;
not recommended for use by children.