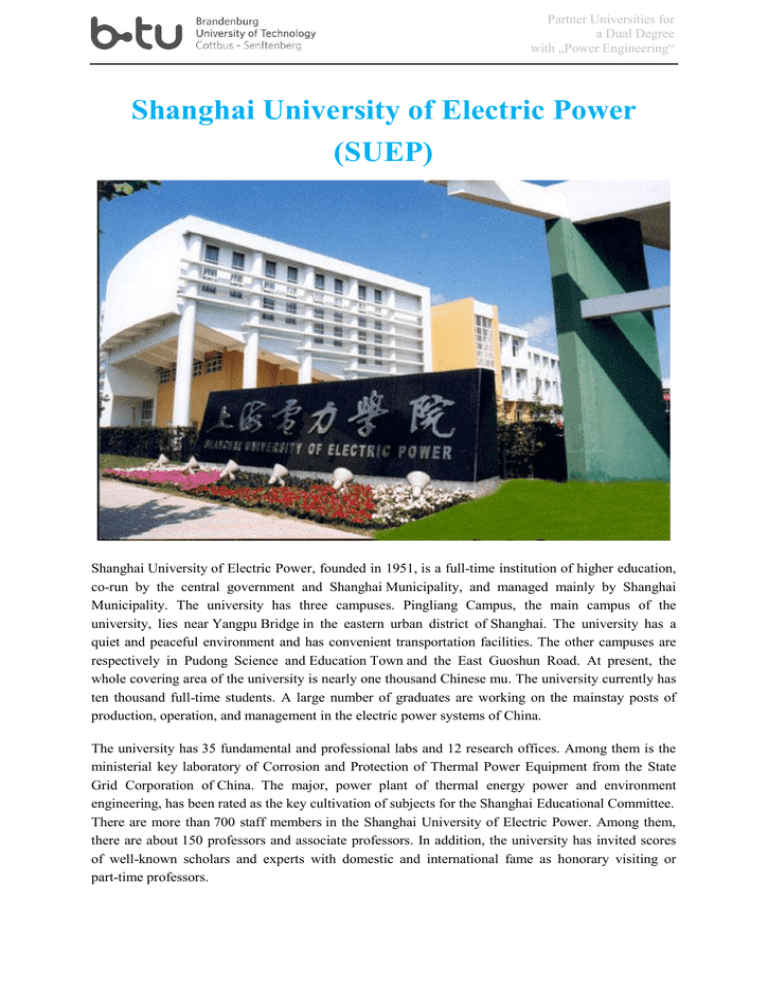 Partner Universities for
a Dual Degree
with "Power Engineering"
Shanghai University of Electric Power
(SUEP)
Shanghai University of Electric Power, founded in 1951, is a full-time institution of higher education,
co-run by the central government and Shanghai Municipality, and managed mainly by Shanghai
Municipality. The university has three campuses. Pingliang Campus, the main campus of the
university, lies near Yangpu Bridge in the eastern urban district of Shanghai. The university has a
quiet and peaceful environment and has convenient transportation facilities. The other campuses are
respectively in Pudong Science and Education Town and the East Guoshun Road. At present, the
whole covering area of the university is nearly one thousand Chinese mu. The university currently has
ten thousand full-time students. A large number of graduates are working on the mainstay posts of
production, operation, and management in the electric power systems of China.
The university has 35 fundamental and professional labs and 12 research offices. Among them is the
ministerial key laboratory of Corrosion and Protection of Thermal Power Equipment from the State
Grid Corporation of China. The major, power plant of thermal energy power and environment
engineering, has been rated as the key cultivation of subjects for the Shanghai Educational Committee.
There are more than 700 staff members in the Shanghai University of Electric Power. Among them,
there are about 150 professors and associate professors. In addition, the university has invited scores
of well-known scholars and experts with domestic and international fame as honorary visiting or
part-time professors.
Partner Universities for
a Dual Degree
with "Power Engineering"
Description of Cooperating Departments
The College of Electric Power and Automation Engineering has two departments which are Electric
Power Engineering and Automation Control. The college has two experiment centers, namely Electric
Power and its Automation, Electrical Engineering and Electron, as well as a research institute of
Electrical Science and Technology. There are 13 professors and 28 associate professors in the College.
Building of a Lab
This college offers studies that have great strength in research and development of the following areas:
Layout and Design of Electric Networks, Wind power grid and control technology, Intelligent
electricity and Micro-grid technology, Analysis and Control of Electric Power Systems, Monitor and
Diagnosis of Electronic Equipment, Quality Analysis and Control of Electric Energy, Evaluation and
Transformation of Electric Power Systems, and Trouble Orientation of Transmission Lines. Among
them, part of the research directions are lead in China. During the last five years, the College has taken
on more than 200 scientific research projects which include National "863" Projects, the Shanghai
Key Scientific and the Technological Tackling Projects, the Shanghai Natural Science foundation
Projects. The College has been awarded 8 accomplishment prizes for its education and scientific
research from the Province or Ministry. It has taken on 4 projects of Shanghai Exquisite Course
Construction and 8 projects of educational achievement from the Province or Ministry.
Renewable Energy and Smart Grid Lab Center
Partner Universities for
a Dual Degree
with "Power Engineering"
The College focuses on students' overall quality, innovative spirit and practical abilities. College
students have won several first and second prizes in the National College "Challenge Cup", the
National College "Freescale Cup" smart car contest, the National Mathematical Modeling Contest, the
Electronic Design Contest, the Creating and Innovation Cup.
During the 60 years of development, the College of Electrical Engineering has had the responsibility
to cultivate excellent electrical engineers; the School has trained 2.0000 of professional and technical
personnel. At present most of them are playing an important role in the industry, and the college is
known as the cradle of "power engineer".
Course Catalogue
Modules
Name of courses
Chinese
Credits
ECTS
Term
Credits
Degree Course
(Required of all Graduate
Students)
Numerical Calculation Methods
3
6
1
Matrix Theory
3
6
1
Power System Analysis(1)
3
6
1
Power System Analysis(2)
3
6
2
3
6
1
3
6
1
Modern Control Theory
3
6
1
Modern Measurement and Control
Techniques
2
4
2
Digital Signal Processing
2
4
1
Power System Planning
2
4
2
2
4
2
2
4
2
High Voltage Apparatus
2
4
1
High Voltage Test Technique
2
3
2
2
4
2
2
4
2
2
4
1
2
4
2
Degree Course
(Specialized)
Advanced Electric Power Network
Analysis
New Power Electronic Conversion
Technology
Power System Automation
Technology
Analysis of Alternative Current
Machine and its System
Elective Course
(Specialized)
Digital Protective Relaying of Power
System
Power Electronic Applications in
Power Systems
Power System Simulation Software
and Application
Elective Course
(for all graduate students)
Optimization Methods
Partner Universities for
a Dual Degree
with "Power Engineering"
Services for International students
1) Pick-up from Shanghai Pudong International Airport;
2) Reservation of dormitory (ensures every exchange student has access to student dormitory) ;
3) Campus tour
Student dormitory
Sports playground
Partner Universities for
a Dual Degree
with "Power Engineering"
Culture Program and Leisure Activities
SUEP students also enjoy a rich campus life. Here they can take part in various student clubs and
societies to meet new friends, find interests and improve their abilities. SUEP has almost 60 clubs and
societies in 5 categories: Sports, Special Interests, Volunteer, Social Practice and Academics.
Various Evening Parties
Various types of Evening Parties are held every year by students themselves, which will let you
experience special Chinese traditional festivals and performances.
The global trend in education is moving toward the integration and exchange of learning and
understanding between university students from different countries. In order to strengthen this
international exchange, Shanghai University of Electric Power warmly welcomes international friends
and overseas Chinese to come to our university to learn the Chinese language, understand the Chinese
culture and study for bachelor and master degrees.