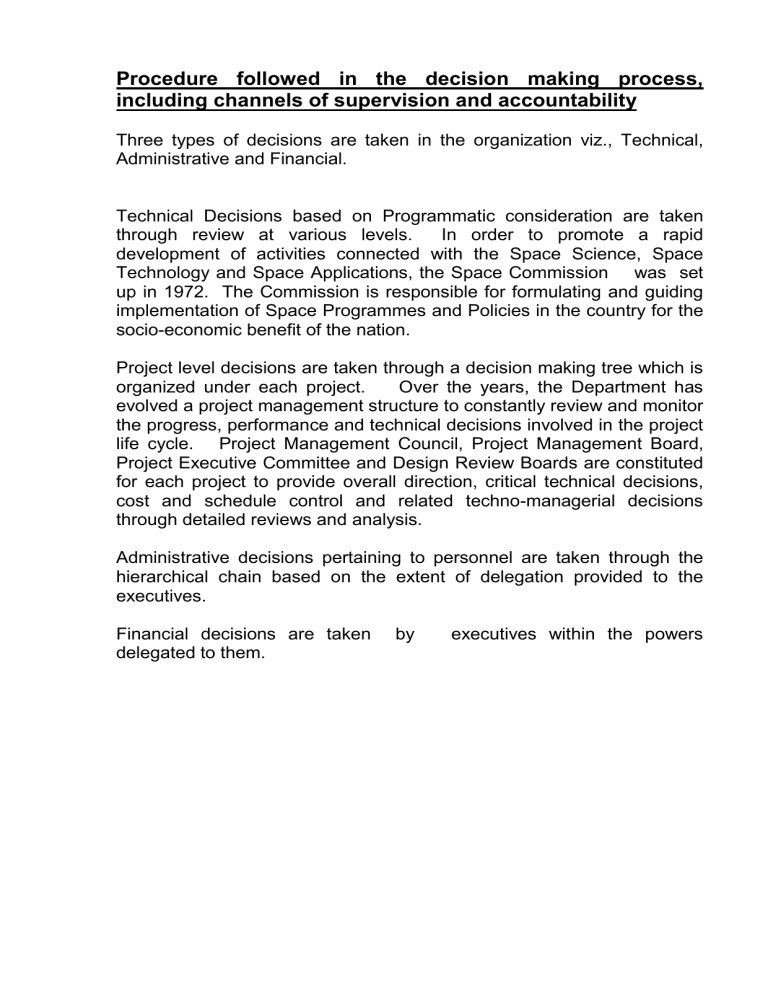 Procedure followed in the decision making process, including channels of supervision and accountability
Three types of decisions are taken in the organization viz., Technical,
Administrative and Financial.
Technical Decisions based on Programmatic consideration are taken through review at various levels. In order to promote a rapid development of activities connected with the Space Science, Space
Technology and Space Applications, the Space Commission was set up in 1972. The Commission is responsible for formulating and guiding implementation of Space Programmes and Policies in the country for the socio-economic benefit of the nation.
Project level decisions are taken through a decision making tree which is organized under each project. Over the years, the Department has evolved a project management structure to constantly review and monitor the progress, performance and technical decisions involved in the project life cycle. Project Management Council, Project Management Board,
Project Executive Committee and Design Review Boards are constituted for each project to provide overall direction, critical technical decisions, cost and schedule control and related techno-managerial decisions through detailed reviews and analysis.
Administrative decisions pertaining to personnel are taken through the hierarchical chain based on the extent of delegation provided to the executives.
Financial decisions are taken by executives within the powers delegated to them.