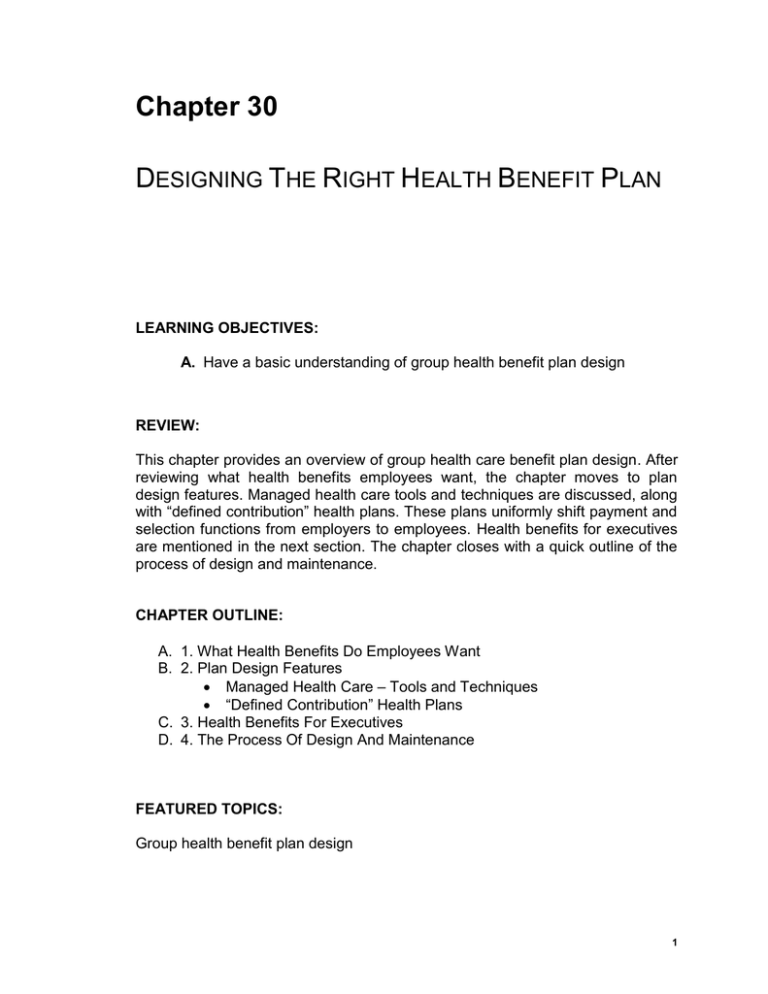 Chapter 30
DESIGNING THE RIGHT HEALTH BENEFIT PLAN
LEARNING OBJECTIVES:
A. Have a basic understanding of group health benefit plan design
REVIEW:
This chapter provides an overview of group health care benefit plan design. After
reviewing what health benefits employees want, the chapter moves to plan
design features. Managed health care tools and techniques are discussed, along
with "defined contribution" health plans. These plans uniformly shift payment and
selection functions from employers to employees. Health benefits for executives
are mentioned in the next section. The chapter closes with a quick outline of the
process of design and maintenance.
CHAPTER OUTLINE:
A. 1. What Health Benefits Do Employees Want
B. 2. Plan Design Features
 Managed Health Care – Tools and Techniques
 "Defined Contribution" Health Plans
C. 3. Health Benefits For Executives
D. 4. The Process Of Design And Maintenance
FEATURED TOPICS:
Group health benefit plan design
1
Chapter 30
CFP® CERTIFICATION EXAMINATION TOPIC:
Topic 29: Group medical insurance
COMPETENCY:
Upon completion of this chapter, the student should be able to:
1. Have a basic understanding of group health benefit plan design
KEY WORDS:
Managed health care, prospective pricing, negotiated discount, channeling,
bundling of services, capitation, peer review, utilization review, quality review,
cost sharing, lifestyle management, defined contribution health plan
DISCUSSION:
1. Discuss options in health care benefit plan design.
2. Discuss managed health care considerations when developing a
health care benefit plan.