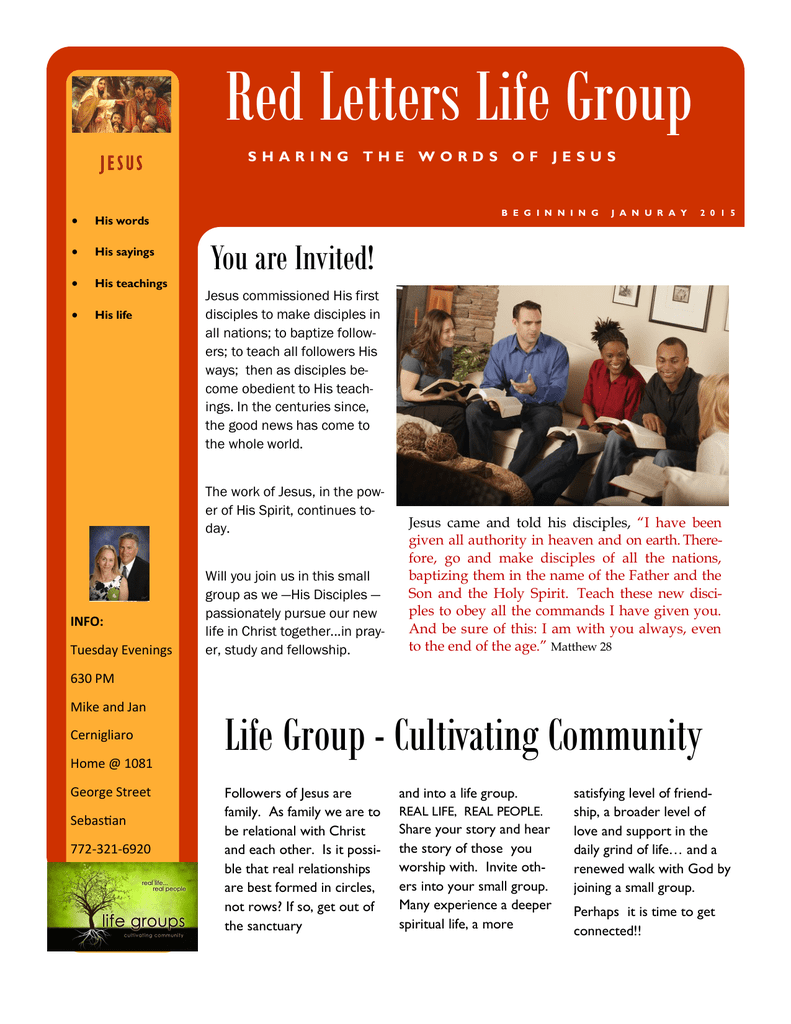 Red Letters Life Group
JESUS

His words

His sayings

His teachings

His life
SHARING
THE WORDS
Tuesday Evenings
JESUS
B E G I N N I N G
J A N U R A Y
2 0 1 5
You are Invited!
Jesus commissioned His first
disciples to make disciples in
all nations; to baptize followers; to teach all followers His
ways; then as disciples become obedient to His teachings. In the centuries since,
the good news has come to
the whole world.
The work of Jesus, in the power of His Spirit, continues today.
INFO:
OF
Will you join us in this small
group as we —His Disciples —
passionately pursue our new
life in Christ together...in prayer, study and fellowship.
Jesus came and told his disciples, "I have been
given all authority in heaven and on earth. Therefore, go and make disciples of all the nations,
baptizing them in the name of the Father and the
Son and the Holy Spirit. Teach these new disciples to obey all the commands I have given you.
And be sure of this: I am with you always, even
to the end of the age." Matthew 28
630 PM
Mike and Jan
Cernigliaro
Home @ 1081
George Street
Sebastian
772-321-6920
Life Group - Cultivating Community
Followers of Jesus are
family. As family we are to
be relational with Christ
and each other. Is it possible that real relationships
are best formed in circles,
not rows? If so, get out of
the sanctuary
and into a life group.
REAL LIFE, REAL PEOPLE.
Share your story and hear
the story of those you
worship with. Invite others into your small group.
Many experience a deeper
spiritual life, a more
satisfying level of friendship, a broader level of
love and support in the
daily grind of life… and a
renewed walk with God by
joining a small group.
Perhaps it is time to get
connected!!