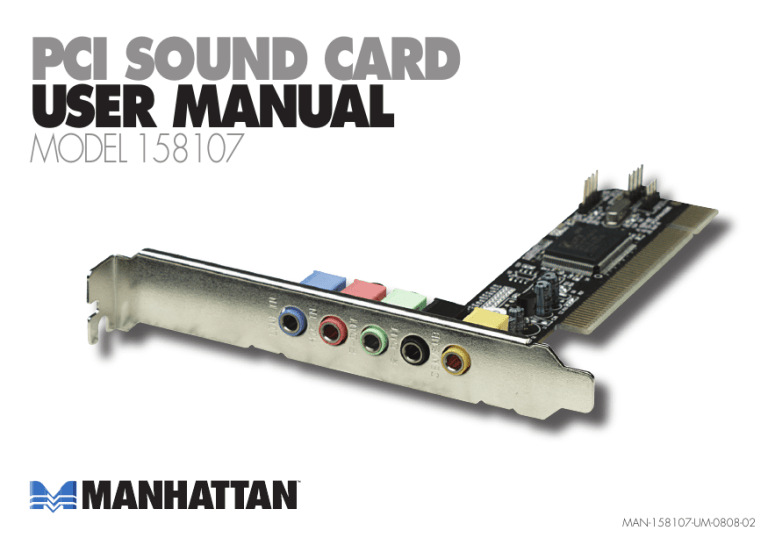 PCI Sound Card
USER MANUAL
MODEL 158107
MAN-158107-UM-0808-02
Thank you for purchasing the MANHATTAN® PCI Sound Card, Model 158107.
Its HRTF 3D positional audio, DirectMusic, DirectSound 3D and A3D and Wave Table
Synthesizer with 2/4/6-channel speaker modes provide exciting sound for gaming, movie and
music enthusiasts. Ideal for upgrading existing computer audio, it allows users to fully enjoy
movies, games and other multimedia experiences.
Follow the instructions in this manual for easy installation, and you'll soon be enjoying these
additional quality features:
• Built-in, 32 Ohm earphone buffer ideal for headphones
• Full-duplex playback and recording with sampling rate of up to 48 kHz
• Plug and Play, Windows compatible
• Lifetime Warranty
hardware installation
NOTE: To avoid conflicts, it is recommended that any previously installed sound card and drivers be
removed prior to installing this PCI Sound Card. If previously installed drivers are not removed, this
card may not function properly. If your computer has on-board sound, it needs to be disabled on the
motherboard. (If needed, refer to your computer's user manual or contact the computer manufacturer
for details.)
Insert the card in an available PCI slot on your computer. Fasten the card to the case using a screw.
Rear Panel Jacks
1. Line In (blue) – Line-In Connect to the audio output port of stereo.
2. Mic In (pink) – Connect to the Microphone (Mono).
3. Front-Speaker (green) – Output to speakers with the amplifier, earphones
or Audio-in of home stereo.
4. Rear-Speaker (black) –
Connect to the rear
speakers while 4/6-channel
speakers mode is enabled.
5. Center/Sub-woofer (orange) –
Connect to the center speaker
and sub-woofer while 6-channel
speakers mode is enabled.
Internal Connections
J1 Analog CD/IN Port (Signals: L-G-G-R)
J2Analog CD/IN Port (Signals: G-R-G-L)
J3Aux-in
JP1 & JP2 1-2 close: Center/Bass channel in normal mode; 2-3 close: Center/Bass channel in
inverse mode.
driver installation
1.Turn on your computer. Windows will automatically detect the sound card and display
a prompt to install the "Multimedia Audio Controller." Click "Cancel." (The driver will be
installed in the next step instead.)
2.Insert the included driver CD into the CD-ROM drive.
3.On the desktop, go to Start, then Run. Enter "D:\SOUND\CMedia8738\setup.exe"
(where "D" represents your CD drive.)
4.Follow the on-screen instructions to complete the software installation.
5.Restart the computer. The PCI Sound Card is ready for use.
Specifications
Standards
• PCI Specification, Rev 2.1
• ACPI compliant
• Microsoft PC99
General
• Ports:
- External: line-in, microphone-in, front-out, rear-out and center/subwoofer-out
- Internal: aux-in, analog CD-in (Sony) and analog CD-in (Panasonic)
• C-MEDIA 8738 chipset
• 6-Ch. DAC for AC3 5.1 Ch
• Sound Blaster and Sound Blaster Pro compatible
• 16-bit duplex CODEC
• ACPI and PCI PMI support
• 32-bit PCI Bus
Environmental
• Dimensions, overall: 13.4 x 12.1 x 2.2 cm (5.27 x 4.8 x 0.86 in.)
• Weight: 65.2 g (2.3 oz.)
System Requirements
• Pentium-class computer with one available PCI slot
• DirectX 8.1 or above
• PCI bus 32-bit
• Windows 2000/XP/Vista
• CD-ROM drive
Package Contents
• 5.1 Channel PCI Sound Card
• User manual
• Driver CD
MANHATTAN offers a complete line
of PC Components, Peripherals, Cables and Accessories.
Ask your local computer dealer for more information
or visit us online at
www.manhattan-products.com
®
Copyright © MANHATTAN
All products mentioned are trademarks or registered trademarks of their respective owners.