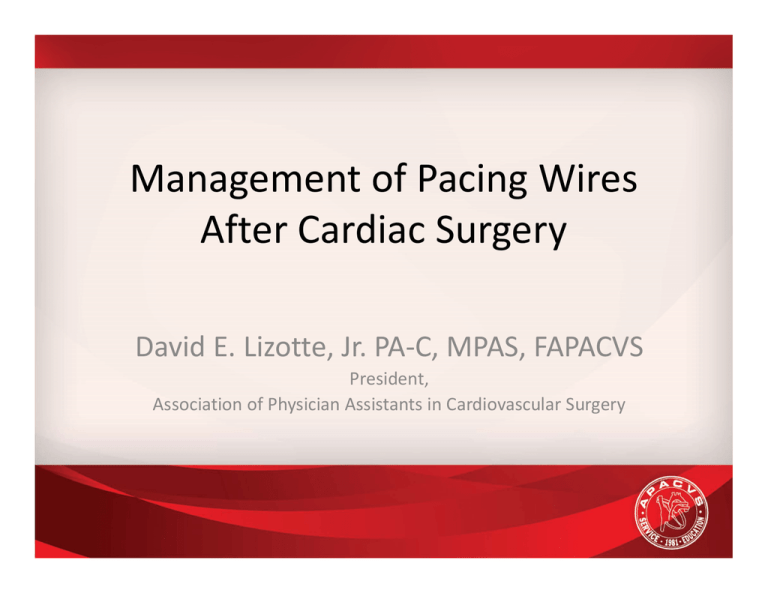 Management of Pacing Wires After Cardiac Surgery
David E. Lizotte, Jr. PA‐C, MPAS, FAPACVS
President, Association of Physician Assistants in Cardiovascular Surgery
• Conflicts: None
Indications
• 2008 Journal of Cardiovascular Surgery, Turkey, Imren
et al
– Prospective study 564 patients (half on‐pump, half off pump)
– Identified variables for EPW placement to limit use
• Sinus bradycardia, sinus arrest, AV block/ nodal rhythms, VT, new onset AFIB
– 5.5% patients had EPW implanted
– No EPW associated complications
– Conclusion: EPW implantation is overused
J Cardiovasc Surg (Torino) 2008 Apr;49(2): 261‐7
Indications
• 2009 Journal of Ayub Medical College Abbottabad, Asghar
– Prospective observational study 1047 patients over two years
– 2.9% of patients required pacing post‐operatively
– 3 Significant Predictors for post‐operative pacing included:
• Pre‐operative arrhythmia
• Pacing used at separation from bypass
• Use of antiarrhythmics on leaving OR
Asghar MI et al; Placing epicardial pacing wires in isolated coronary artery bypass graft surgery – a procedure routinely done but rarely beneficial; J Ayub Coll
Abbottabad, 2009 Jan‐Mar;21(1): 86‐90
Placement
• Historically primarily placed on Right Ventricle
• Low EF patients benefit from A‐V Sequential Pacing in studies by Bethea and Curtis
• No agreement on optimal wire position
• Importance of consistency in location where wires are brought to skin
• Benefit of color coded cables for safe use by nursing
Bethea BT, et al; Determining the utility of temporary pacing wires after coronary artery bypass surgery; Ann Thorac Surg. 2005 Jan;79(1):104‐7.
Curtis JJ et al; A critical look at temporary ventricular pacing following cardiac surgery; Surgery. 1977 Dec;82(6):888‐93
Unipolar Versus Bipolar
• Advantages of Bipolar
– Requires less energy to pace = less inflammation around wire/ myocardium interface
– Requires less potential to bring myocardium to threshold
– More suitable for use with dual chamber applications
– Less susceptible to interference when performing sensing function
• Disadvantage
– Smaller current = smaller pacing spike on ECG
Reade MC; Temporary epicardial pacing after cardiac surgery: a practical review Part 1: General considerations in the management of epicardial pacing; Anaesthesia, 2007, 62, pages 264‐71
Care of Patient
• Wires are low resistance connection to heart – Potential for micro‐shock induced arrhythmia
– Wire should be handled with non‐conductive gloves – Wires should be housed in non‐conductive containers (phlebotomy tubes, syringes)
– Wire care per nursing protocol
• Daily Checks if pacing
–
–
–
–
Underlying Rhythm
Sensitivity
Capture Threshold
Battery
Diagnostic/ Therapeutic Uses of Pacing Wires
• Atrial Pacing Wires can be used for Atrial EKG
– Magnifies atrial depolarization
– Helps differentiate between atrial and junctional arrhythmias, AF and AFIB
• AFIB prevention?
– Bi‐atrial pacing prophylactically
Maisel WH, Epstin AE. Role of Cardiac Pacing. American College of Chest Physicians Guidelines for the Prevention and Management of Post‐operative Atrial Fibrillation after Cardiac Surgery. Chest 2005; 128: 36S‐8S: MRI and Epicardial Wires
• Cannot be performed on patient dependent on temporary pacemaker
– Too much ferrous material in generators
• Can patients with retained epicardial leads have an MRI?
– Hartnell et all; American Journal of Radiology 1997
• None of 51 patients experienced arrhythmia or other cardiac dysfunction during MRI
• Anatomic region examined and RF energies used not described
– Baikoussis et al; Annals of Thoracic Surgery 2011
• Diagnostic benefit must outweigh risk
• Epicardial wires are not a contraindication for MRI
IABP
• If IABP timed to EKG, spikes may be misinterpreted as QRS
– More of an issue with AV pacing vs. just V‐pacing
• Both atrial and ventricular spikes can be read as QRS
– Can time to arterial pulse
– Can use high frequency filter
– Problem lessened with bipolar leads as they have a smaller ECG representation than unipolar leads
Reade MC; Temporary epicardial pacing after cardiac surgery: a practical review Part 1: General considerations in the management of epicardial pacing; Anaesthesia, 2007, 62, pages 264‐71
Duration of Therapy
• Can be practice specific
• Impacted by anticoagulation post‐
operatively
• 3 days vs. at discharge
Removal
• Therapeutic anticoagulation consideration
• Removed by constant gentle traction
• Clip if resistance to removal is excessive
–
–
–
–
Prep skin/ wire
Pull up on wire while depressing skin
Cut end retracts under skin
Some case reports clipped wires have adverse effect • Infection/ migration to surface • Intra‐cardiac, great vessel migration
• Bronchocutaneous fistula
– Whenever possible remove wires
• Monitoring after removal
• Who can safely remove pacing wires?
Shaikhrezai K et al; Is it safe to cut pacing wires flush with the skin instead of removing them? Interact Cardiovasc Thorac Surg; 2012 Dec; 15 (6): 1047‐51
Complications
•
•
•
•
•
•
Tamponade
Graft injury
Injury to GI structures
Infection
Myocardial damage
Arrhythmias
Questions?