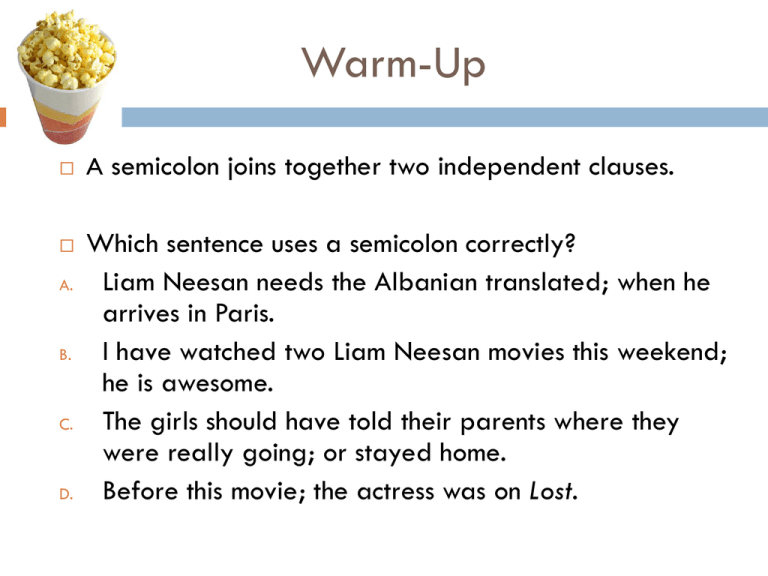 Warm-Up


A.
B.
C.
D.
A semicolon joins together two independent clauses.
Which sentence uses a semicolon correctly?
Liam Neesan needs the Albanian translated; when he
arrives in Paris.
I have watched two Liam Neesan movies this weekend;
he is awesome.
The girls should have told their parents where they
were really going; or stayed home.
Before this movie; the actress was on Lost.
Review
Sentence Types: Take notes!
Simple Sentence

One independent clause
Ex: I had never felt so utterly on my own.
Compound Sentence


Two or more independent clauses
Ex: Mrs. Everhard, my new homeroom teacher,
made an introduction of sorts, and every student
turned around to study me.
Complex Sentence


One independent and at least one dependent
clause
I was neither blessed nor cursed, depending on how
you looked at it, with skin milky enough to classify
me as white or swarthy enough to render me black.
Compound-Complex Sentence


Two or more independent clauses and at least one
dependent clause
When Harry doesn't get enough sleep, he gets
cranky, and then he's not very nice.
2.5 AUTHOR'S STYLEBOOK:
PACING
Narrative pacing: the writer controls the rhythm of a narrative
with specific choices in sentence length, word choice, and details.
Pacing: What's the Impact?
Fast-Paced
Slow-Paced
With a partner
Think about an event in your life that you might
describe using fast or slow pacing. With a
partner, describe the event. Ask your partner
what pacing you used in your description.
Pick One by David Matthews
New York Times


Mark the text for what
pacing or rhythm you
note and how it
changes.
How does the pacing
affect you as the
reader?
Sentence Types (pg. 105)

Look through the reading for an example of each
of the sentence types.
Free Write




Write about a choice you have made in your life.
What does that choice say about you? Why was it
important?
Use descriptive details to help the reader
understand.
Use transitions in your story.
Vary the pacing to keep it interesting.