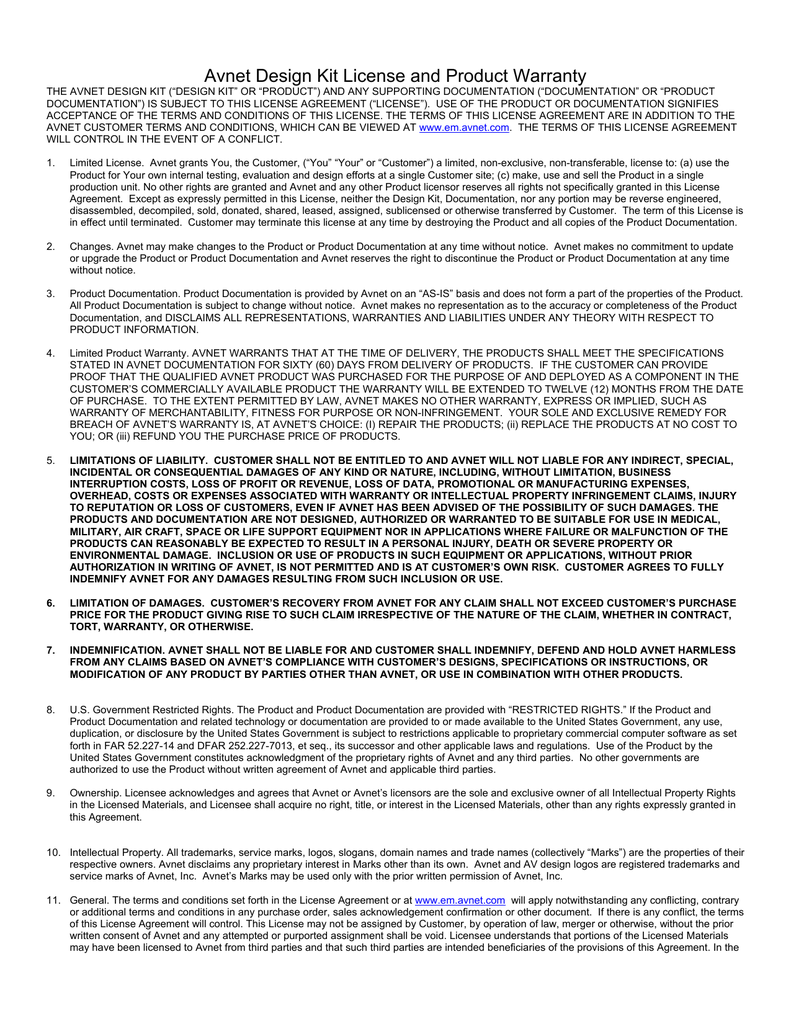 Avnet Design Kit License and Product Warranty
THE AVNET DESIGN KIT ("DESIGN KIT" OR "PRODUCT") AND ANY SUPPORTING DOCUMENTATION ("DOCUMENTATION" OR "PRODUCT
DOCUMENTATION") IS SUBJECT TO THIS LICENSE AGREEMENT ("LICENSE"). USE OF THE PRODUCT OR DOCUMENTATION SIGNIFIES
ACCEPTANCE OF THE TERMS AND CONDITIONS OF THIS LICENSE. THE TERMS OF THIS LICENSE AGREEMENT ARE IN ADDITION TO THE
AVNET CUSTOMER TERMS AND CONDITIONS, WHICH CAN BE VIEWED AT www.em.avnet.com. THE TERMS OF THIS LICENSE AGREEMENT
WILL CONTROL IN THE EVENT OF A CONFLICT.
1.
Limited License. Avnet grants You, the Customer, ("You" "Your" or "Customer") a limited, non-exclusive, non-transferable, license to: (a) use the
Product for Your own internal testing, evaluation and design efforts at a single Customer site; (c) make, use and sell the Product in a single
production unit. No other rights are granted and Avnet and any other Product licensor reserves all rights not specifically granted in this License
Agreement. Except as expressly permitted in this License, neither the Design Kit, Documentation, nor any portion may be reverse engineered,
disassembled, decompiled, sold, donated, shared, leased, assigned, sublicensed or otherwise transferred by Customer. The term of this License is
in effect until terminated. Customer may terminate this license at any time by destroying the Product and all copies of the Product Documentation.
2.
Changes. Avnet may make changes to the Product or Product Documentation at any time without notice. Avnet makes no commitment to update
or upgrade the Product or Product Documentation and Avnet reserves the right to discontinue the Product or Product Documentation at any time
without notice.
3.
Product Documentation. Product Documentation is provided by Avnet on an "AS-IS" basis and does not form a part of the properties of the Product.
All Product Documentation is subject to change without notice. Avnet makes no representation as to the accuracy or completeness of the Product
Documentation, and DISCLAIMS ALL REPRESENTATIONS, WARRANTIES AND LIABILITIES UNDER ANY THEORY WITH RESPECT TO
PRODUCT INFORMATION.
4.
Limited Product Warranty. AVNET WARRANTS THAT AT THE TIME OF DELIVERY, THE PRODUCTS SHALL MEET THE SPECIFICATIONS
STATED IN AVNET DOCUMENTATION FOR SIXTY (60) DAYS FROM DELIVERY OF PRODUCTS. IF THE CUSTOMER CAN PROVIDE
PROOF THAT THE QUALIFIED AVNET PRODUCT WAS PURCHASED FOR THE PURPOSE OF AND DEPLOYED AS A COMPONENT IN THE
CUSTOMER'S COMMERCIALLY AVAILABLE PRODUCT THE WARRANTY WILL BE EXTENDED TO TWELVE (12) MONTHS FROM THE DATE
OF PURCHASE. TO THE EXTENT PERMITTED BY LAW, AVNET MAKES NO OTHER WARRANTY, EXPRESS OR IMPLIED, SUCH AS
WARRANTY OF MERCHANTABILITY, FITNESS FOR PURPOSE OR NON-INFRINGEMENT. YOUR SOLE AND EXCLUSIVE REMEDY FOR
BREACH OF AVNET'S WARRANTY IS, AT AVNET'S CHOICE: (I) REPAIR THE PRODUCTS; (ii) REPLACE THE PRODUCTS AT NO COST TO
YOU; OR (iii) REFUND YOU THE PURCHASE PRICE OF PRODUCTS.
5.
LIMITATIONS OF LIABILITY. CUSTOMER SHALL NOT BE ENTITLED TO AND AVNET WILL NOT LIABLE FOR ANY INDIRECT, SPECIAL,
INCIDENTAL OR CONSEQUENTIAL DAMAGES OF ANY KIND OR NATURE, INCLUDING, WITHOUT LIMITATION, BUSINESS
INTERRUPTION COSTS, LOSS OF PROFIT OR REVENUE, LOSS OF DATA, PROMOTIONAL OR MANUFACTURING EXPENSES,
OVERHEAD, COSTS OR EXPENSES ASSOCIATED WITH WARRANTY OR INTELLECTUAL PROPERTY INFRINGEMENT CLAIMS, INJURY
TO REPUTATION OR LOSS OF CUSTOMERS, EVEN IF AVNET HAS BEEN ADVISED OF THE POSSIBILITY OF SUCH DAMAGES. THE
PRODUCTS AND DOCUMENTATION ARE NOT DESIGNED, AUTHORIZED OR WARRANTED TO BE SUITABLE FOR USE IN MEDICAL,
MILITARY, AIR CRAFT, SPACE OR LIFE SUPPORT EQUIPMENT NOR IN APPLICATIONS WHERE FAILURE OR MALFUNCTION OF THE
PRODUCTS CAN REASONABLY BE EXPECTED TO RESULT IN A PERSONAL INJURY, DEATH OR SEVERE PROPERTY OR
ENVIRONMENTAL DAMAGE. INCLUSION OR USE OF PRODUCTS IN SUCH EQUIPMENT OR APPLICATIONS, WITHOUT PRIOR
AUTHORIZATION IN WRITING OF AVNET, IS NOT PERMITTED AND IS AT CUSTOMER'S OWN RISK. CUSTOMER AGREES TO FULLY
INDEMNIFY AVNET FOR ANY DAMAGES RESULTING FROM SUCH INCLUSION OR USE.
6.
LIMITATION OF DAMAGES. CUSTOMER'S RECOVERY FROM AVNET FOR ANY CLAIM SHALL NOT EXCEED CUSTOMER'S PURCHASE
PRICE FOR THE PRODUCT GIVING RISE TO SUCH CLAIM IRRESPECTIVE OF THE NATURE OF THE CLAIM, WHETHER IN CONTRACT,
TORT, WARRANTY, OR OTHERWISE.
7.
INDEMNIFICATION. AVNET SHALL NOT BE LIABLE FOR AND CUSTOMER SHALL INDEMNIFY, DEFEND AND HOLD AVNET HARMLESS
FROM ANY CLAIMS BASED ON AVNET'S COMPLIANCE WITH CUSTOMER'S DESIGNS, SPECIFICATIONS OR INSTRUCTIONS, OR
MODIFICATION OF ANY PRODUCT BY PARTIES OTHER THAN AVNET, OR USE IN COMBINATION WITH OTHER PRODUCTS.
8.
U.S. Government Restricted Rights. The Product and Product Documentation are provided with "RESTRICTED RIGHTS." If the Product and
Product Documentation and related technology or documentation are provided to or made available to the United States Government, any use,
duplication, or disclosure by the United States Government is subject to restrictions applicable to proprietary commercial computer software as set
forth in FAR 52.227-14 and DFAR 252.227-7013, et seq., its successor and other applicable laws and regulations. Use of the Product by the
United States Government constitutes acknowledgment of the proprietary rights of Avnet and any third parties. No other governments are
authorized to use the Product without written agreement of Avnet and applicable third parties.
9.
Ownership. Licensee acknowledges and agrees that Avnet or Avnet's licensors are the sole and exclusive owner of all Intellectual Property Rights
in the Licensed Materials, and Licensee shall acquire no right, title, or interest in the Licensed Materials, other than any rights expressly granted in
this Agreement.
10. Intellectual Property. All trademarks, service marks, logos, slogans, domain names and trade names (collectively "Marks") are the properties of their
respective owners. Avnet disclaims any proprietary interest in Marks other than its own. Avnet and AV design logos are registered trademarks and
service marks of Avnet, Inc. Avnet's Marks may be used only with the prior written permission of Avnet, Inc.
11. General. The terms and conditions set forth in the License Agreement or at www.em.avnet.com will apply notwithstanding any conflicting, contrary
or additional terms and conditions in any purchase order, sales acknowledgement confirmation or other document. If there is any conflict, the terms
of this License Agreement will control. This License may not be assigned by Customer, by operation of law, merger or otherwise, without the prior
written consent of Avnet and any attempted or purported assignment shall be void. Licensee understands that portions of the Licensed Materials
may have been licensed to Avnet from third parties and that such third parties are intended beneficiaries of the provisions of this Agreement. In the
event any of the provisions of this Agreement are for any reason determined to be void or unenforceable, the remaining provisions will remain in full
effect. This constitutes the entire agreement between the parties with respect to the use of this Product, and supersedes all prior or
contemporaneous understandings or agreements, written or oral, regarding such subject matter. No waiver or modification is effective unless
agreed to in writing and signed by authorized representatives of both parties. The obligations, rights, terms and conditions shall be binding on the
parties and their respective successors and assigns. The License Agreement is governed by and construed in accordance with the laws of the
State of Arizona excluding any law or principle, which would apply the law of any other jurisdiction. The United Nations Convention for the
International Sale of Goods shall not apply.