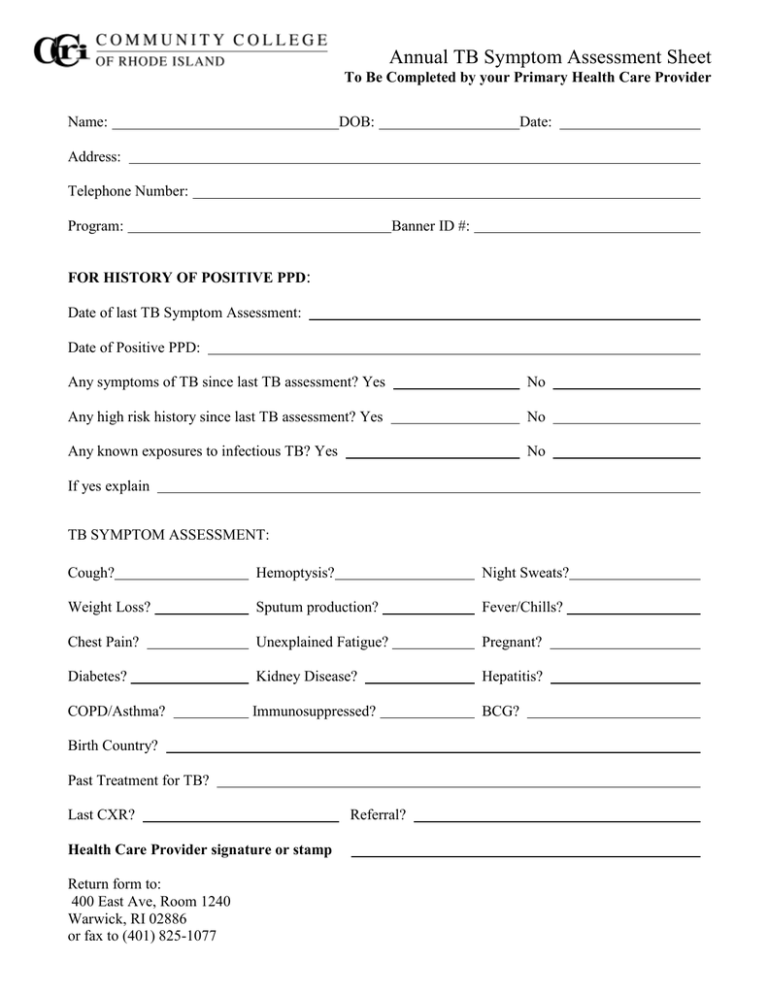 Annual TB Symptom Assessment Sheet
To Be Completed by your Primary Health Care Provider
Name:
DOB:
Date:
Address:
Telephone Number:
Program:
Banner ID #:
FOR HISTORY OF POSITIVE PPD:
Date of last TB Symptom Assessment:
Date of Positive PPD:
Any symptoms of TB since last TB assessment? Yes
No
Any high risk history since last TB assessment? Yes
No
Any known exposures to infectious TB? Yes
No
If yes explain
TB SYMPTOM ASSESSMENT:
Cough?
Hemoptysis?
Night Sweats?
Weight Loss?
Sputum production?
Fever/Chills?
Chest Pain?
Unexplained Fatigue?
Pregnant?
Diabetes?
Kidney Disease?
Hepatitis?
COPD/Asthma?
Immunosuppressed?
BCG?
Birth Country?
Past Treatment for TB?
Last CXR?
Health Care Provider signature or stamp
Return form to:
400 East Ave, Room 1240
Warwick, RI 02886
or fax to (401) 825-1077
Referral?