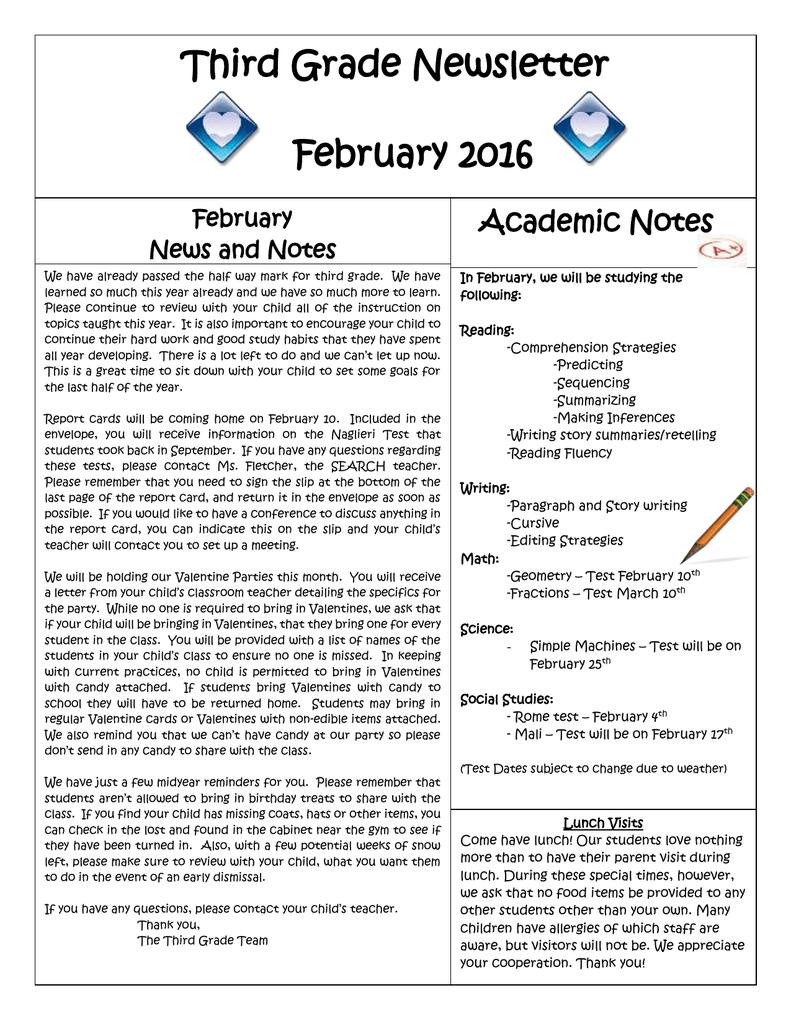 Third Grade Newsletter
February 2016
February
News and Notes
We have already passed the half way mark for third grade. We have
learned so much this year already and we have so much more to learn.
Please continue to review with your child all of the instruction on
topics taught this year. It is also important to encourage your child to
continue their hard work and good study habits that they have spent
all year developing. There is a lot left to do and we can't let up now.
This is a great time to sit down with your child to set some goals for
the last half of the year.
Report cards will be coming home on February 10. Included in the
envelope, you will receive information on the Naglieri Test that
students took back in September. If you have any questions regarding
these tests, please contact Ms. Fletcher, the SEARCH teacher.
Please remember that you need to sign the slip at the bottom of the
last page of the report card, and return it in the envelope as soon as
possible. If you would like to have a conference to discuss anything in
the report card, you can indicate this on the slip and your child's
teacher will contact you to set up a meeting.
We will be holding our Valentine Parties this month. You will receive
a letter from your child's classroom teacher detailing the specifics for
the party. While no one is required to bring in Valentines, we ask that
if your child will be bringing in Valentines, that they bring one for every
student in the class. You will be provided with a list of names of the
students in your child's class to ensure no one is missed. In keeping
with current practices, no child is permitted to bring in Valentines
with candy attached. If students bring Valentines with candy to
school they will have to be returned home. Students may bring in
regular Valentine cards or Valentines with non-edible items attached.
We also remind you that we can't have candy at our party so please
don't send in any candy to share with the class.
We have just a few midyear reminders for you. Please remember that
students aren't allowed to bring in birthday treats to share with the
class. If you find your child has missing coats, hats or other items, you
can check in the lost and found in the cabinet near the gym to see if
they have been turned in. Also, with a few potential weeks of snow
left, please make sure to review with your child, what you want them
to do in the event of an early dismissal.
If you have any questions, please contact your child's teacher.
Thank you,
The Third Grade Team
Academic Notes
In February, we will be studying the
following:
Reading:
-Comprehension Strategies
-Predicting
-Sequencing
-Summarizing
-Making Inferences
-Writing story summaries/retelling
-Reading Fluency
Writing:
-Paragraph and Story writing
-Cursive
-Editing Strategies
Math:
-Geometry – Test February 10th
-Fractions – Test March 10th
Science:
-
Simple Machines – Test will be on
February 25th
Social Studies:
- Rome test – February 4th
- Mali – Test will be on February 17th
(Test Dates subject to change due to weather)
Lunch Visits
Come have lunch! Our students love nothing
more than to have their parent visit during
lunch. During these special times, however,
we ask that no food items be provided to any
other students other than your own. Many
children have allergies of which staff are
aware, but visitors will not be. We appreciate
your cooperation. Thank you!
Upcoming Events
February Vocabulary
Math
Rectangular prism
Square
Rectangle
Science
Force
Motion
Speed
Report Cards Go Home
Triangle
Author Visit
Pentagon
Pyramid
Sphere
Cylinder
Vertex
Face
Edge
Corner
Polygon
Quadrilateral
Symmetrical
Congruent
Slide
Turn
Flip
Line
Circle
Ray
Angle
Line segment
Compound
machines
Weight
Work
Simple machine
Fulcrum
Screw
Inclined plane
Wheel and axle
Pulley
Lever
Wedge
Gravity
February 3rd –
Candid Picture Day
February 10th –
February 12
th
–
Valentine Party 1:20-2:30 P.M.
February 15th –
No School – President's Day
February 18th Movable Monday Schedule
February 26th –
PTA Spaghetti Dinner 5:30 - 7:30 P.M.
Mrs. Bolden's Notes
This month we will be celebrating Black History
Month. Students will read information about
2 African Americans of their choosing and
write about them. The students work will be
hung up for all to see.
Social Studies
Mali
Adapt
Human
Characteristic
Physical
Characteristic
Interdependence
Specialization
Bartering
Africa
Niger River
Salt
Gold
Sahara Desert
Griots
Timbuktu
Oral Tradition
Culture
Mosques
Caravans
Camels
Kings
Natural Resources
Europe
Africa
Irrigation
Point
Cube
Fractions
Numerator
Denominator
In computer lab, we will work on an ancient
civilization project.
February Tip
We completed our money unit earlier this year
and will start our fractions next month. You
can provide valuable experience for your child
by giving them practical applications of these
concepts at home by allowing them to figure
out how much change you would get back at
the store, allowing them to count the money
in a jar or having them figure out how to
share things equally in a group.
Comments? Questions? Concerns?
School Phone: (571) 252-2940
[email protected]
[email protected]
[email protected]
[email protected]
[email protected]
Email Reminder
Please don't use email for emergencies or last minute
dismissal changes. We don't always get these messages
before the end of the school day. Please call the school
instead so these messages are received and handled in time.