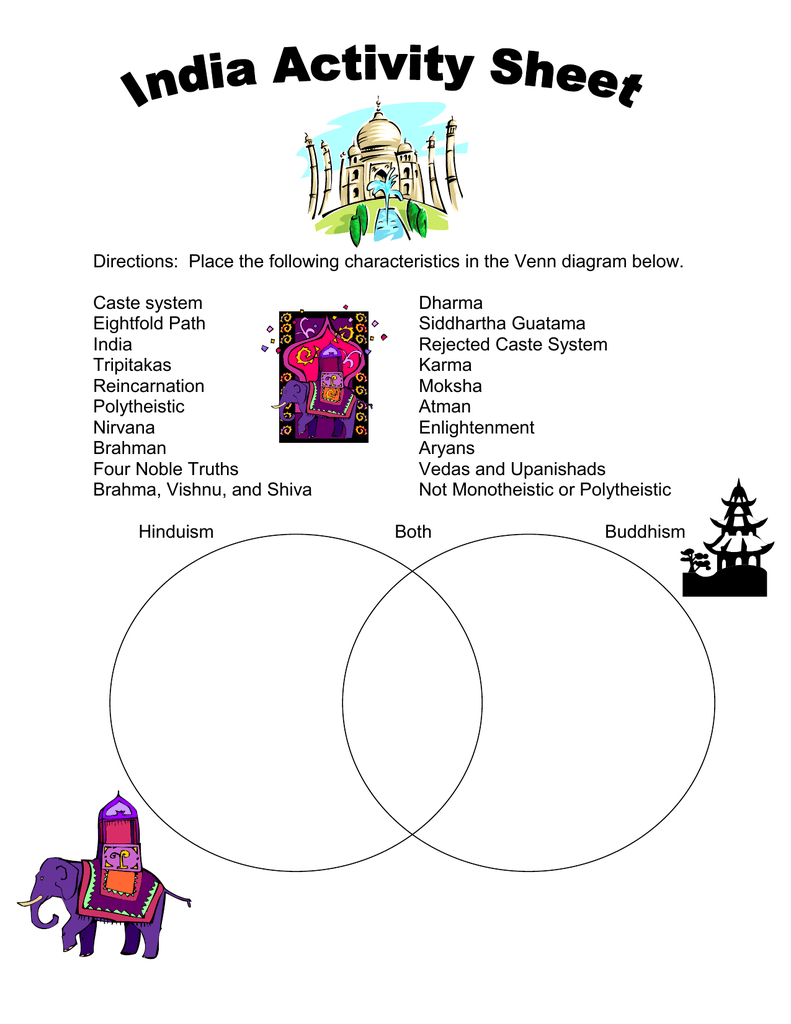 Directions: Place the following characteristics in the Venn diagram below.
Caste system
Eightfold Path
India
Tripitakas
Reincarnation
Polytheistic
Nirvana
Brahman
Four Noble Truths
Brahma, Vishnu, and Shiva
Hinduism
Dharma
Siddhartha Guatama
Rejected Caste System
Karma
Moksha
Atman
Enlightenment
Aryans
Vedas and Upanishads
Not Monotheistic or Polytheistic
Both
Buddhism
Indus River Valley:
Location
Geography
Government
City Structure
Along the
Indus River in
modern-day
Pakistan and
along the
Ganges River.
Protected from
invasion by the
Himalayas, the
Hindu Kush, and
the Indian Ocean;
only invasion route
is the narrow mtn.
passes
The Indus River Valley
civilization had a very
strong, central
government, evident in
their city structure, that
functioned in the center of
the city in a building called
the citadel.
Very organized; based on a
grid system; very advanced
including a sewer system,
running water, and public
baths; used stamps and
seals to identify their goods;
written records have not
been deciphered.
There are three possible reasons for the decline of the Indus
River Valley civilization:
1. Natural disaster
2. The changing of the course of the Indus River
3. Aryan invasion
When the Aryans invaded the Indus River Valley, they brought with them a rigid class
structure called the caste system. Their beliefs, along with the beliefs of the Indus
peoples combined to form the Religion of Hinduism.
Draw a diagram of the caste system incorporating the following castes:
Vaiyshas, Shudras, Brahmins, and Kshatriyas
Where do the "untouchables" fit in?
India also included the founding of another religion,
Buddhism. Buddhism was not widely accepted at
first until Asoka, leader of the Gupta Empire's
Golden Age, converted to Buddhism. In the Gupta's
Golden Age, they made many contributions
including new math concepts, new textiles (fabrics),
as well as many contributions in literature.