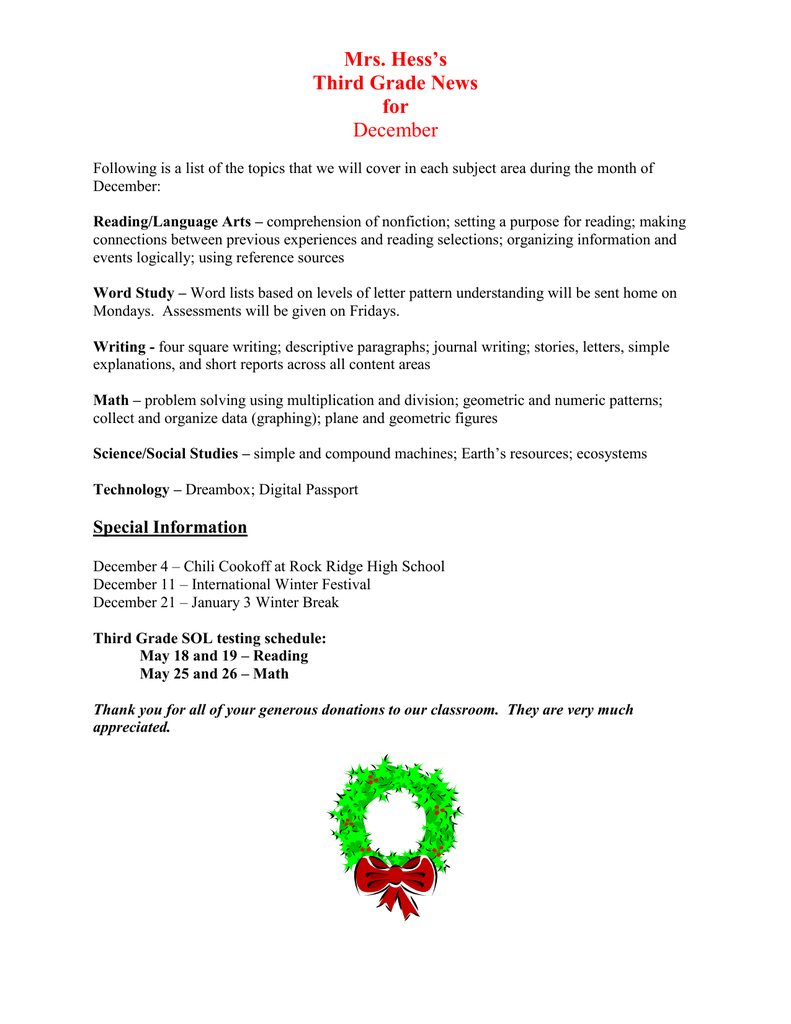 Mrs. Hess's
Third Grade News
for
December
Following is a list of the topics that we will cover in each subject area during the month of
December:
Reading/Language Arts – comprehension of nonfiction; setting a purpose for reading; making
connections between previous experiences and reading selections; organizing information and
events logically; using reference sources
Word Study – Word lists based on levels of letter pattern understanding will be sent home on
Mondays. Assessments will be given on Fridays.
Writing - four square writing; descriptive paragraphs; journal writing; stories, letters, simple
explanations, and short reports across all content areas
Math – problem solving using multiplication and division; geometric and numeric patterns;
collect and organize data (graphing); plane and geometric figures
Science/Social Studies – simple and compound machines; Earth's resources; ecosystems
Technology – Dreambox; Digital Passport
Special Information
December 4 – Chili Cookoff at Rock Ridge High School
December 11 – International Winter Festival
December 21 – January 3 Winter Break
Third Grade SOL testing schedule:
May 18 and 19 – Reading
May 25 and 26 – Math
Thank you for all of your generous donations to our classroom. They are very much
appreciated.