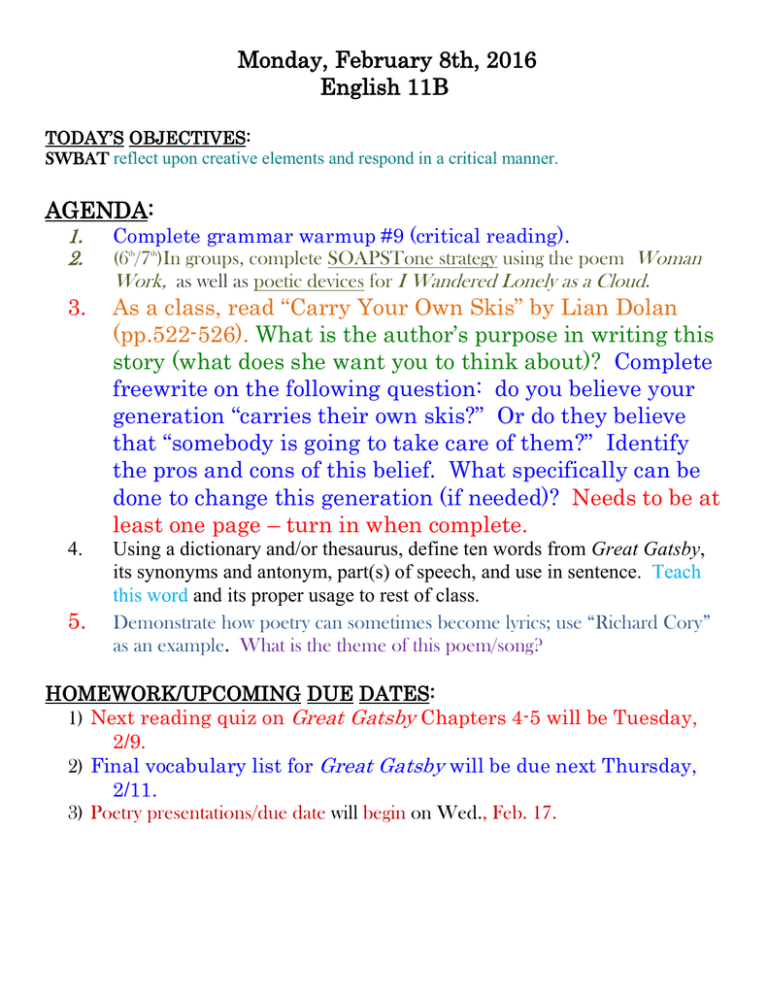 Monday, February 8th, 2016
English 11B
TODAY'S OBJECTIVES:
SWBAT reflect upon creative elements and respond in a critical manner.
AGENDA:
1.
2.
Complete grammar warmup #9 (critical reading).
(6th/7th)In groups, complete SOAPSTone strategy using the poem Woman
Work, as well as poetic devices for I Wandered Lonely as a Cloud.
3.
As a class, read "Carry Your Own Skis" by Lian Dolan
(pp.522-526). What is the author's purpose in writing this
story (what does she want you to think about)? Complete
freewrite on the following question: do you believe your
generation "carries their own skis?" Or do they believe
that "somebody is going to take care of them?" Identify
the pros and cons of this belief. What specifically can be
done to change this generation (if needed)? Needs to be at
least one page – turn in when complete.
4.
Using a dictionary and/or thesaurus, define ten words from Great Gatsby,
its synonyms and antonym, part(s) of speech, and use in sentence. Teach
this word and its proper usage to rest of class.
Demonstrate how poetry can sometimes become lyrics; use "Richard Cory"
as an example. What is the theme of this poem/song?
5.
HOMEWORK/UPCOMING DUE DATES:
1) Next reading quiz on Great Gatsby Chapters 4-5 will be Tuesday,
2/9.
2) Final vocabulary list for Great Gatsby will be due next Thursday,
2/11.
3) Poetry presentations/due date will begin on Wed., Feb. 17.