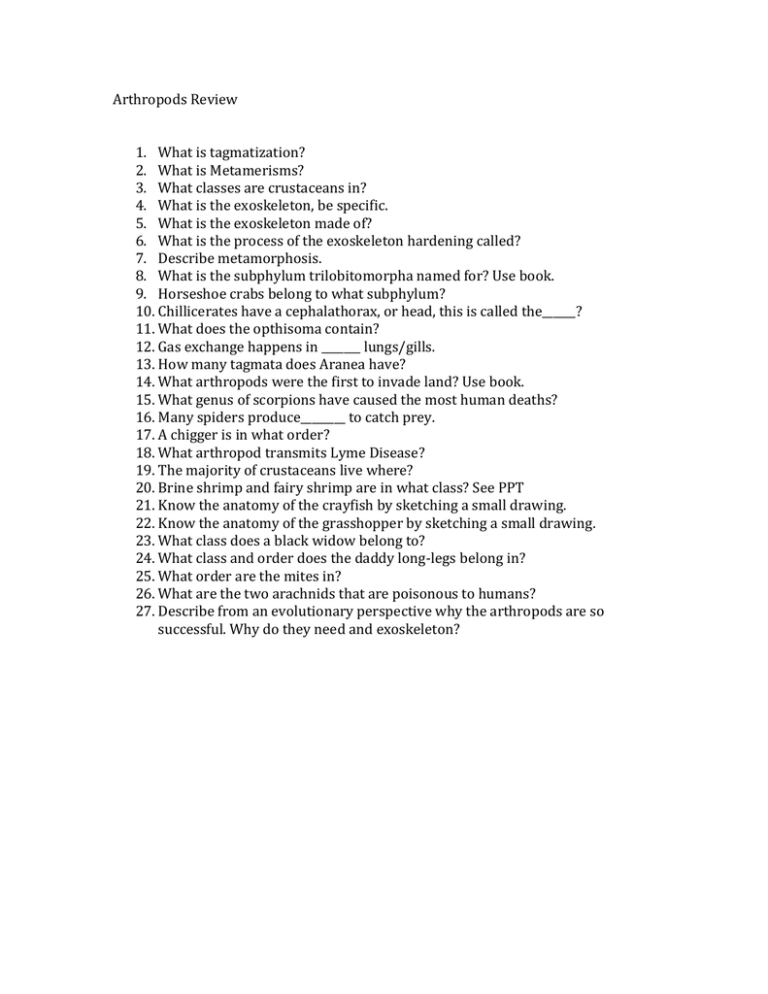 Arthropods Review
1. What is tagmatization?
2. What is Metamerisms?
3. What classes are crustaceans in?
4. What is the exoskeleton, be specific.
5. What is the exoskeleton made of?
6. What is the process of the exoskeleton hardening called?
7. Describe metamorphosis.
8. What is the subphylum trilobitomorpha named for? Use book.
9. Horseshoe crabs belong to what subphylum?
10. Chillicerates have a cephalathorax, or head, this is called the______?
11. What does the opthisoma contain?
12. Gas exchange happens in _______ lungs/gills.
13. How many tagmata does Aranea have?
14. What arthropods were the first to invade land? Use book.
15. What genus of scorpions have caused the most human deaths?
16. Many spiders produce________ to catch prey.
17. A chigger is in what order?
18. What arthropod transmits Lyme Disease?
19. The majority of crustaceans live where?
20. Brine shrimp and fairy shrimp are in what class? See PPT
21. Know the anatomy of the crayfish by sketching a small drawing.
22. Know the anatomy of the grasshopper by sketching a small drawing.
23. What class does a black widow belong to?
24. What class and order does the daddy long-legs belong in?
25. What order are the mites in?
26. What are the two arachnids that are poisonous to humans?
27. Describe from an evolutionary perspective why the arthropods are so
successful. Why do they need and exoskeleton?