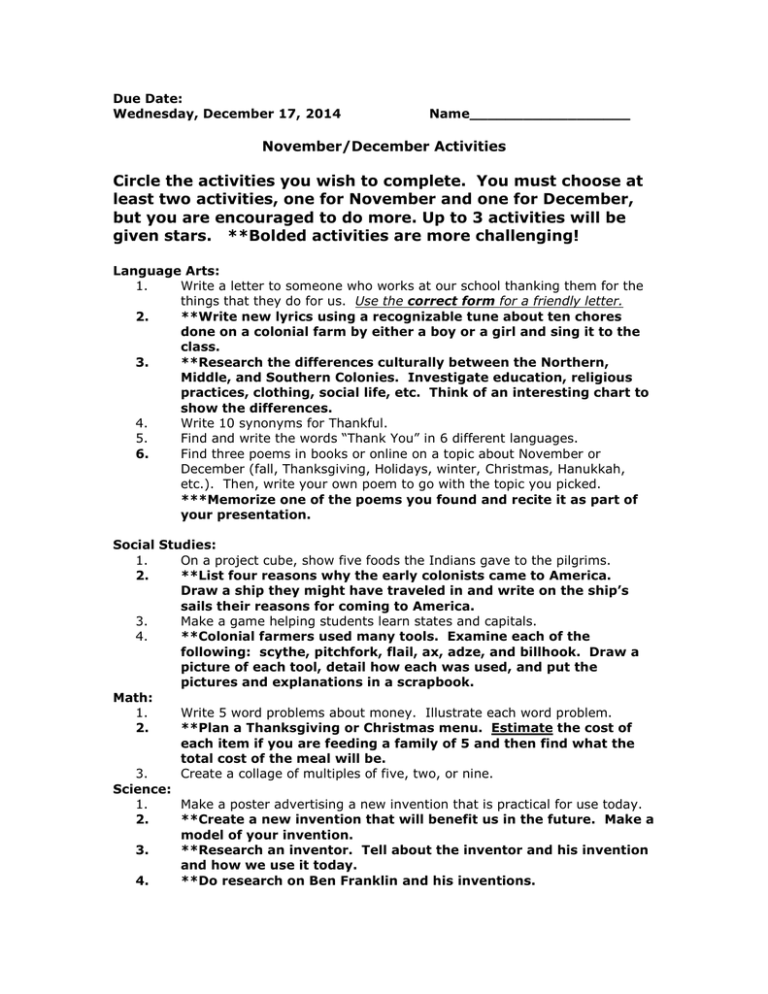 Due Date:
Wednesday, December 17, 2014
Name__________________
November/December Activities
Circle the activities you wish to complete. You must choose at
least two activities, one for November and one for December,
but you are encouraged to do more. Up to 3 activities will be
given stars. **Bolded activities are more challenging!
Language Arts:
1.
Write a letter to someone who works at our school thanking them for the
things that they do for us. Use the correct form for a friendly letter.
2.
**Write new lyrics using a recognizable tune about ten chores
done on a colonial farm by either a boy or a girl and sing it to the
class.
3.
**Research the differences culturally between the Northern,
Middle, and Southern Colonies. Investigate education, religious
practices, clothing, social life, etc. Think of an interesting chart to
show the differences.
4.
Write 10 synonyms for Thankful.
5.
Find and write the words "Thank You" in 6 different languages.
6.
Find three poems in books or online on a topic about November or
December (fall, Thanksgiving, Holidays, winter, Christmas, Hanukkah,
etc.). Then, write your own poem to go with the topic you picked.
***Memorize one of the poems you found and recite it as part of
your presentation.
Social Studies:
1.
On a project cube, show five foods the Indians gave to the pilgrims.
2.
**List four reasons why the early colonists came to America.
Draw a ship they might have traveled in and write on the ship's
sails their reasons for coming to America.
3.
Make a game helping students learn states and capitals.
4.
**Colonial farmers used many tools. Examine each of the
following: scythe, pitchfork, flail, ax, adze, and billhook. Draw a
picture of each tool, detail how each was used, and put the
pictures and explanations in a scrapbook.
Math:
1.
Write 5 word problems about money. Illustrate each word problem.
2.
**Plan a Thanksgiving or Christmas menu. Estimate the cost of
each item if you are feeding a family of 5 and then find what the
total cost of the meal will be.
3.
Create a collage of multiples of five, two, or nine.
Science:
1.
Make a poster advertising a new invention that is practical for use today.
2.
**Create a new invention that will benefit us in the future. Make a
model of your invention.
3.
**Research an inventor. Tell about the inventor and his invention
and how we use it today.
4.
**Do research on Ben Franklin and his inventions.