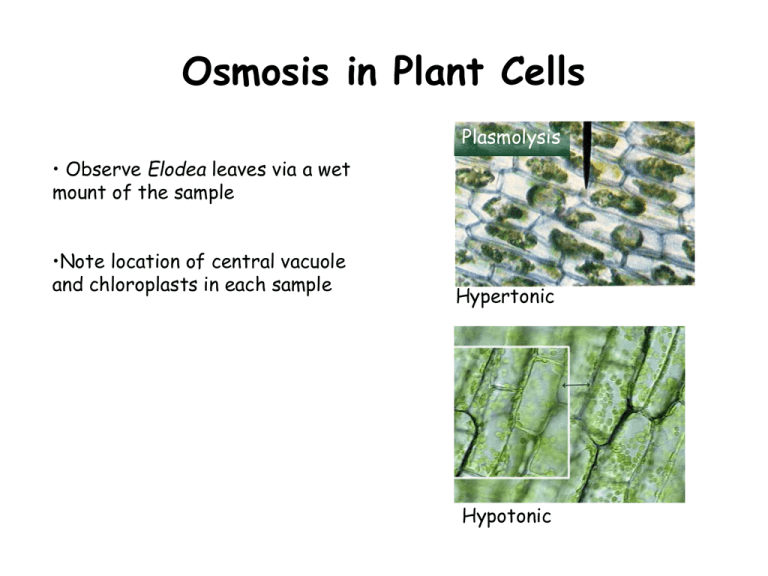 Osmosis in Plant Cells
Plasmolysis
• Observe Elodea leaves via a wet
mount of the sample
•Note location of central vacuole
and chloroplasts in each sample
Hypertonic
Hypotonic
Red blood cells in hypertonic solution
Crenate (spiky, not smooth edge)
RBC in isotonic solution
Plump round cells
HYPERTONIC
• A Hypertonic solution contains a higher
concentration of electrolytes than that found in
body cells. If such a solution is allowed to enter the
blood stream, the osmotic pressure difference
between the blood and the cells will cause water to
flow out of the cells, which will then shrink. This may
cause serious harm, or even be fatal.
• Consequently, it is essential when blood transfusions
are given, or blood replacement products are used,
that the electrolyte concentration in the material to
be given to a patient matches that of the body.
HYPOTONIC
• Having a lesser osmotic pressure in a fluid
compared to another fluid, as in a 'hypotonic
solution
ISOTONIC
• A solution that has the same salt
concentration as the normal cells of the body
and the blood.
PLASMOLYSIS
• Plasmolysis is the process in plant cells where
the plasma membrane pulls away from the
cell wall due to the loss of water through
osmosis.