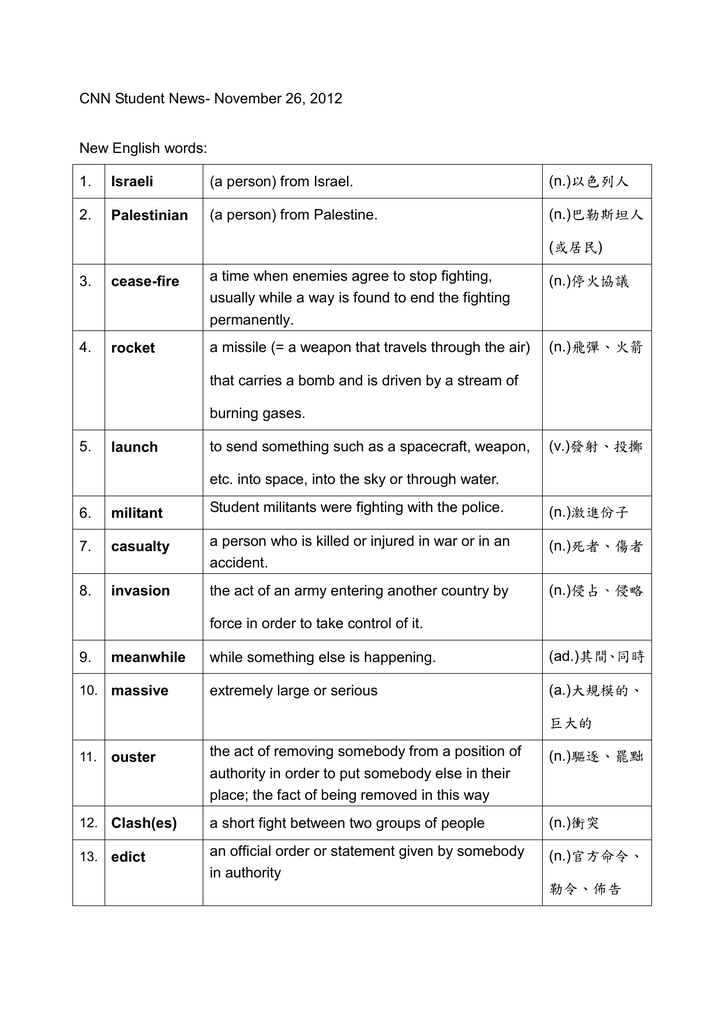 CNN Student News- November 26, 2012
New English words:
1.
Israeli
(a person) from Israel.
(n.)以色列人
2.
Palestinian
(a person) from Palestine.
(n.)巴勒斯坦人
(或居民)
3.
cease-fire
a time when enemies agree to stop fighting,
usually while a way is found to end the fighting
permanently.
(n.)停火協議
4.
rocket
a missile (= a weapon that travels through the air)
(n.)飛彈、火箭
that carries a bomb and is driven by a stream of
burning gases.
5.
launch
to send something such as a spacecraft, weapon,
(v.)發射、投擲
etc. into space, into the sky or through water.
6.
militant
Student militants were fighting with the police.
(n.)激進份子
7.
casualty
a person who is killed or injured in war or in an
accident.
(n.)死者、傷者
8.
invasion
the act of an army entering another country by
(n.)侵占、侵略
force in order to take control of it.
9.
meanwhile
10. massive
while something else is happening.
(ad.)其間、同時
extremely large or serious
(a.)大規模的、
巨大的
11.
ouster
the act of removing somebody from a position of
(n.)驅逐、罷黜
authority in order to put somebody else in their
place; the fact of being removed in this way
12. Clash(es)
a short fight between two groups of people
(n.)衝突
13. edict
an official order or statement given by somebody
in authority
(n.)官方命令、
勒令、佈告
14. decree
an official order from a ruler or a government that
(n.)法令、政令
becomes the law
15. constitution
the system of laws and basic principles that a
(n.)法規、憲
法、章程
state, a country or an organization is governed by
16. dictator
a ruler who has complete power over a country,
(n.)獨裁者
especially one who has gained it using military
force
17. coverage
the reporting of news and sport in newspapers and (n.)新聞報導
on the radio and television
18. torn(tear)
to damage something by pulling it apart or into
(v.)劃破、撕開
pieces or by cutting it on something sharp; to
become damaged in this way
tear down
19. literally
to pull or knock down a building, wall, etc.
(ph v.)拆卸
used to emphasize the truth of something that may (ad.)不加誇張
seem surprising
地、實在地
20. work out
to plan or think of something
(ph.)想出、解決
21. symbolic
containing symbols, or being used as a symbol
(a.)象徵性的
22. struggle
a hard fight in which people try to obtain or achieve (n.)鬥爭、難事
something, especially something that somebody
else does not want them to have
23. relocate
24. bicameral
to move or to move somebody/something to a new (n.)(將…)重新
place to work or operate
安置
having two main parts, such as the Senate and the
(n.)兩院制的
House of Representatives in the US, and the House
of Commons and the House of Lords in Britain
25. chambers
one of the parts of a parliament
(n.)議院
26. cylinders
an object shaped like a cylinder, especially one
(n.)圓柱(桶)
used as a container
27. legislature
a group of people who have the power to make
and change laws
(n.)立法機關、
(美國的)州議會
28.