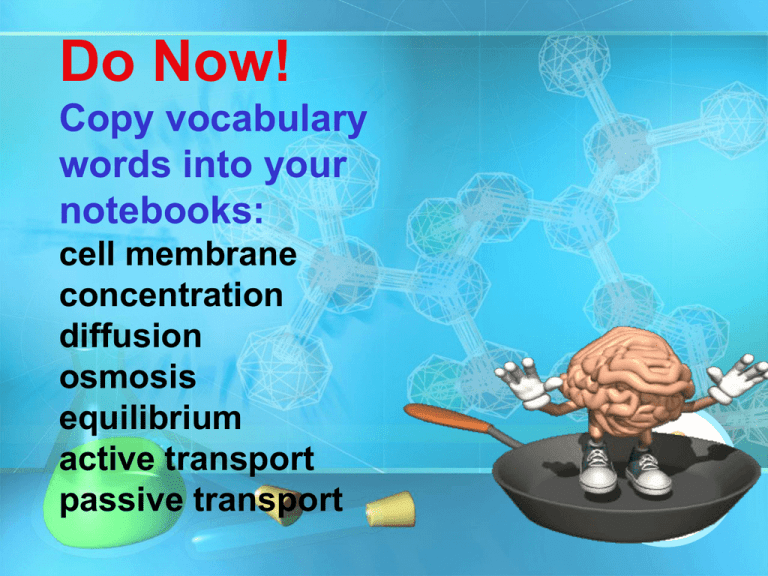 Do Now!
Copy vocabulary
words into your
notebooks:
cell membrane
concentration
diffusion
osmosis
equilibrium
active transport
passive transport
DIFFUSION: Active
and Passive
Transport
Another
I Love Science
Presentation
@ 2006-All Rights Reserved
ILOVESCIENCE@mac.com
What is the other name for the
Cell Membrane?
• Fluid Mosaic Model
Passive Transport
• Does osmosis
or diffusion
require
energy?
• No, molecules
move along a
concentration
gradient.
Facilitated Diffusion
• Facilitated
Diffusionmolecules move
down a
concentration
gradient with the
aid of special
proteins.
Active Transport
• Requires
Energy.
• ATP (form of
energy made by
mitochondria).
• Moves against
the
concentration
gradient.
Endocytosis
Transporting
material
into a cell
by the in
folding of a
membrane.
2 Types of Endocytosis
• PhagocytosisSolid particles are
ingested into the
cell.
• Pinocytosis –
liquids taken into
the cell.
Exocytosis
• Moves
materials out
of the cell
Let's Go to the Video!
QuickTime™ and a
Cinepak decompressor
are needed to see this picture.
One More Time!
QuickTime™ and a
Sorenson Video 3 decompressor
are needed to see this picture.
Summary
1.What is Diffusion?
2.What is Osmosis?
3.What is Active Transport?
4.What is Passive Transport?
HW
Complete class
handouts.