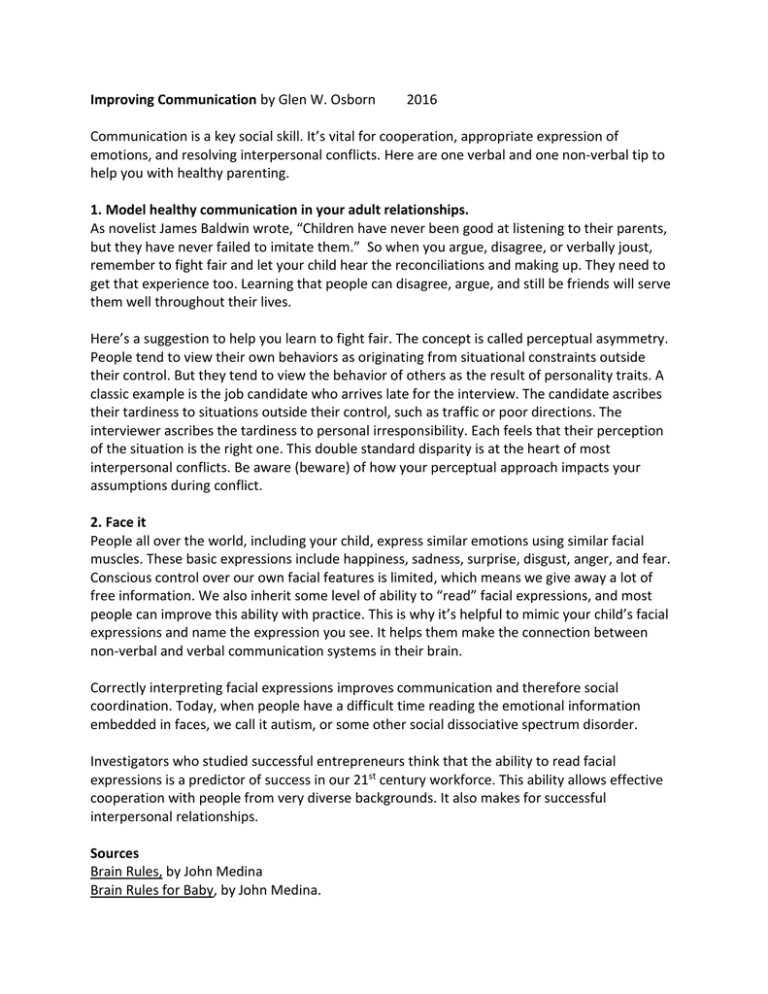 Improving Communication by Glen W. Osborn
2016
Communication is a key social skill. It's vital for cooperation, appropriate expression of
emotions, and resolving interpersonal conflicts. Here are one verbal and one non-verbal tip to
help you with healthy parenting.
1. Model healthy communication in your adult relationships.
As novelist James Baldwin wrote, "Children have never been good at listening to their parents,
but they have never failed to imitate them." So when you argue, disagree, or verbally joust,
remember to fight fair and let your child hear the reconciliations and making up. They need to
get that experience too. Learning that people can disagree, argue, and still be friends will serve
them well throughout their lives.
Here's a suggestion to help you learn to fight fair. The concept is called perceptual asymmetry.
People tend to view their own behaviors as originating from situational constraints outside
their control. But they tend to view the behavior of others as the result of personality traits. A
classic example is the job candidate who arrives late for the interview. The candidate ascribes
their tardiness to situations outside their control, such as traffic or poor directions. The
interviewer ascribes the tardiness to personal irresponsibility. Each feels that their perception
of the situation is the right one. This double standard disparity is at the heart of most
interpersonal conflicts. Be aware (beware) of how your perceptual approach impacts your
assumptions during conflict.
2. Face it
People all over the world, including your child, express similar emotions using similar facial
muscles. These basic expressions include happiness, sadness, surprise, disgust, anger, and fear.
Conscious control over our own facial features is limited, which means we give away a lot of
free information. We also inherit some level of ability to "read" facial expressions, and most
people can improve this ability with practice. This is why it's helpful to mimic your child's facial
expressions and name the expression you see. It helps them make the connection between
non-verbal and verbal communication systems in their brain.
Correctly interpreting facial expressions improves communication and therefore social
coordination. Today, when people have a difficult time reading the emotional information
embedded in faces, we call it autism, or some other social dissociative spectrum disorder.
Investigators who studied successful entrepreneurs think that the ability to read facial
expressions is a predictor of success in our 21st century workforce. This ability allows effective
cooperation with people from very diverse backgrounds. It also makes for successful
interpersonal relationships.
Sources
Brain Rules, by John Medina
Brain Rules for Baby, by John Medina.