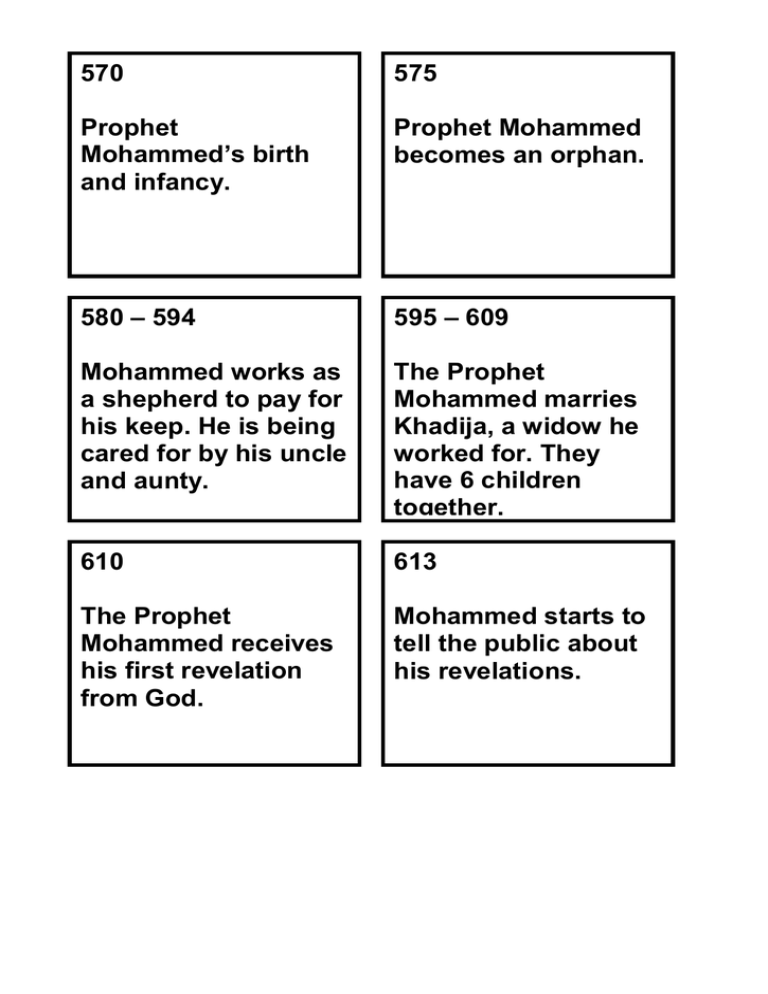 570
575
Prophet
Mohammed's birth
and infancy.
Prophet Mohammed
becomes an orphan.
580 – 594
595 – 609
Mohammed works as
a shepherd to pay for
his keep. He is being
cared for by his uncle
and aunty.
The Prophet
Mohammed marries
Khadija, a widow he
worked for. They
have 6 children
together.
610
613
The Prophet
Mohammed receives
his first revelation
from God.
Mohammed starts to
tell the public about
his revelations.
622
625 – 628
Mohammed and the
early Muslims
emigrate to Medina.
The Muslims enter
into 3 wars with the
local people. In the
end they sign a truce
and allow the
Muslims freedom.
630
630 – 632
The Muslims
marched peacefully
on Mecca, and seeing
their lack of violence
people converted to
Islam.
The Prophet spread
the Islam through the
Arab world. 100 years
after his death Islam
had spread globally.
594
578
Mohammed acts as a
caravan agent for
wealthy widow,
Khadija.
Mohammed is cared
for by his uncle and
aunt in Medina.