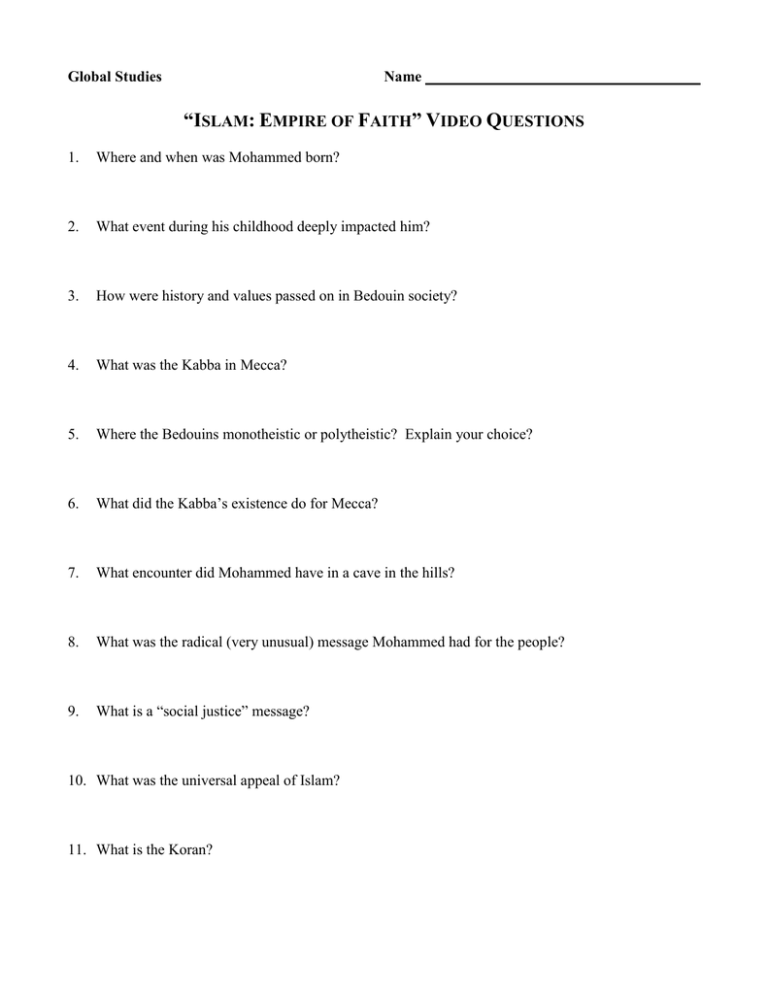 Global Studies
Name
"ISLAM: EMPIRE OF FAITH" VIDEO QUESTIONS
1.
Where and when was Mohammed born?
2.
What event during his childhood deeply impacted him?
3.
How were history and values passed on in Bedouin society?
4.
What was the Kabba in Mecca?
5.
Where the Bedouins monotheistic or polytheistic? Explain your choice?
6.
What did the Kabba's existence do for Mecca?
7.
What encounter did Mohammed have in a cave in the hills?
8.
What was the radical (very unusual) message Mohammed had for the people?
9.
What is a "social justice" message?
10. What was the universal appeal of Islam?
11. What is the Koran?
12. Why did people in Mecca oppose Islam?



13. Why is 622 C.E. the year one in Islam? What is the Hedjra (Hejira)?
14. What is the name Mohammed gives to Judaism and Christianity? What is his view of these
religions?
15. Why did early Muslims pray facing the Kabba?
16. Why did other Bedouins join Mohammed's army?
17. What did Mohammed do when he and his army reached the Kaaba? Why was this shocking?
18. What did Islam do for the people of the Arabian Peninsula?
19. Why did Islam spread so far so fast?
20. What conflict arose after Mohammed's death?
21. What do the Shi'ites believe?
22. What do the Sunni believe?