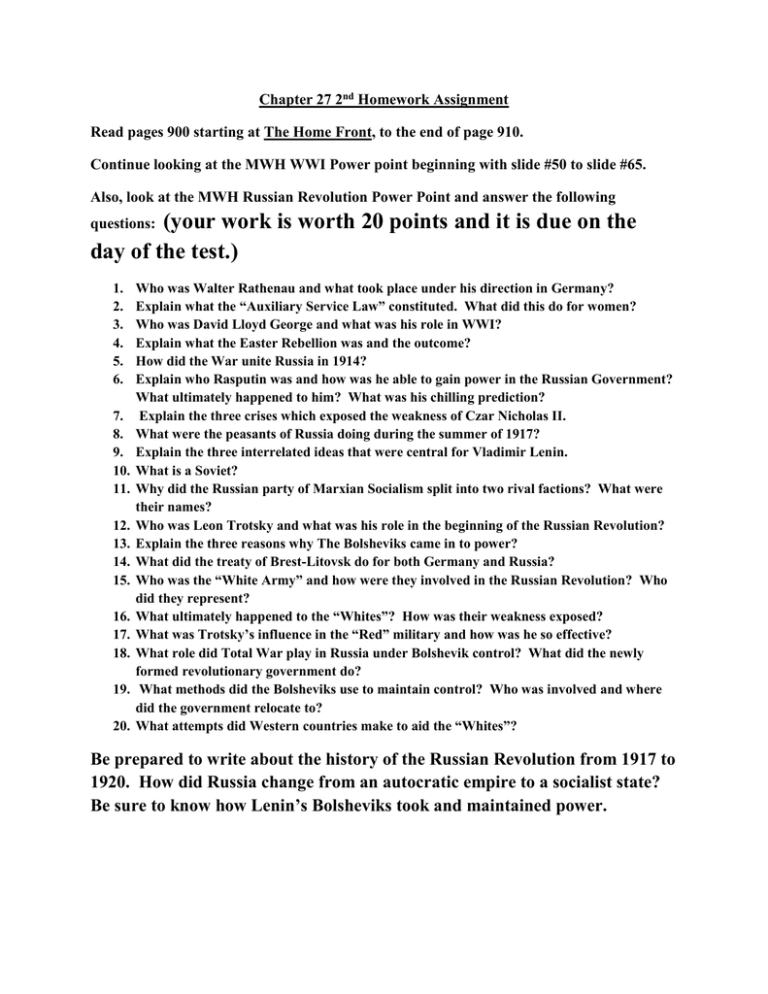 Chapter 27 2nd Homework Assignment
Read pages 900 starting at The Home Front, to the end of page 910.
Continue looking at the MWH WWI Power point beginning with slide #50 to slide #65.
Also, look at the MWH Russian Revolution Power Point and answer the following
(your work is worth 20 points and it is due on the
day of the test.)
questions:
1.
2.
3.
4.
5.
6.
7.
8.
9.
10.
11.
12.
13.
14.
15.
16.
17.
18.
19.
20.
Who was Walter Rathenau and what took place under his direction in Germany?
Explain what the "Auxiliary Service Law" constituted. What did this do for women?
Who was David Lloyd George and what was his role in WWI?
Explain what the Easter Rebellion was and the outcome?
How did the War unite Russia in 1914?
Explain who Rasputin was and how was he able to gain power in the Russian Government?
What ultimately happened to him? What was his chilling prediction?
Explain the three crises which exposed the weakness of Czar Nicholas II.
What were the peasants of Russia doing during the summer of 1917?
Explain the three interrelated ideas that were central for Vladimir Lenin.
What is a Soviet?
Why did the Russian party of Marxian Socialism split into two rival factions? What were
their names?
Who was Leon Trotsky and what was his role in the beginning of the Russian Revolution?
Explain the three reasons why The Bolsheviks came in to power?
What did the treaty of Brest-Litovsk do for both Germany and Russia?
Who was the "White Army" and how were they involved in the Russian Revolution? Who
did they represent?
What ultimately happened to the "Whites"? How was their weakness exposed?
What was Trotsky's influence in the "Red" military and how was he so effective?
What role did Total War play in Russia under Bolshevik control? What did the newly
formed revolutionary government do?
What methods did the Bolsheviks use to maintain control? Who was involved and where
did the government relocate to?
What attempts did Western countries make to aid the "Whites"?
Be prepared to write about the history of the Russian Revolution from 1917 to
1920. How did Russia change from an autocratic empire to a socialist state?
Be sure to know how Lenin's Bolsheviks took and maintained power.