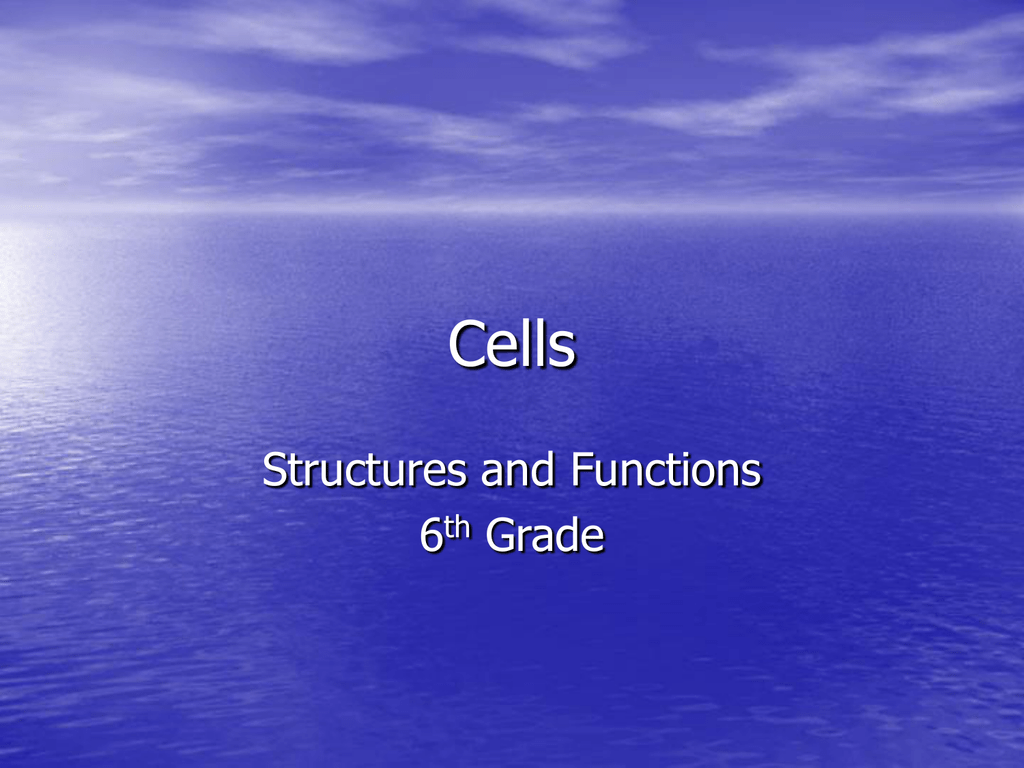 Cells
Structures and Functions
6th Grade
Vocabulary Words
• Nucleus
• Nucleolus
• Mitochondria
• Golgi Complex
• Ribosomes
• Vacuole
• Endoplasmic Reticulum
Vocabulary Words (continued)
• Cell Membrane
• Cell Wall
• Chloroplast
• Chlorophyll
• Cytoplasm
Plant and Animal Cells
Objectives
• Name the organelles
•
that plant and animal
cells have in common.
State the structure
and function of these
organelles.
Cell membrane
• Semi-permeable
•
membrane that keeps
all the materials
within the cell.
controls entry/exit to
cell
Nucleus
• Control center of the
•
cell
contains DNA
Nucleolus
• center of the nucleus
Nucleoplasm
• gel of the nucleus
Cytoplasm
• A thick jelly like
substance in which
organelles float in the
cell.
Mitochondria
• produces energy
within the cell
Vacuole
• storage center for
food, water, waste
products, etc.
Lysosomes
• Digest food particles,
wastes, cell parts and
foreign invaders.
Ribosomes
• The smallest
•
•
structures in the cell
creates protein
often attached to
rough ER
Endoplasmic Reticulum
• packages proteins for
•
•
release from the cell
allows travel to and
from nucleus
smooth and rough
Golgi complex (Gogli body)
• stores things needing
transport out of the
cell ("airport")
Plant cells
• Certain structures are
found only in plant
cells.
Large Vacuole
• Stores water and
other materials for
the cell.
Cell Wall
• Provides support for
•
the plant
Not found in animals,
animals have a
skeletal structure to
provides support
Chloroplast
• Captures sunlight to
make food for the
cell.