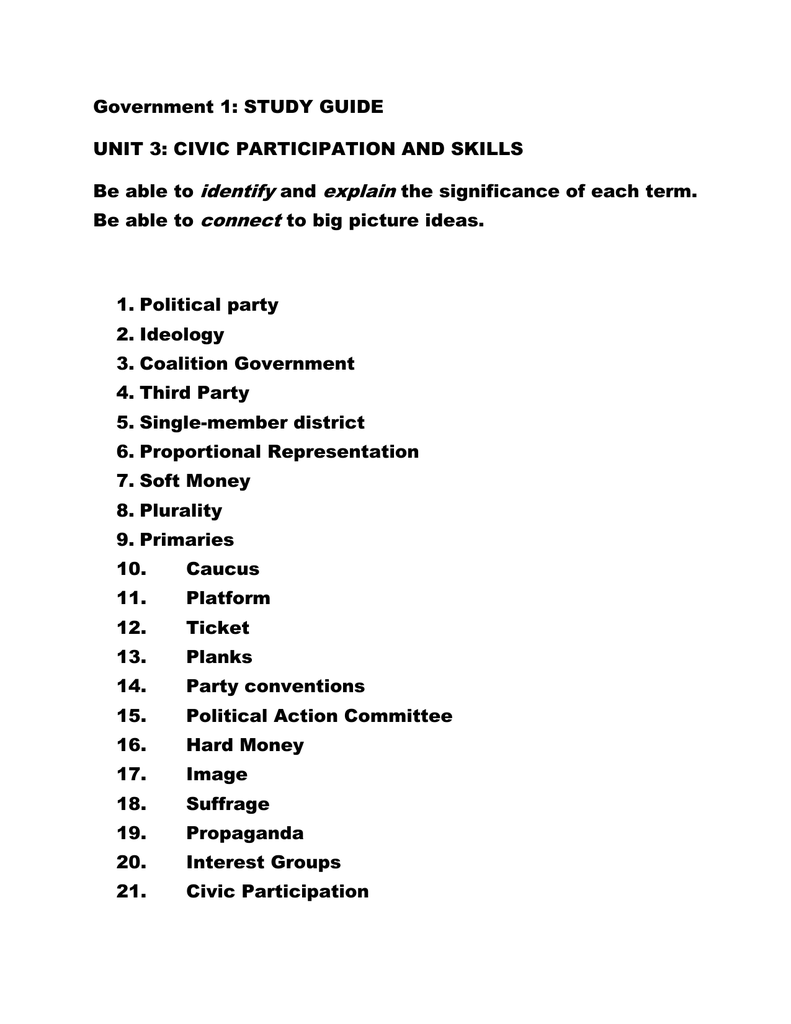 Government 1: STUDY GUIDE
UNIT 3: CIVIC PARTICIPATION AND SKILLS
Be able to identify and explain the significance of each term.
Be able to connect to big picture ideas.
1. Political party
2. Ideology
3. Coalition Government
4. Third Party
5. Single-member district
6. Proportional Representation
7. Soft Money
8. Plurality
9. Primaries
10.
Caucus
11.
Platform
12.
Ticket
13.
Planks
14.
Party conventions
15.
Political Action Committee
16.
Hard Money
17.
Image
18.
Suffrage
19.
Propaganda
20.
Interest Groups
21.
Civic Participation
22.
Lobbyist
23.
Public Policy
24.
Public Opinion
25.
Mass Media
26.
Political Culture
27.
Polling
28.
Regulation
Free-Response Questions: Unit Themes and Big Picture
Ideas for the unit test.
29.
Political parties, interest groups and the media
provide opportunities for civic involvement through
various means. How do they do that? Analyze their
role and evaluate their performance in doing so.
30.
Issues can be analyzed through the critical use of
public records, surveys, research data and the policy
positions of advocacy groups. Pick one issue and
analyze it through the process above.
31.
The process of persuasion, compromise,
consensus building and negotiation contribute to the
resolution of conflicts and differences. Pick a current
issue and discuss how the above statement is true.
Speculate on how long this will happen (Resolution of
the issue).