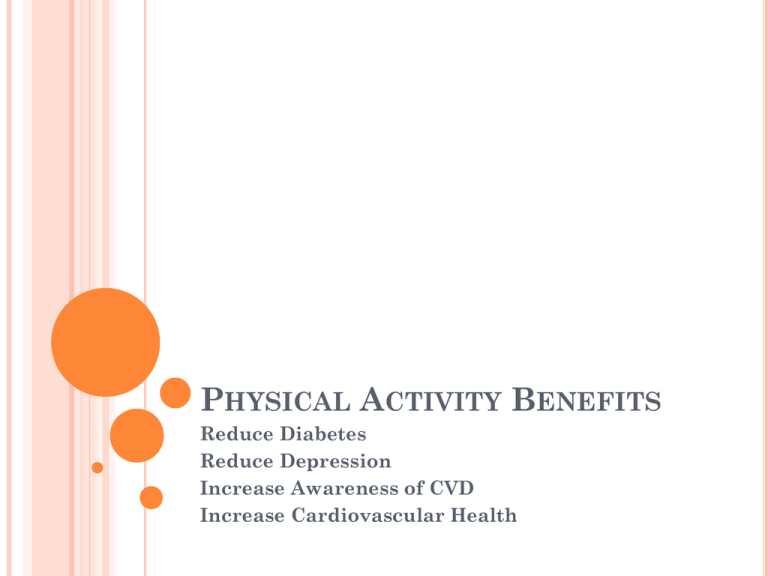 PHYSICAL ACTIVITY BENEFITS
Reduce Diabetes
Reduce Depression
Increase Awareness of CVD
Increase Cardiovascular Health
PHYSICAL ACTIVITY AND
CARDIOVASCULAR DISEASE

Various types of CVD





Coronary heart disease
Angina pectoris
Hypertension
Stroke
Congestive heart failure

Evidence that inactivity leads to CVD

What can you do?
EXERCISE AND THE HEART

Increases muscle's ability to pump
Normal resting heart rate is 72bpm
 What is yours…lets find it!


Improves coronary circulation

Inactive person less able to resist stress

Lower blood pressure hypertension

Normal S120mmHg/D80mmHg
METABOLIC SYNDROME
REGULAR EXERCISE CONT.

Manage Type II diabetes


Body doesn't produce insulin correctly
Body Density and increase osteoporosis risk

Calcium, exercise, Vitamin D
PHYSICAL ACTIVITY AND WELLNESS

Health and Wellness benefits from PA

Work effectively and efficiently


Better enjoy leisure time


Better movement allows for better time
Effective living


Resist fatigue, soreness back problems
Doesn't matter what you are doing.
Safety issues
Start now and stay fit….