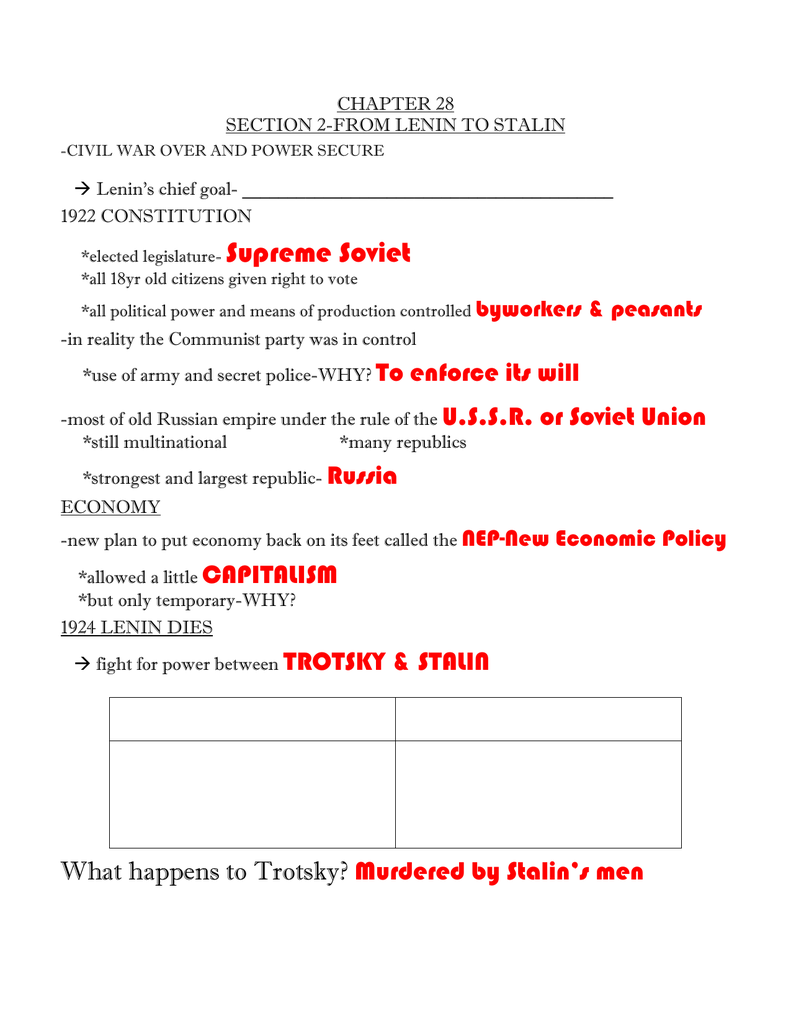 CHAPTER 28
SECTION 2-FROM LENIN TO STALIN
-CIVIL WAR OVER AND POWER SECURE
 Lenin's chief goal- _________________________________________
1922 CONSTITUTION
Supreme Soviet
*elected legislature*all 18yr old citizens given right to vote
*all political power and means of production controlled byworkers
& peasants
-in reality the Communist party was in control
*use of army and secret police-WHY? To
enforce its will
-most of old Russian empire under the rule of the U.S.S.R.
*still multinational
*many republics
or Soviet Union
*strongest and largest republic- Russia
ECONOMY
-new plan to put economy back on its feet called the NEP-New
Economic Policy
*allowed a little CAPITALISM
*but only temporary-WHY?
1924 LENIN DIES
 fight for power between TROTSKY
& STALIN
What happens to Trotsky? Murdered by Stalin's men
Stalin's goal is to make the Soviet Union into a modern
industrial power
What is his idea to achieve this goal?
5 Year Plans
*included
1. Building heavy industry
2. Improved transportation-RR
3. Increased farm output
-to achieve economic growth the government controlled all economic activity
develop a command economy-
Government officials make all economic decisions
INDUSTRY
-set high production goals-HOW WOULD THEY BE MET?
-mixed results
-Standard of living remained poor
-didn't produce enough consumer goods
-low wages
-inefficient planning
shortages of certain goods and a surplus of others
AGRICULTURE
-under government control gave peasants 2 options
1. state-owned farms
2. collectives-large farms owned and operated by a group
peasants resisted collectivization-HOW?
Kulaks-wealthy peasants-angry at collectivization
Killed farm animals---destroyed tools---burned crops
government responded
With brutal force
effects of collectivization
*angry peasants grew only enough food to feed
themselves
government responded by seizing all the
food leaving the peasants to starve
*it increased Stalin's control
*it did not improve farm output
THE GREAT PURGE
-began in 1934- WHY?
Stalin feared that party members were plotting against him
What happened?
-destroyed older generation of revolutionaries  replaced with
Young party members who owed their loyalty to Stalin
-increased Stalin's power and showed the danger of disloyalty
FOREIGN POLICY-contradictory and unsuccessful
-organized Communist International or Comintern
aid revolutionary groups around the world
What did it encourage?
Colonies to revolt against the imperialist nations
-wanted to join League
of Nations
improve relations with western nations for trade and diplomacy
Why were western nations suspicious of the Soviet Union?