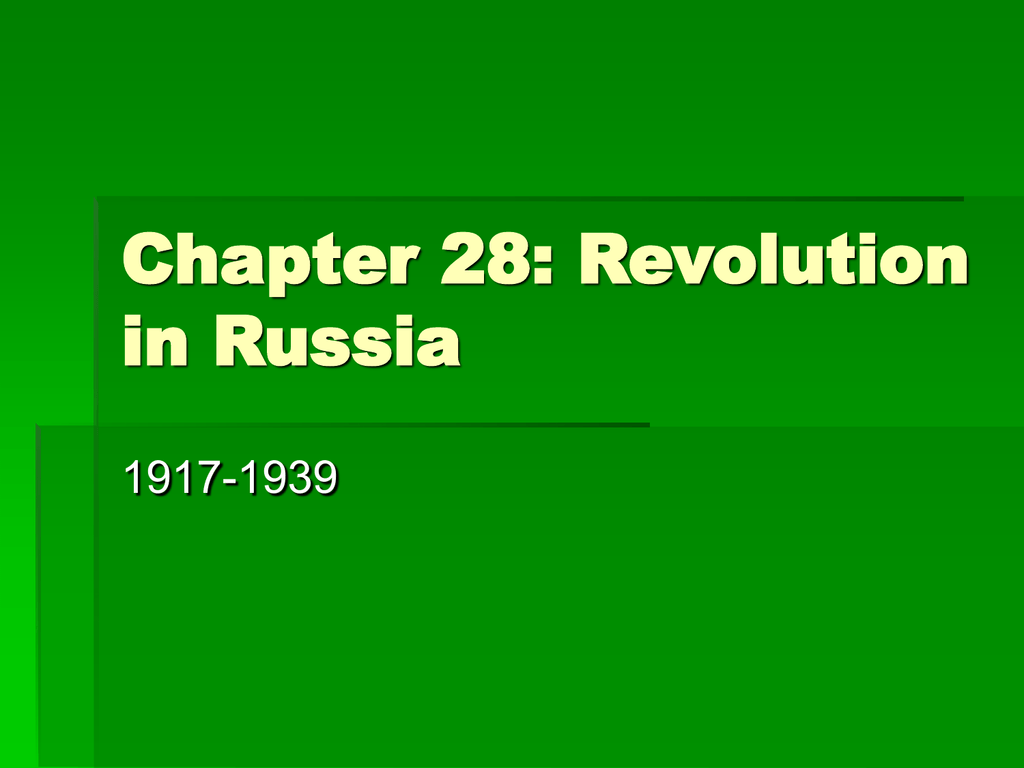 Chapter 28: Revolution
in Russia
1917-1939
Section1: Two Revolutions
in Russia
 Setting in Russia (1914)








The country is dominated by landowning nobles, priests, and an autocratic czar.
The autocratic czar (has absolute power) is Nicholas II of the Romanov Dynasty.
Most of the peasant population is lived a life of extreme poverty, and a small
working class (proletariat) emerged as Russia began to modernize.
Czars made many ineffective reforms, like setting up the Duma which had no real
power.
Russia's involvement of WWI has strained its resources and economy; which led to
public being unhappy and wanting to pull out of the war.
In a patriotic gesture, Nicholas II went to visit his fighting soldiers, and left czarina
Alexandra in charge.
Public didn't like the czarina because she was half German. She also came to
depend on a self proclaimed "holy man" named Rasputin.
Rasputin was eventually assassinated because nobles feared him having too much
influence on the monarchy.
Section1: Two Revolutions
in Russia
 Nicholas II




Last czar to rule Russia.
Didn't want to limit his authority.
Relied on the use of secret police.
This reliance added to corruption in the
government.
Section1: Two Revolutions
in Russia
 Collapse of the Monarchy







March 1917: disastrous battles, and food and fuel shortages on the home front.
Workers went on strike in St. Petersburg and chanted "Bread, Bread".
After, advice, the czar abdicated (gave up power)
provisional government in power  continued in war
Revolutionaries plotted their own course: set up soviets (councils of workers and
soldiers).
 BOLSHEVIKS( radical socialist group) TAKE CHARGE
First leader is VI Lenin.
Section1: Two Revolutions
in Russia
 Lenin:


Adapted Marxist ideas to fit Russia.
 Russia didn't have a large urban proletariat so
Lenin called for an elite group to lead the
Revolution.



He was helped return from exile by Germany.
Promised "Peace, Land, and Bread".
In a matter of days, Lenin's forces overthrew the
provisional government.
Section1: Two Revolutions
in Russia
 Russian Civil War:







Lasted three years.
Red (Communists) vs. Whites (Counterrevolutionaries)
Both sides were extremely brutal.
Whites tried to assassinate Lenin.
Reds organized the Cheka (secret police) and executed ordinary citizens and the
Czar and his family so that they wouldn't become a rallying symbol for counter
revolutionaries.
In 1921 the Communist prevail
Russia is left in chaos, and needs to rebuild the nation and the economy
Section2: From Lenin to
Stalin
 1922 CONSTITUTION






Elected Legislature called the Supreme Soviet.
all political power and means of production controlled by peasants and workers,
but in reality the Communist Party was in control.
use of army and secret police to enforce the party's will.
New plan (NEP) allowed a little bit of capitalism so that the Soviet Union could
boost its economy. It was only temporary because Lenin wanted to put the USSR
back on the road to "pure communistm.
1924 Lenin Dies  Trotsky and Stalin fight for power,
Stalin isolated Trotsky by using political cunning and isolating Trotsky  fled the
country but was later killed by Stalinist Agents.
Section2: From Lenin to
Stalin
 Five Year Plan:


included : building heavy industry, improving transportation, and increasing farm
out put.
Developed a command economy, where the gov't made all economic decisions.

Industry:

Set high production goals, and pushed workers by giving them bonuses if they
succeeded and punishments if they didn't. This led to an increase in oil, steel, and
coal production, but peasants lives didn't improve and standard of living remained
poor. Also there were low wages, and consumer goods were scarce.

Agriculture:

Under government control, and told peasants that they could either live on state
owned farms, or live on collectives.
Resistance of collectivization led to the killing of farm animals, destroying of crops
and tools, and let to extreme starvation.
 increased Stalin's control, and did not improve farm output.


Section2: From Lenin to
Stalin
 The Great Purge:





Began in 1934
Stalin harbored obsessive fears that rival party leaders were plotting against him.
Cracked down on Old Bolsheviks, or party activists from the early days.
 replaced with young party members that owed absolute loyalty to him.
Increased Stalin's power, and showed the danger of disloyalty.
Section2: From Lenin to
Stalin
 Foreign Policy:




Organized Communist International or Comintern.
aided revolutionary groups to rebel around the world.
This made Western Powers suspicous because the USSR encouraged colonized
nations to rebel against imperialist nations.
Wanted to join the league of Nations to improve relations for trade and diplomacy.
Section3: Life in a
Totalitarian State





Totalitarian State= govt in in which a one party
dictatorship attempts to regulate every aspects
of citizens lives.
Use of secret police, censorship, terror, and
violence led to fear of the government and
obedience to the govt.
Used a combination of propaganda and
technology: used radios, loud speakers,
movies and theaters to preach the success of
communism and criticize capitalism.
This helped to revive pride of Russia in
citizens.
Also made atheism the official policy of the
state, and replaced religion with communist
ideology.
Section3: Life in a
Totalitarian State
 Benefits:






Free education
Free medical care
Free day care
Inexpensive housing
Public transportation
Recreation
 Negatives
VS


Standard of living still
remained LOW
Industrial growth led to
migration to the cities
and caused scarce
housing.
Section3: Life in a
Totalitarian State
 Women



Won equality under law
Needed to work because men had such low wages
Motherhood= patriotic duty
 Arts



Artwork was controlled by the state
Social realism- showed soviet life in a glorified way
through art
ARTS< BOOKS< MUSIC< FILM= ALL CENSORED

Stalin's total
control=NO
PERSONAL RIGHTS.