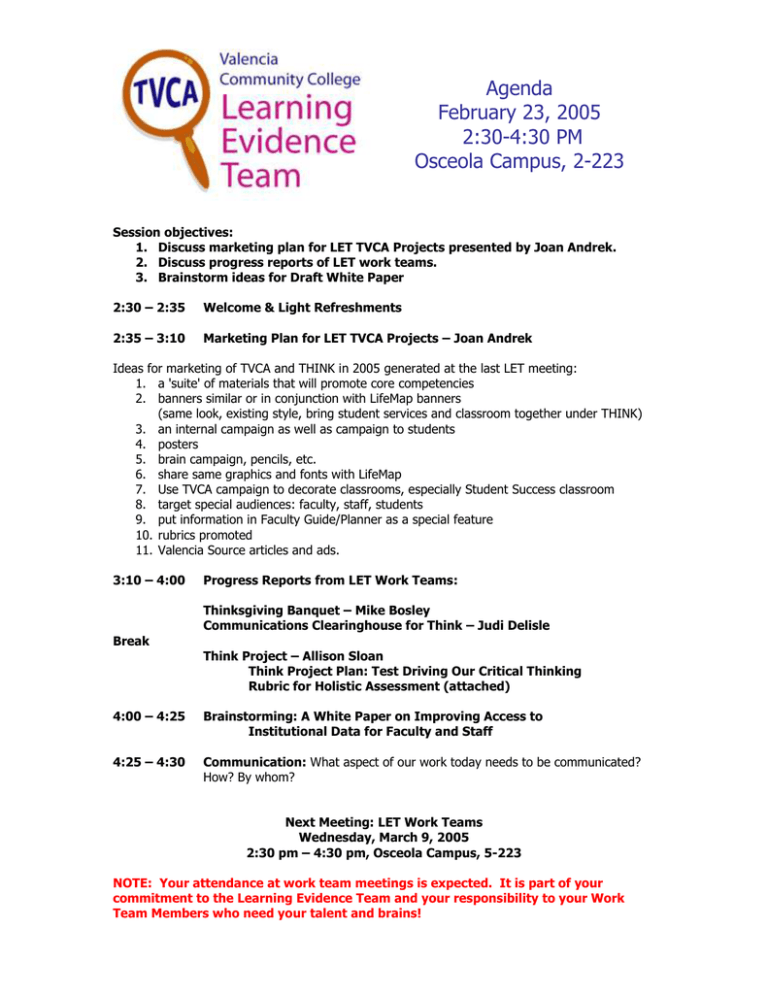 Agenda
February 23, 2005
2:30-4:30 PM
Osceola Campus, 2-223
Session objectives:
1. Discuss marketing plan for LET TVCA Projects presented by Joan Andrek.
2. Discuss progress reports of LET work teams.
3. Brainstorm ideas for Draft White Paper
2:30 – 2:35
Welcome & Light Refreshments
2:35 – 3:10
Marketing Plan for LET TVCA Projects – Joan Andrek
Ideas for marketing of TVCA and THINK in 2005 generated at the last LET meeting:
1. a 'suite' of materials that will promote core competencies
2. banners similar or in conjunction with LifeMap banners
(same look, existing style, bring student services and classroom together under THINK)
3. an internal campaign as well as campaign to students
4. posters
5. brain campaign, pencils, etc.
6. share same graphics and fonts with LifeMap
7. Use TVCA campaign to decorate classrooms, especially Student Success classroom
8. target special audiences: faculty, staff, students
9. put information in Faculty Guide/Planner as a special feature
10. rubrics promoted
11. Valencia Source articles and ads.
3:10 – 4:00
Progress Reports from LET Work Teams:
Thinksgiving Banquet – Mike Bosley
Communications Clearinghouse for Think – Judi Delisle
Break
Think Project – Allison Sloan
Think Project Plan: Test Driving Our Critical Thinking
Rubric for Holistic Assessment (attached)
4:00 – 4:25
Brainstorming: A White Paper on Improving Access to
Institutional Data for Faculty and Staff
4:25 – 4:30
Communication: What aspect of our work today needs to be communicated?
How? By whom?
Next Meeting: LET Work Teams
Wednesday, March 9, 2005
2:30 pm – 4:30 pm, Osceola Campus, 5-223
NOTE: Your attendance at work team meetings is expected. It is part of your
commitment to the Learning Evidence Team and your responsibility to your Work
Team Members who need your talent and brains!