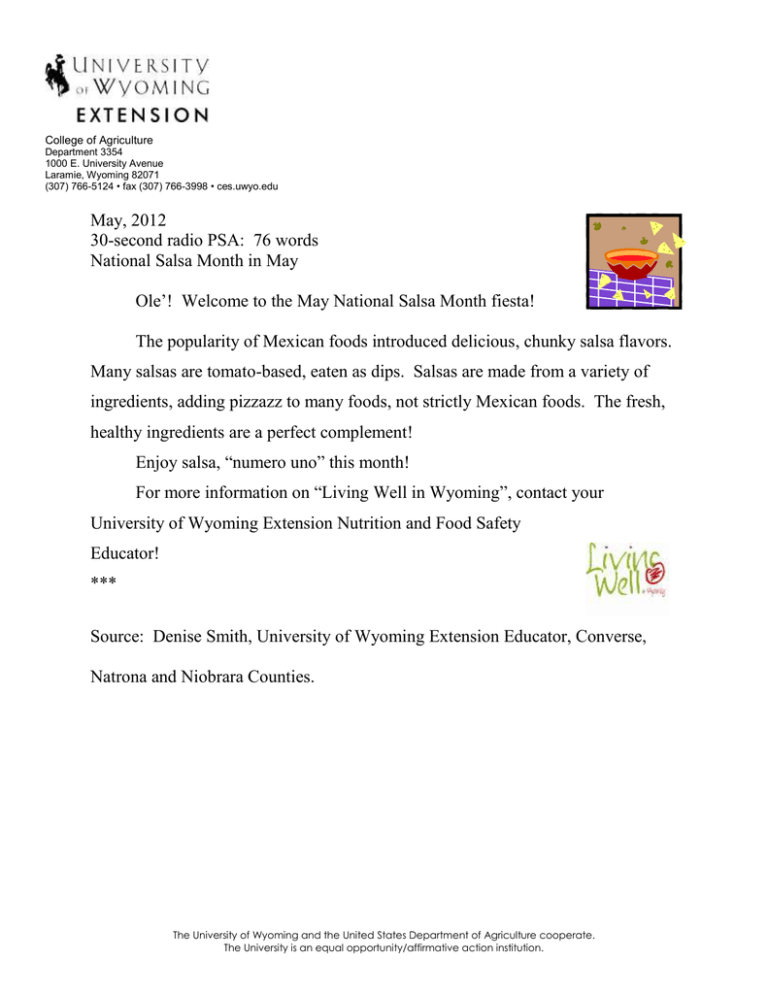 College of Agriculture
Department 3354
1000 E. University Avenue
Laramie, Wyoming 82071
(307) 766-5124 • fax (307) 766-3998 • ces.uwyo.edu
May, 2012
30-second radio PSA: 76 words
National Salsa Month in May
Ole'! Welcome to the May National Salsa Month fiesta!
The popularity of Mexican foods introduced delicious, chunky salsa flavors.
Many salsas are tomato-based, eaten as dips. Salsas are made from a variety of
ingredients, adding pizzazz to many foods, not strictly Mexican foods. The fresh,
healthy ingredients are a perfect complement!
Enjoy salsa, "numero uno" this month!
For more information on "Living Well in Wyoming", contact your
University of Wyoming Extension Nutrition and Food Safety
Educator!
***
Source: Denise Smith, University of Wyoming Extension Educator, Converse,
Natrona and Niobrara Counties.
The University of Wyoming and the United States Department of Agriculture cooperate.
The University is an equal opportunity/affirmative action institution.