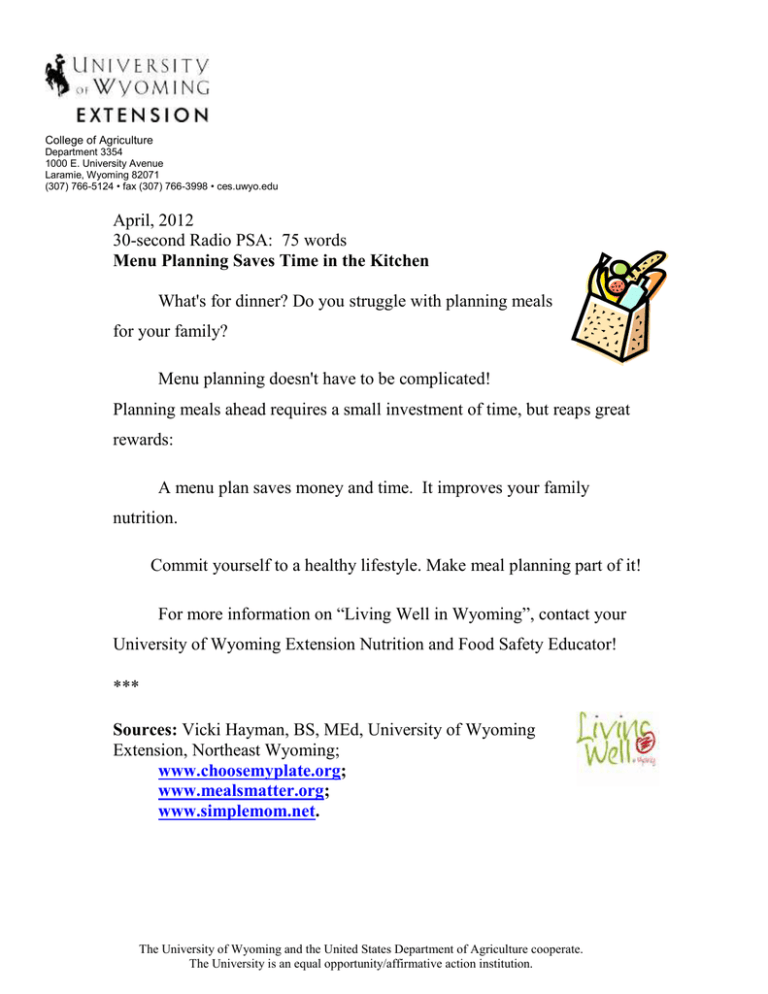 College of Agriculture
Department 3354
1000 E. University Avenue
Laramie, Wyoming 82071
(307) 766-5124 • fax (307) 766-3998 • ces.uwyo.edu
April, 2012
30-second Radio PSA: 75 words
Menu Planning Saves Time in the Kitchen
What's for dinner? Do you struggle with planning meals
for your family?
Menu planning doesn't have to be complicated!
Planning meals ahead requires a small investment of time, but reaps great
rewards:
A menu plan saves money and time. It improves your family
nutrition.
Commit yourself to a healthy lifestyle. Make meal planning part of it!
For more information on "Living Well in Wyoming", contact your
University of Wyoming Extension Nutrition and Food Safety Educator!
***
Sources: Vicki Hayman, BS, MEd, University of Wyoming
Extension, Northeast Wyoming;
www.choosemyplate.org;
www.mealsmatter.org;
www.simplemom.net.
The University of Wyoming and the United States Department of Agriculture cooperate.
The University is an equal opportunity/affirmative action institution.