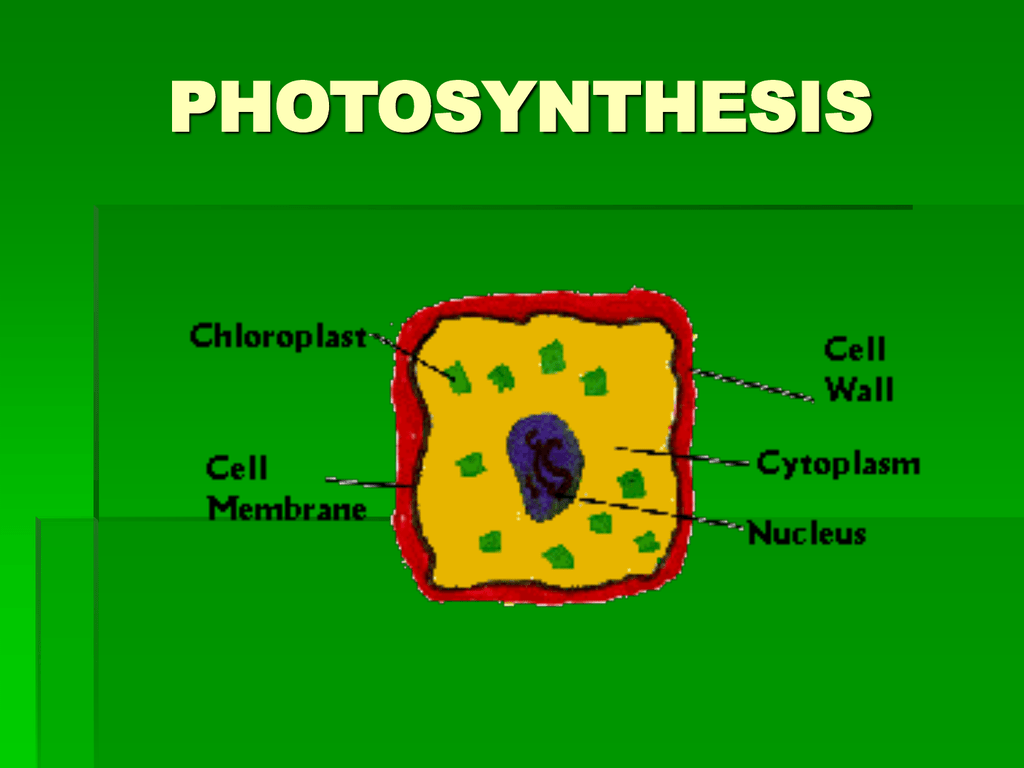 PHOTOSYNTHESIS
CAPTURING THE ENERGY IN LIGHT
 All organisms use energy to carry out
the functions of life. Some organisms
obtain this energy directly from
sunlight. They capture part of the
energy in light and store it within organic
compounds. The process by which this
energy transfer takes place is called
PHOTOSYNTHESIS.
Photosynthesis is the process
that provides energy for almost
all Life
OBJECTIVES
 Explain how the structure of the
chloroplast relates to its function
 Explain how ATP is synthesized during
the light reactions
 They begin with
the
ABSORPTION
of Light in the
organelle found
in Plant Cells
and algae called
CHLOROPLASTS
 During Photosynthesis, Autotrophs use
the Sun's Energy to make Carbohydrate
Molecules from Water and Carbon
Dioxide, Releasing Oxygen as a
Byproduct
The Process of
PHOTOSYNTHESIS CAN BE
SUMMARIZED BY THE
FOLLOWING EQUATION
6CO
CARBON
DIOXIDE
2
+
6H2O
WATER
+
LIGHT
ENERGY
C6H12O2
6-CARBON
SUGAR
+
6O2
OXYGEN
GAS
 In this equation the Six-Carbon Sugar
GLUCOSE and Oxygen are the Products.
 The Energy Stored in Glucose and other
Carbohydrates can be used later to produce
ATP during Cellular Respiration
Draw the following chart:
 Most AUTOTROPHS or PRODUCERS
use PHOTOSYNTHESIS, to Convert the
Energy in SUNLIGHT, CARBON
DIOXIDE, AND WATER into Chemical
Energy OR FOOD. (GLUCOSE)
 THE FOODS MADE BY AUTOTROPHS
ARE stored in various Organic
Compounds, primarily
CARBOHYDRATES, including a SIXCARBON SUGAR called GLUCOSE.
Cellular Respiration
 Autotrophs, such as plants, use
photosynthesis to convert light energy
from the Sun into Chemical energy, which
is stored in Carbohydrates and other
Organic Compounds.
 Both Autotrophs and Heterotrophs
depend on these Organic Compounds for
the energy to Power Cellular Activities.
 By Breaking Down Organic Molecules
into simpler molecules, CELLS
RELEASE ENERGY.
 Some of the energy is used to make ATP
from ADP and Phosphate. ATP is the
Main Energy Currency of Cells.
Cellular Respiration
 The Complex Process in which Cells
Make ATP by Breaking Down Organic
Molecules is known as CELLULAR
RESPIRATION. OR THE PROCESS BY
WHICH FOOD MOLECULES ARE
BROKEN DOWN TO RELEASE
ENERGY FOR WORK IS CALLED
CELLULAR RESPIRATION
 PHOTOSYNTHESIS EQUATION:
 6CO2 + 6H2O + LIGHT
ENERGY
 C6H12O6 + 6O2
Sugar
oxygen
CELLULAR RESPIRATION
EQUATION
 C6H12O6 + 6O2
6CO2 + 6H2O
+ ENERGY RELEASED (ATP)
the metabolic processes whereby certain
organisms obtain energy from organic molecules,
processes that take place in the cells and tissues
during which energy is released and carbon
dioxide is produced and absorbed.