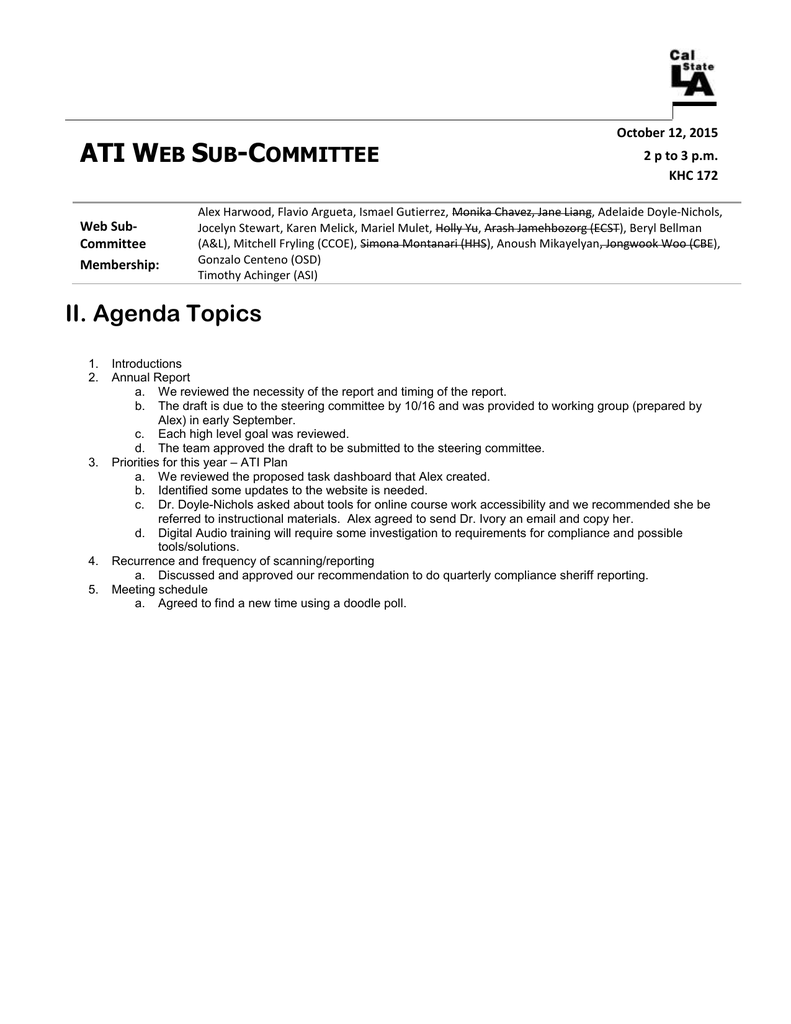 ATI WEB SUB-COMMITTEE
Web SubCommittee
Membership:
October 12, 2015
2 p to 3 p.m.
KHC 172
Alex Harwood, Flavio Argueta, Ismael Gutierrez, Monika Chavez, Jane Liang, Adelaide Doyle-Nichols,
Jocelyn Stewart, Karen Melick, Mariel Mulet, Holly Yu, Arash Jamehbozorg (ECST), Beryl Bellman
(A&L), Mitchell Fryling (CCOE), Simona Montanari (HHS), Anoush Mikayelyan, Jongwook Woo (CBE),
Gonzalo Centeno (OSD)
Timothy Achinger (ASI)
II. Agenda Topics
1.
2.
3.
4.
5.
Introductions
Annual Report
a. We reviewed the necessity of the report and timing of the report.
b. The draft is due to the steering committee by 10/16 and was provided to working group (prepared by
Alex) in early September.
c. Each high level goal was reviewed.
d. The team approved the draft to be submitted to the steering committee.
Priorities for this year – ATI Plan
a. We reviewed the proposed task dashboard that Alex created.
b. Identified some updates to the website is needed.
c. Dr. Doyle-Nichols asked about tools for online course work accessibility and we recommended she be
referred to instructional materials. Alex agreed to send Dr. Ivory an email and copy her.
d. Digital Audio training will require some investigation to requirements for compliance and possible
tools/solutions.
Recurrence and frequency of scanning/reporting
a. Discussed and approved our recommendation to do quarterly compliance sheriff reporting.
Meeting schedule
a. Agreed to find a new time using a doodle poll.