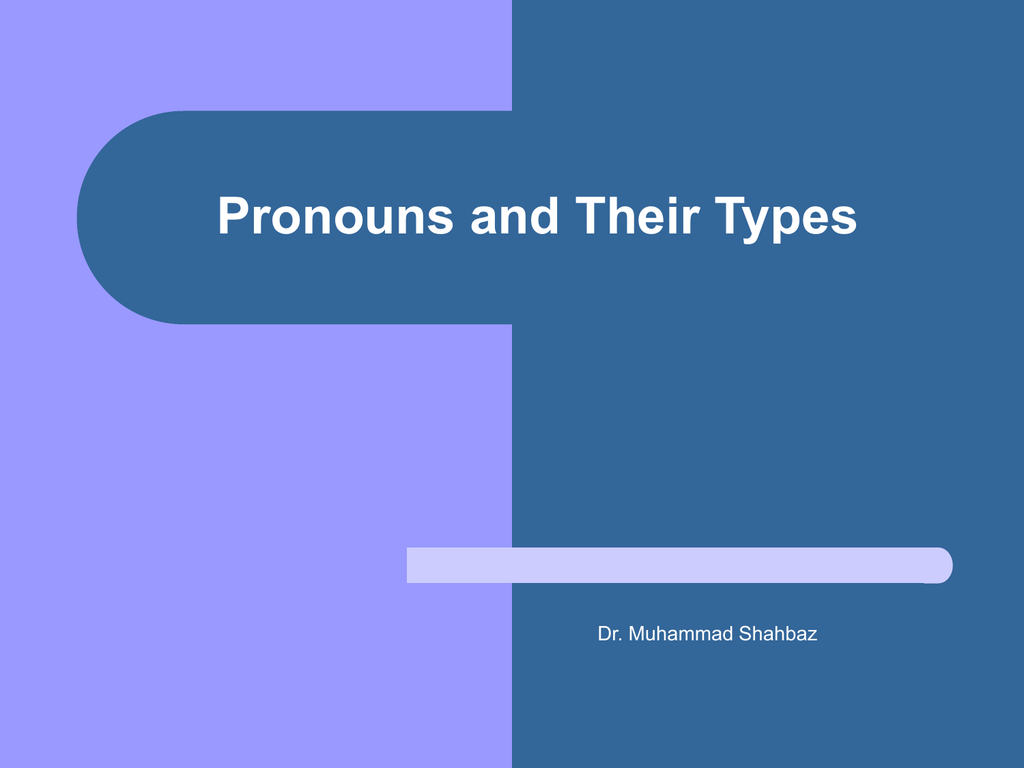 Pronouns and Their Types
Dr. Muhammad Shahbaz
7 KINDS OF PRONOUNS
1.
2.
3.
4.
5.
6.
7.
PERSONAL = refers to persons, he, she
REFLEXIVE = refers back to the subject
INTENSIVE = emphasizes the subject
DEMONSTRATIVE = points to with gesture
INDEFINITE = unsure, some, few
INTERROGATIVE = question words, who
RELATIVE = relates 2 sentences (which)
PERSONAL PRONOUNS
SINGULAR
 I, me, my
PLURAL
 we, us, our

you, you, your

you, you, your

he, him, his
she, her, her
it, it, its

they, them, their
REFLEXIVE PRONOUNS
reflect back to the subject

A pronoun is used as
an object that refers
back to the subject




I saw myself in the
mirror.
Kim wrote a note to
herself.
Dick shot himself on
the foot.
They served
themselves last.
INTENSIVE PRONOUN
An intensive pronoun emphasizes its
antecedent.



I myself saw him.
She herself organized the concert.
The president himself has denied the rumor.
DEMONSTRATIVE PRONOUNS





POINT OUT SPECIFIC PERSONS / THINGS
I hate this.
Did Megan give you that?
She wants these.
Will you be using those?
INDEFINITE PRONOUNS
Some like it hot.
 None wants it
cold.
 All are happy.
 All are equal, but
some are more
equal.

Indefinite
adjectives:
Some people like it
cold.
All animals are
equal, but some
animals are more
equal.
INTERROGATIVE PRONOUNS
PRONOUNS USED TO ASK QUESTIONS
 What is the answer to the last question?
 Whose book is this?
 Who are you?
 Whom did you send to the store?
Who, Whom, Whose, What, When, Where,
RELATIVE PRONOUN


RELATIVE PRONOUN
RELATES TO A
PRECEDING WORD
(ANTECEDENT) AND
JOINS TO IT A
DEPENDENT CLAUSE
2 JOBS: A PRONOUN
+ A CONNECTOR
She is a woman.
She runs for mayor.
 She is the woman, who
runs for mayor.
You saw the house.
It is historical landmark.
 The house that you saw
is a historical landmark.